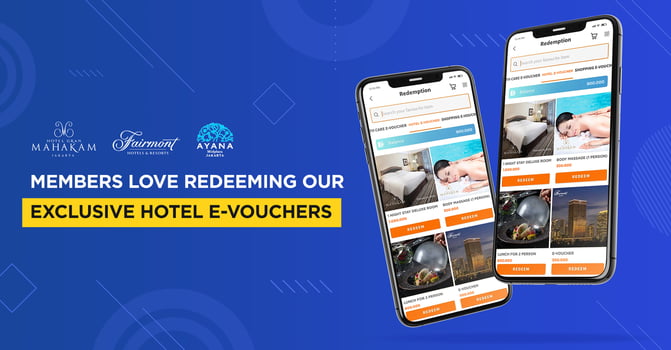 Hotel industries are among the hardest hit industries this year due to the pandemic. With hotels starting to re-open with strict New Normal procedures, we have seen a movement where people are more confident in dining or staycation-ing at hotels. After all, people need going out to a trustable establishment to refresh once in a while after all that quarantine! Where better than these reputable premium hotels. Check out our offers from these premium Jakarta hotels; Fairmont Jakarta, Ayana, and Grand Mahakam. Add these vouchers to your company's redemption catalog now!
Enjoy Luxurious Time at the Fairmont Jakarta
Fairmont Jakarta provides luxury, privacy, and convenience. It is known for its unbeatable location in the heart of Jakarta, with close proximity to the Indonesia Stock Exchange, Jakarta Convention Center and linked directly to one of the city's stylish shopping venues. With plush bedding, elegant Japanese spa-inspired bathrooms, seasonally inspired menus, and other thoughtful amenities, Fairmont Jakarta is ready to accommodate you.
TADA provides e-voucher denominations that can be used to stay, dine, or anything else your heart desires at Fairmont Jakarta.
Stay, Relax, and enjoy the Beautifully European Gran Mahakam Hotel
Hotel Gran Mahakam is a 5-star boutique hotel in Jakarta Selatan with distinctly European architecture and beautifully appointed rooms, with attentive and friendly service. It is in a prime location, conveniently situated at the crossroads of the business and commercial district in the heart of widely popular South Jakarta, where world-class shopping, dining and entertainment await. Hotel Gran Mahakam sets the standard for impeccable service, offering you a blend of classical and modern ambience with elegant experience and signature cuisines.
With TADA'S e-voucher offerings, you can stay, relax in a massage or spa session, or get fit with a monthly or quarterly gym pass.
Luxury meets Lifestyle and Warm Hospitality at AYANA Hotel Jakarta
AYANA Midplaza Jakarta is a premier 5-star business hotel and urban sanctuary for your senses, where 21st - century amenities blend seamlessly with authentic Indonesian hospitality. Take your urban escape to a whole new level at Ayana, where you are welcomed with prestigious travel and lifestyle conveniences. The Ayana lifestyle ranges from lazy mornings in luxurious city view suites, to lively sunset hour cocktail sessions at JimBARan Lounge.
TADA's e-vouchers give you passes to lounging, dining, massage pampering, and access to amenities, such as the pool, tennis courts, and gym.

It is always great to give rewards in the form of retreats or experiences away from everyday life. So, don't delay, add these hospitality e-vouchers as a part of your redemption catalog today! Of course, there are always more than meets the eye, so if you are looking for additional hospitality experiences, contact your Business Partners to get a full list of our hospitality partners for your catalog offering.