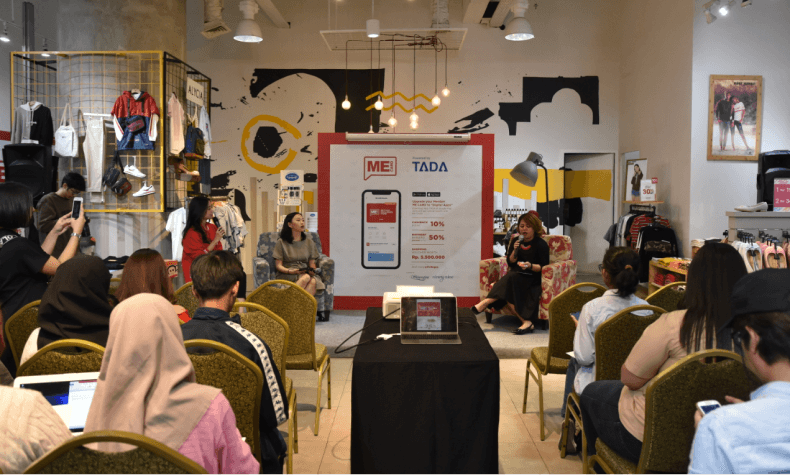 On the podium, from left to right, Devicca Atmadja, Head of the Fashion Division at TADA and Erisa Putriyanita, Senior Marketing Manager at Metrox
JAKARTA, 20 June 2019 - Metrox is a retail group company managing various brands such as Keds, Mezzo, Paul Frank, PRO-Keds, Sperry, Stöd, The Little Things She Needs, Wakai, and Wakai Kids. The group held a press conference to officially announce their partnership with TADA and digitization of their membership card known as Metrox Exclusive Card (ME Card).
With over 30,000 members, ME Card boasts a loyalty program that offers attractive rewards to its members. However, the group wanted to improve their loyalty program further. The group wanted to digitize their physical membership cards to provide convenience for customers and better target them as well.
"Previously, members must bring a physical card to the outlets. Now, they only need to show the digital card in the TADA app," says Devicca Atmadja, Head of the Fashion Division at TADA.
Devicca explains that ME Card members can now monitor their points and redeem rewards in the form of products and shopping vouchers. The referral feature allows ME Card members to encourage their friends to join as new members and receive e-voucher discounts valued at 50.000 Rupiah for every successful referral made.
"We are delighted to work with TADA. Hopefully, through this partnership, our customers have an easier experience in shopping and accessing promotional information from their beloved brands," said Erisa Putriyanita, Senior Marketing Manager at Metrox.
Erisa added, by being a ME Card member, customers will be invited to exclusive Metrox events such as member gatherings and product launches.
TADA has played a key role in supporting more than 500 brands in innovating their marketing strategies through customer advocacy and engagement methods. Coupled with "Insights by TADA", a virtual dashboard application provided to brands, it assists brands in communicating and interacting with their customers. This marketing strategy has proven to turn their customers into active brand advocates.