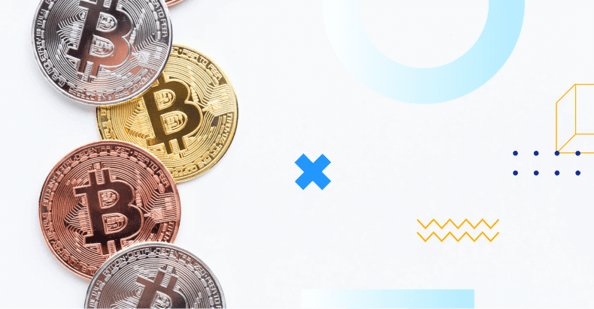 Travel, retail, financial, and other economic sectors have implemented loyalty programs to retain their customers. As a result, there is a labyrinth of point systems and redemption options everywhere, with a complex process for exchanging points between program partners.
Since loyal customers are so important to any business, it's no wonder brands are spending more and more budgets on retaining them, encourage repeat purchase and brand advocacy.
One solution that is currently increasingly popular is implementing blockchain technology for customer loyalty programs. The hope is that the technology will revolutionize customer loyalty programs by eliminating some of the pain points of traditional programs.
Companies with Blockchain Loyalty Programs
Although the hype has not been heard in Indonesian loyalty programs, blockchain rewards program have been widely practiced abroad.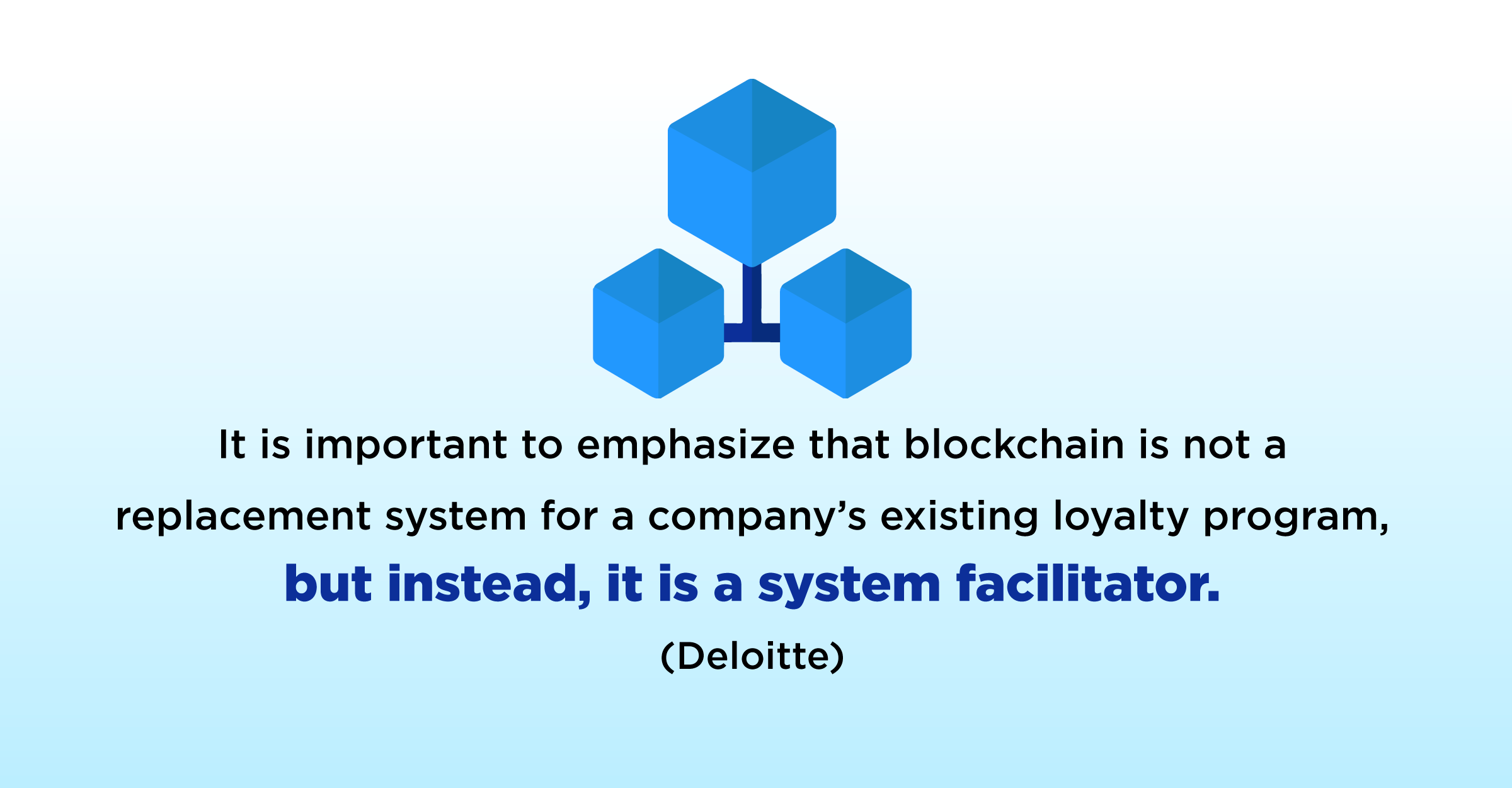 There are many global companies that have started exploring the potential of this technology for their loyalty programs.
Here are some examples.
1. Singapore airlines
In July 2018, Singapore Airlines announced that their frequent flyer program, KrisFlyer, will now be converted to KrisPay, a miles-based digital wallet that members can use to convert miles into digital shopping with other merchants.
At the launch, KrisPay partnered with 18 merchants across categories ranging from beauty and food services to gas and retail. The press release announcing KrisPay described it as "the world's first blockchain-based airline loyalty digital wallet."
2. Chanticleer Holdings
Another pioneer in the blockchain loyalty is Chanticleer Holdings, an investor in several burger restaurant chains, including BGR, Little Big Burger, and American Burger Co. In January 2018, they announced a collaboration with MobivityMind, a blockchain architecture platform.
As part of their new loyalty program, customers who dine at one of their restaurants now receive a cryptocurrency called Mobivity Merit that can be exchanged across different brands and traded without any fraud issues.
As Chanticleer Holdings CEO Michael D. Pruitt explains: "We love to see how consumers respond to ​​getting real, transferable, and secure value in return for their loyalty to our brand."
3. American Express and Boxed
In May 2019, American Express announced a blockchain testing program with online wholesale retailer Boxed. Using a blockchain framework, AmEx creates a private system for Boxed by transferring information that merchants on Boxed can use to fulfill rewards program offerings.
When a consumer purchases at Boxed, the blockchain stores data about the transaction (while hiding confidential data about the cardholder). Transaction details trigger the creation of smart contracts, which create and award points in the backend loyalty system.
4. AirBaltic
Since 2014 AirBaltic has been accepting bitcoins for purchasing airline tickets. The company's latest move is to issue another 10,000 NFTs associated with its loyalty program.
The NFT 'Planies'' collection, to be launched in May 2022, promises 10,000 unique cartoon planes with different features on the design. The company will sell Planies from a dedicated website, and it will also be used in the company's advertising and featured in the onboard entertainment system.
5. Venmo
Venmo credit card customers can now convert their monthly cashback rewards to crypto. Venmo's new "Cash Back to Crypto" feature will allow users to choose between bitcoin (BTC), Ethereum (ETH), Litecoin (LTC), and Bitcoin Cash (BCH); the same four cryptocurrencies currently available on the Venmo app.
Once the transaction is complete, customers can store their crypto or sell it on the Venmo app. The program will not support transfers to external wallets.
6. Shake Shack
Shake Shack is starting the cryptocurrency journey with a promotion that will reward some customers with Bitcoin.
Customers who purchase Shake Shack items using the Cash App with a debit Cash Card will get 15% cashback paid out in Bitcoins instead of dollars.
7. Loyal
Founded in 2014, offering a "blockchain as a service" loyalty platform for Hyperledger-based companies. This platform is designed to extend and enhance existing CRM and loyalty platforms. Loyyal already has significant airlines from the Middle East, Star Alliance, and Bond Brand Loyalty in its customer portfolio.
How Blockchain is Disrupting Loyalty ?
Cryptocurrencies are a buzz these days. Various fields have discussed the existence and potential of blockchain. But perhaps less talked about is how this new technology could "influence" the future of loyalty and CRM.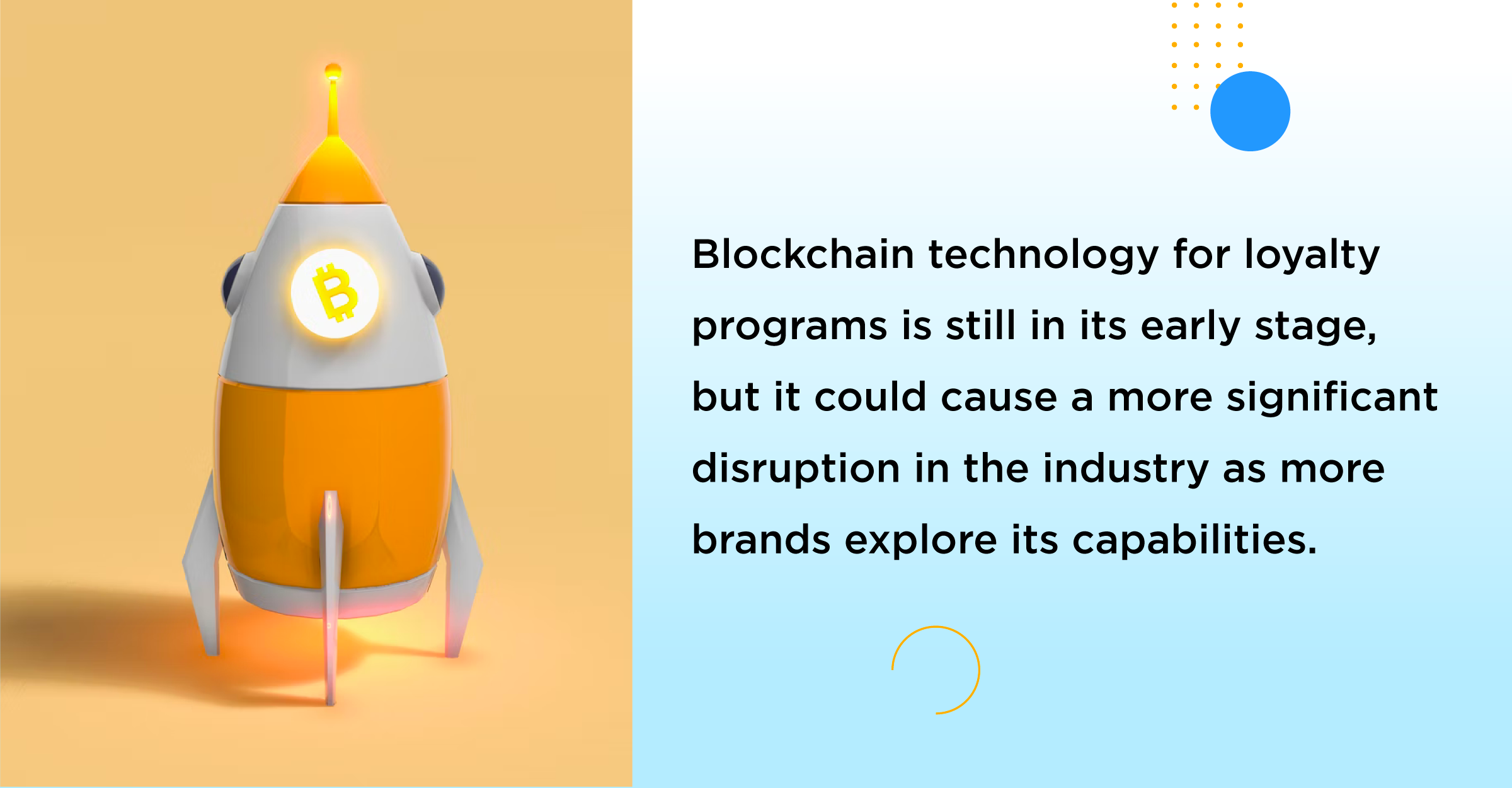 Adopting blockchain will allow companies to quickly add and maintain partnerships without adding complexity to their programs.
Blockchain will also allow businesses to provide more options to points redemption for their customers. This could be a solution for today's consumers who increasingly expect personalized journeys (not just segmented) and digitally enabled one-stop services.
Blockchain technology for loyalty programs is still in its developing stage, but could lead to even greater disruption globally as more and more large companies consider transforming their traditional loyalty programs or building new ones through blockchain technology.