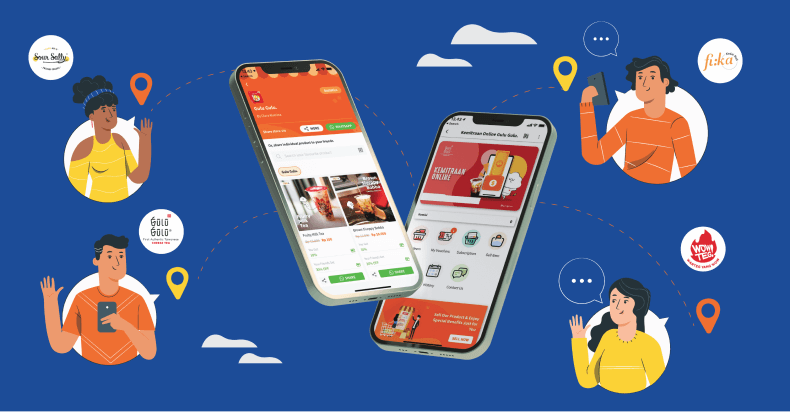 TADA is excited to announce that we have partnered with another prominent F&B brand in Indonesia! Sour Sally Group just launched their newest social commerce platform with TADA's Buyfrom, which helps businesses multiply revenues.
With the current COVID-19 pandemic still yet to cease and taking a toll on businesses everywhere, using a social commerce platform is one of the strategies businesses can adapt in order to survive and sustain themselves. It puts businesses, such as Sour Sally Group many steps ahead of competitors, that might only be relying on online platforms to boost their sales.
Why social commerce?
With the online market being saturated with multiple brands offering similar products, it can be hard for a single business to get noticed. By launching a social commerce platform exclusively selling Sour Sally Group products, target customers will no longer be lured by competitors. Anyone can easily register to be a reseller and market products using their blogs, social media influence, or instant messaging network to attract more customers or even new resellers, further expanding the network.
How does it work?
The overall process is also very simple to follow. Registration is available at Sour Sally Group's exclusive landing page. The landing page has a very attractive and well-explained banner which highlights the benefits of the program for resellers. Resellers can pick and pay for the package they want. Once payment is completed, they can immediately start selling by sharing their catalogue link and earning 10% royalty (profit sharing) for every successful transaction!
Lessons from Sour Sally Group
Are you a business looking to try this strategy in order to expand your market reach and multiply your revenue as well? Here are some key notes from Sour Sally Group's strategy that you can learn from.
Have a contest
Since their program is relatively new, Sour Sally Group is aware that they need to gain resellers first. Therefore, they turn the program into a contest with attractive prizes for resellers who sign up. Not to forget the element of FOMO (Fear of Missing Out) that they also instill in the information they show—they keep emphasizing on the deadline and establish a sense that the offer is limited and exclusive, so that people will be even more tempted to sign up as soon as possible.


Emphasize on the benefits
Sour Sally Group highlights the benefits such as an almost-zero initial cost, revolutionary business model, special vouchers/rewards, as well as quick return-on-investment period for their resellers.


Offer different options
Sour Sally Group offers 4 packages for resellers to choose from. This makes their program flexible and appealing to people with different interests and preferences. Their program appeals not only to people who are into healthy lifestyle (Sour Sally Package), but also the sweet tooth (Gulu Gulu), coffee lovers (Fika Kafi), and affordable Indonesian food (Wowteg). This kind of variety enables them to recruit more resellers and reach customers of different kinds.
To navigate through the pandemic era and come out strong, Sour Sally Group has successfully launched a new sales channel that can increase their market reach, multiply revenue numbers, and secure their footing in the long run. Are you looking to sustain your business better through a social commerce platform? Contact us and we will be happy to help create the most suitable program for your business!