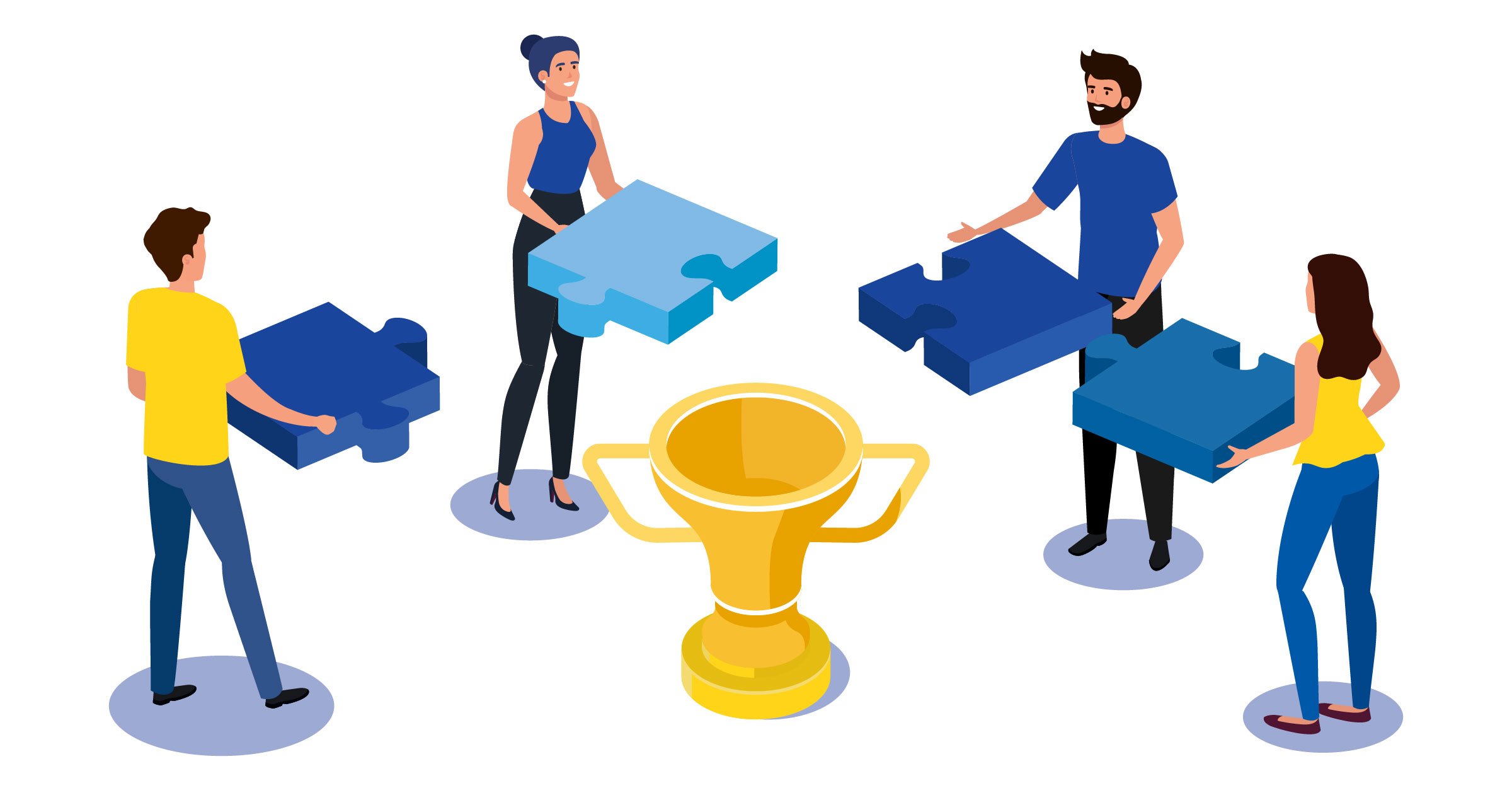 Traditionally, distribution networks owned by large FMCG companies have relied on channel partners like big distributors, sub-distributors, wholesalers to retailers to get to the end consumer. Therefore, all business models, including scale, margin, and market share, depend highly on channel partners and secondary sales channels.
To make your channel partners think of your products first than the competitors, you can start implementing distributor loyalty programs or often also known as B2B incentive programs to maintain good relationships between you and channel partners.

Not just giving discounts or cashback, you need to arrange performance-based incentives to increase brand loyalty and also build better relationships.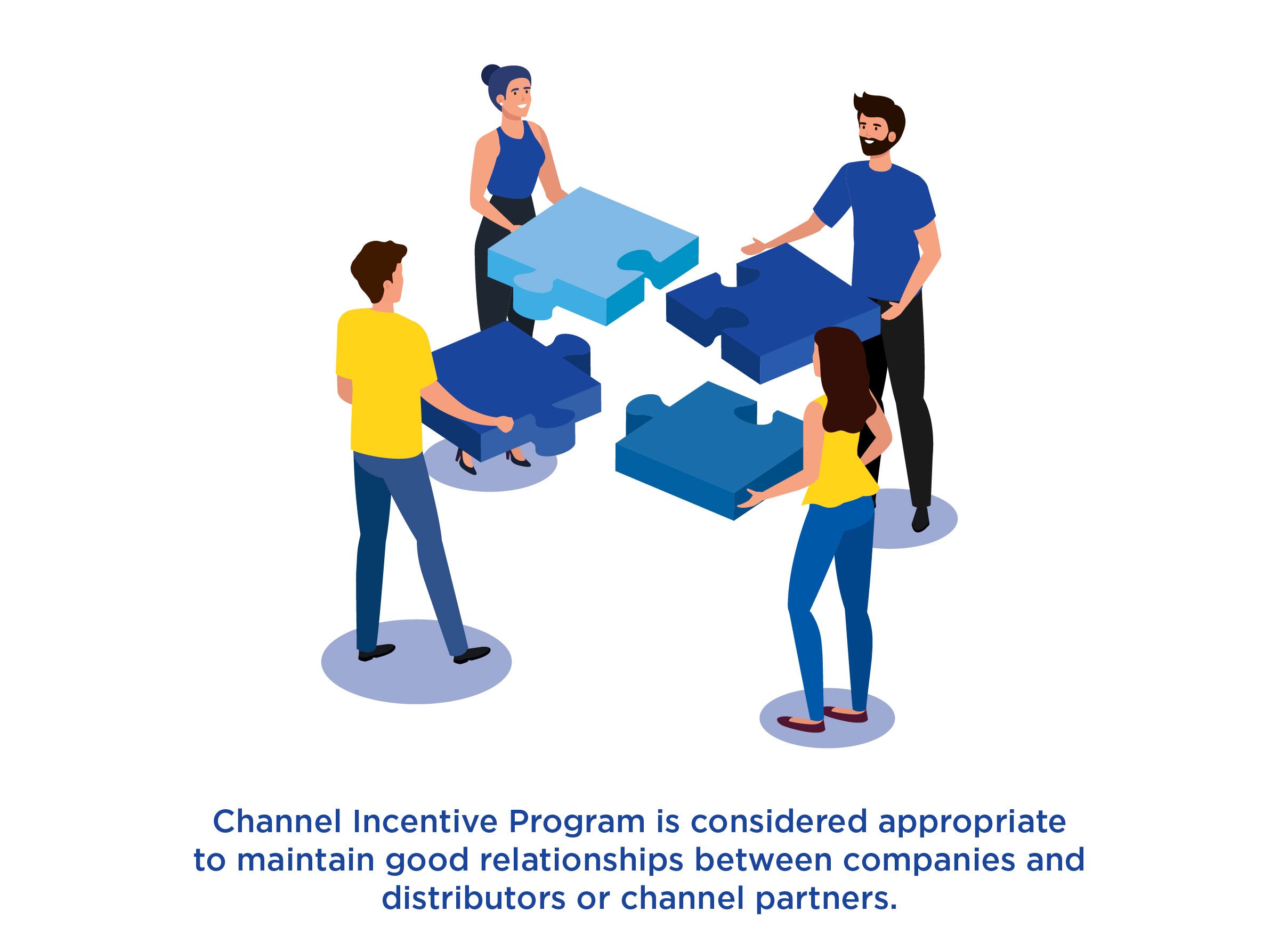 Let's learn more on how to engage and give incentives the right way and effectively to your channel partners here!
The Most Common Product Flow in FMCG Industry
The FMCG industry depend on supply chain to distribute their products faster to the end customers. It's because the customers tend to choose company or brand that meets their needs fastest.
So, having a streamlined supply chain activities will allow business to have competitive advantages, faster production and increase value for the customers.
Product flow refer to the movement of goods from company to consumer. In a typical supply chain, there will be:
Company - Big distributors - Sub distributors - Wholesalers - Retailers
This type of distribution flow is usually called intensive distribution and commonly used by the FMCG companies.
This distribution model uses many intermediaries (middlemen) in distributing, such as agent shops, drop shippers both online and offline, to small retailers in traditional markets. This strategy really intensively puts the products into all accessible markets that are easily accessible to many people.
Then, How to Properly Incentivize The Channel Partners?
A proper and proportional incentives scheme for channel partners is very important, so that each channel partner can receive rewards based on their performance.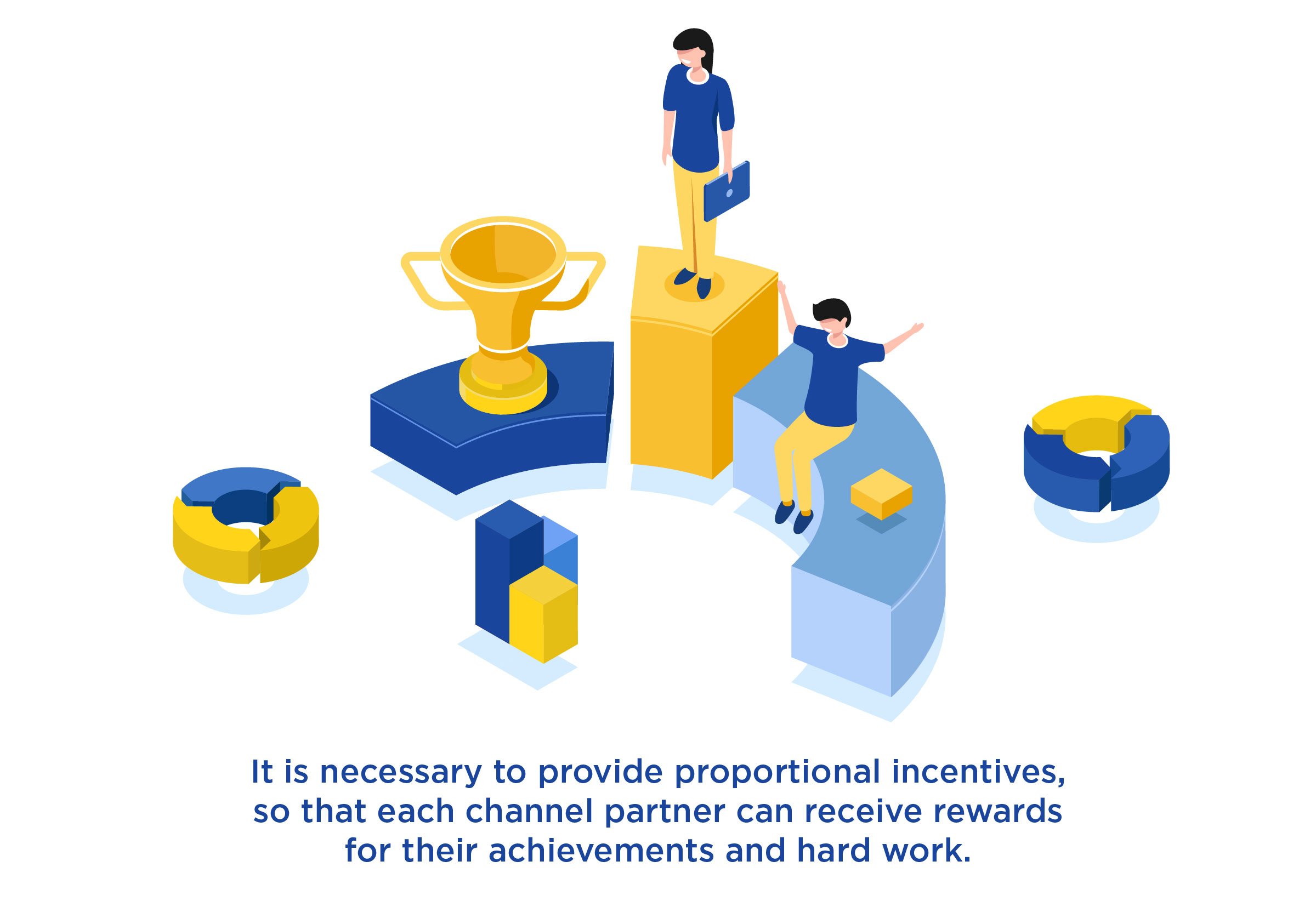 Here are some suggestions about how to incentivize your channel partners properly so it can encourage them to perform better, reach their target and feel valued as part of your distribution channel.
Give incentives based on sales volume, margin, product type, or target achievement


Set the rules to give different rewards for different level of achievement. For example reward for those who have exceeded monthly target will be different from the one who didn't achieve that. Various rewards can motivate channel partners to do better in selling your products.




Apply referral incentives


The main goal of this action is to encourage your channel partners to recommend your products or services to consumers. It is essential for marketing efforts because 83% of consumers trust referral/recommended products more.




Provide special training incentives


This incentive can be in the form of an invitation to take part in online quiz, watch product knowledge videos, attend a special webinar channel partner.





In addition to getting new knowledge, they will also be far more familiar with your product, so that sales and promotional activities become more optimal.




Create Incentives based on activity


Some activities such as filling out surveys, sharing brand promotional materials to personal social media, and daily check-in can be alternative activities to increase engagement with channel partners.





You can also get the data you need throu

gh surveys they fill out and free promos through social media sharing.
Make the Most of Your B2B Incentive Program
Optimizing you B2B loyalty program with incentives is essential to make this program run effectively and deliver the results as desired by the company.
Especially when the FMCG market is so competitive and requires fast and effective distribution channels so that the goods reach consumers on time. So, having an effective channel distribution will give you competitive advantage than your competitors.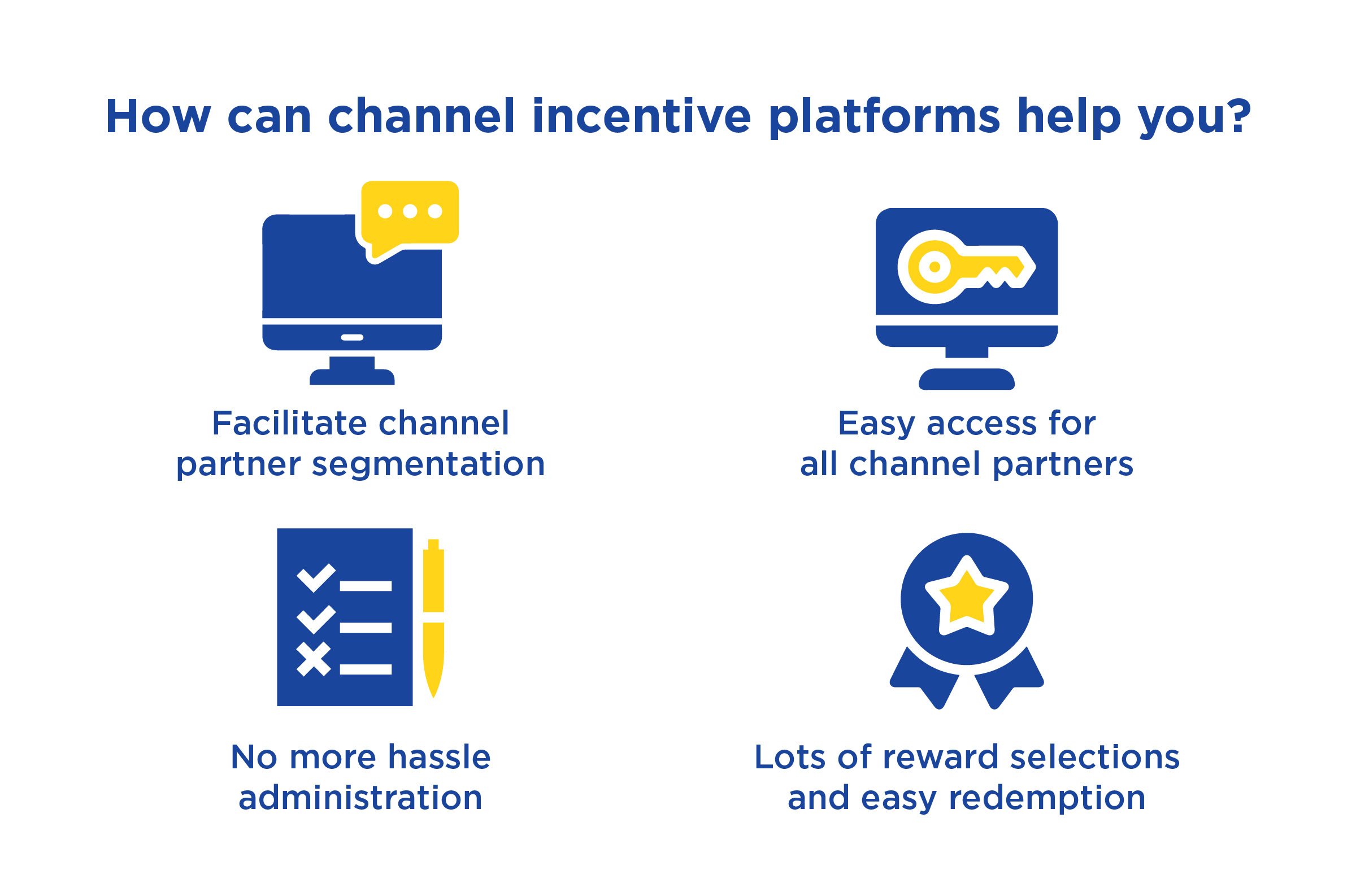 Fortunately, technology is here to help make your channel incentive program work effectively. The right B2B loyalty program platform like Tada can help you manage your channel partners and build a more solid business ecosystem.
Facilitate channel partner segmentation
By segmenting, you will more easily manage various goals and initiatives. With platforms like Tada, you can group channel partners based on region, performance, channel partner type, or any other qualifications you desire.

You also easily define promotions with different targets and goals, create different sets of incentive programs and access rules for different channel partner groups, assign different reward point values ​​for other product actions or sales, and more.


Easy access for all channel partners


You can provide a publicly available platform for distributors and other partners to place orders directly to the company to their track points easily. Tada provides integration solutions via loyalty APIs as well as white label apps and websites that can be up and running in a matter of weeks.




No more hassle administration


The B2B loyalty platform makes it easier for channel partners to upload and verify any necessary documents for point claims.





For example, your channel partners can easily upload shopping receipts, or other claim documentation directly to your incentive channel platform with the verification rules you set. The platform can then instantly convert it to reward points.





With an easy and instant reward earning experience and more transparent access to sales data, you can certainly improve relations with your distributors and other partners.




Many reward options and easy point redemption


B2B reward platforms like Tada have a reward catalog with around 1000 reward options, so your distributor or retailer will have a wide selection of rewards that can be redeemed with points.





In addition, the redemption process is also very easy too. Your channel partner just need to select the desired reward item and it will be sent directly to the their address or via email for the e-voucher.




Easily configure, send and track rewards sent to partners


The main purpose of businesses is to allow digital migration so that all business activities can be well implemented. B2B loyalty program from Tada allows you to configure, send and even track every reward sent to channel partners through the dashboard




Optimizing and managing your data
B2B loyalty platform from Tada comes with a dashboard that can collect insightful data and can be used for various purposes, including setting up a new product launch campaign with a specific target audience.
Take Your Business to The Next Level!
Building good relationships and providing incentives to channel partners does require a special strategy.

However, if you have set goals and chosen the right platform to realize the plan, your business is ready to step into the next level!

Tada can be a one stop solution for those of you who are confused about how to reward distributors, dealers, wholesalers, resellers or other partners to motivate them to perform better. Contact us now for a free demo.