The word "loyalty" has a strong emotional connotation. More businesses are becoming aware of a customer's emotions on how they connect with a brand. As a result, a successful loyalty program should now go beyond transactional incentives. To maintain long-term loyalty, it must develop extraordinary experiences that touch all points.
Retailers that can deliver an excellent, personalized customer experience often find these increasingly loyal shoppers are willing to pay a 31% premium. This finding comes from EKN Research on "State of the Industry Research Series Q4 2014: 2nd Annual Stores Benchmark".
In today's retail, loyal customers cannot be determined solely by their spending habits and sales volume. Loyalty is no longer a stand-alone concept; it is now intertwined with the customer experience. Consumers today are more discerning and value quality. It is a challenge, but it is also an opportunity to reimagine loyalty strategy and rethink its boundaries.
This concept pushes the bounds of traditional loyalty programs, giving rise to a new term: omnichannel loyalty programs. Let's have a look at what they are and how to implement them.
This article will cover:
Recognizing Omnichannel Loyalty
The Value of Omnichannel Loyalty
How to Make Omnichannel Loyalty Work
Defining Omnichannel Loyalty
The word 'omni' means' all 'or' whole.' Thus, omnichannel is a marketing strategy that utilizes all available channels to maximize business and create a unified experience for customers. The Omnichannel includes conventional and digital channels ranging from offline to online.
Omnichannel loyalty programs are concerned with providing the best shopping experience across all channels. This entails providing meaningful engagement at every touchpoint, from the website to the physical store.
Customers interact with your brand through various platforms, devices, and channels, and they expect them to all work in unison. Omnichannel loyalty programs may include personalized recommendations and offers, a simplified purchasing process, and instant access across multiple devices.
The Omnichannel can be a panacea for your business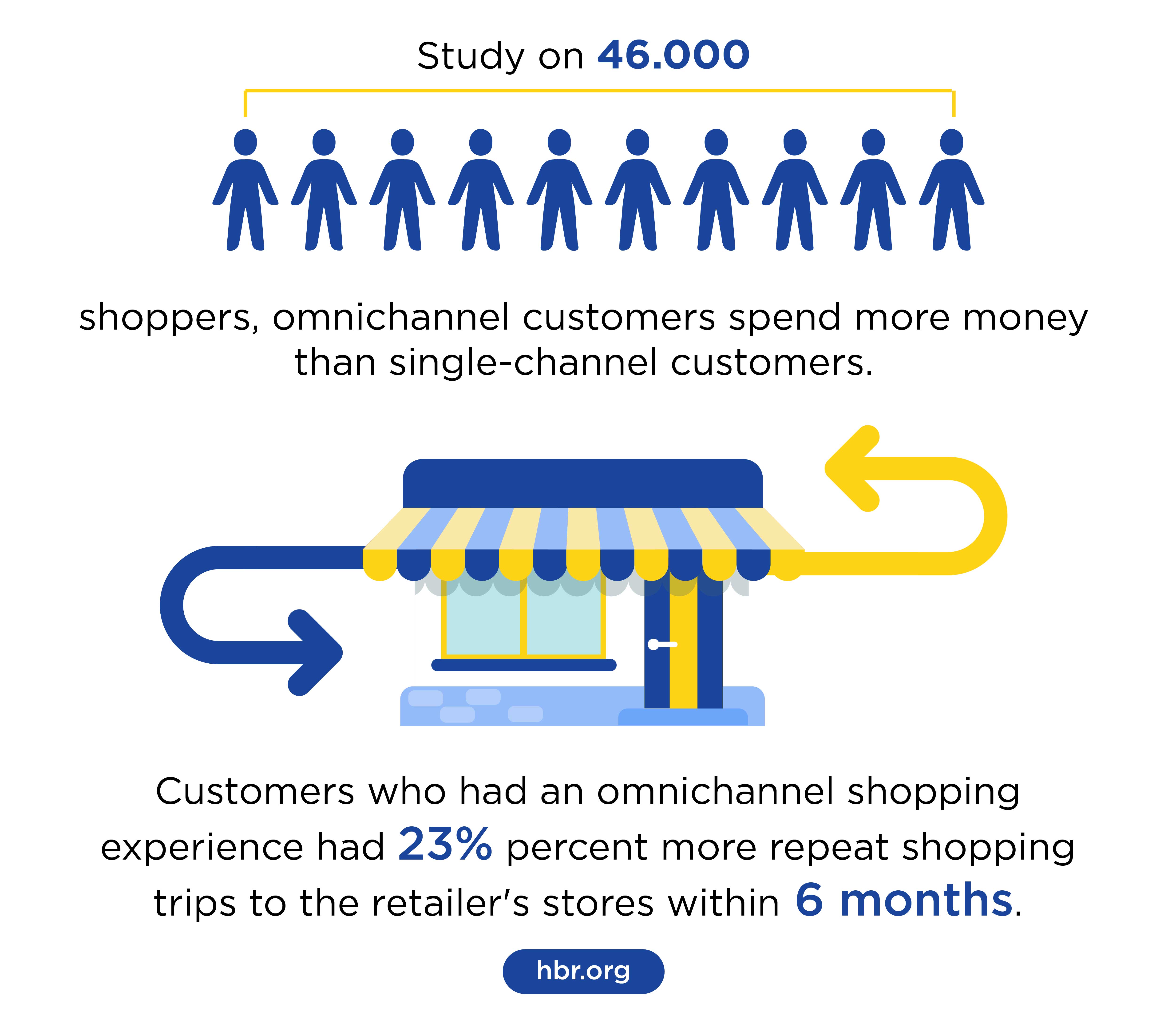 Traditional retailers have staked their futures on omnichannel retailing in these hostile times. The omnichannel strategy is based on the idea that providing a seamless shopping experience in brick-and-mortar stores and via various digital channels distinguishes retailers from their peers. It also gives them a competitive advantage over online-only retailers leveraging their store assets.
According to an IRI consumer survey conducted in 2018, 74% of customers choose a brand based on its strong loyalty or discount program. Furthermore, 71 percent of brands that use omnichannel loyalty programs reported that transaction volume increased by more than 50 percent over the previous year.
Let's have a look at the benefits of this new panacea for your business.
Emphasis on Brand Values
The more opportunities you have to tap into a customer's lifestyle, the clearer your brand identity becomes in the customer's mind. Aligning the structure of your omnichannel loyalty program with your brand identity helps to enhance your core message by connecting your customers' preferences, passions, and beliefs. You can thank people for going for a run and ensure that they are rewarded in your stores afterward, strengthening their emotional bond with your brand - Strava.
We used to think of omnichannel loyalty programs as a seamless in-store, online, and mobile combination. Still, we've added another component: daily life – all those moments when customers are just people.
Higher Sales and Traffic
Making your sales strategy omnichannel-proof isn't as simple as it sounds. However, it will be well worth your time and money. According to a Harvard Business Review study on 46,000 shoppers, omnichannel customers spend more money than single-channel customers. The omnichannel shoppers spent more money in the store for each additional channel they used. Customers who used four or more channels spent 9% more in-store than those who used only one.
Data-driven insights to create better decisions
Aside from increasing customer affinity for your brand, omnichannel loyalty programs provide another significant benefit: data-driven insights. Even though you may have to pass through several gates to reach your customers, you can store all of their information in a centralized system. With all of these statistics, businesses can learn about the most recent trends in consumer behavior.
A restaurant may discover from omnichannel data that most returning customers arrive at a specific time or from a particular suburb. It also identifies what these important customers prefer to eat at the restaurant. Access to customer transaction history enables store owners to understand their loyal customers better and discover what sets them apart from other visitors. Analyzing the resulting data and trends enables businesses to make smarter decisions.
Increased Customer Loyalty
Omnichannel customers are not only more likely to spend, but they are also more loyal to your brand. According to the same study, customers who had an omnichannel shopping experience had 23 percent more repeat shopping trips to the retailer's stores within 6 months.
They were also more likely to recommend the brand to family and friends than those who only used one channel. With an engaging brand story, you can abandon discount coupons, mid-sale campaigns, and other traditional marketing tactics. Concentrate on customer retention, and your brand will be safe.
Omnichannel implementation for your loyalty program

Omnichannel marketing is not only useful for attracting customers to make a purchase. You can also take advantage of omnichannel for loyalty programs to optimize reaching and retaining customers.
How do you implement the omnichannel feature for your loyalty program?
Enrich all contact with customers
Omnichannel loyalty programs have more points of contact with customers. Previously, customers needed to come to the store to shop and collect loyalty points. With an omnichannel loyalty program, all customer contact points: websites, mobile apps, social media, and more can be leveraged to drive activity loyalty.
Set rewards for engagement
The omnichannel loyalty program feature helps you reward more than just when a customer makes a purchase. You can reward them when they share your business promotion on social media, invite friends, write online reviews, and more. That way, you're creating a stronger emotion than the interaction at the time of purchase alone.
Use data to create personalized experiences
With omnichannel features in your loyalty program, it is easier to collect customer data online and offline. With richer data, you can study customer trends, behaviors, and preferences. Use that data to provide customers with a more personalized experience. Give rewards that are more in line with their interests.
Flexibility is another luxury
With omnichannel, customers can make transactions, collect points, and redeem rewards in real-time, where they are without the need to come to the store. Give the option to get products or tips sent directly to their address. Customers will love your loyalty program even more because it is practical and convenient.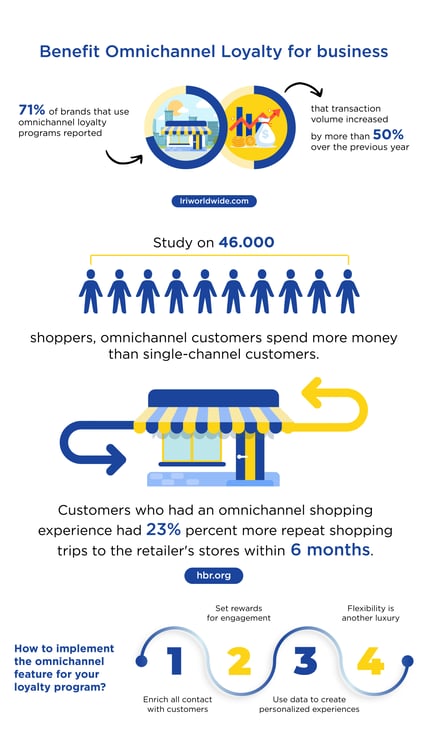 Key Takeaway
One of the advantages of adopting an omnichannel system for your retail business is the interconnectedness of the channels you have, making it easier for customers to shop for the products being sold. A seamless customer shopping experience will increase customer interest in shopping because of the ease and convenience of shopping offered both online, offline, or both at once.
TADA's omnichannel has become the loyalty program solution for many businesses and you could be next. Let's talk to our experts at TADA to design an exclusive loyalty program suitable for a variety of businesses. Contact TADA to find out more.