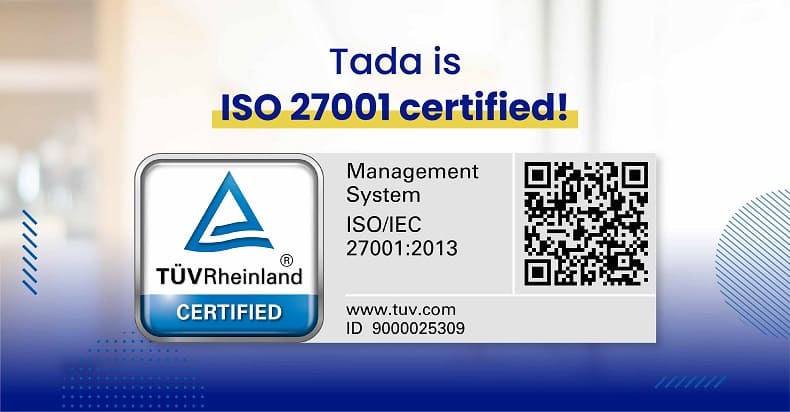 Tada, the leading loyalty & reward platform in the region, has been certified for ISO 27001 (ISO/IEC 27001:2013). This certification stands for an internationally recognized standard that ensures that our loyalty & rewards platform meets the best practice for an information security management system.
This certification showcase Tada's commitment to adhering to the highest standards of information security, including confidentiality, integrity, and availability of information for our loyalty & reward platform.
"Tada takes information security very seriously and achieving this certification proves our commitment to the Information security of our loyalty & rewards platform and related services processes and to the privacy of our client's valuable information assets." says Rebecca Agiestha, co-founder of Tada.
"Our team will continue to develop loyalty & reward technology that protects our clients' and their customers' data" she added.
What is ISO 27001?
The International Organization for Standardization (ISO) is a globally recognized, independent organization dedicated to establishing and maintaining universal standards for security and safety. It plays a crucial role in defining global benchmarks.
Among the ISO 27000 family of standards, ISO 27001 specifically focuses on information security. It mandates that companies adopt an information security management system, encompassing a documented process to handle sensitive company information, HR processes, and IT systems.
Compliance with this standard demonstrates a company's dedication to maintaining the highest level of data security and managing potential threats effectively.
What are the benefits to Tada' clients and their customers?
Being ISO 27001 certified is testament to the fact that Tada prioritizes data security. But it also ensures the following:
Tada security practices align with global standards and legal requirements, offering clients peace of mind
Customer data is rigorously protected from unauthorized access or breaches.
Thorough assessments to identify, minimize, and eliminate risks and vulnerabilities as early as possible, enhancing overall security.
Operational excellence when it comes to our IT, HR, and information processes; ensuring smooth operations and effective protection of sensitive data.
Wrap up!
At Tada, we recognize the critical role that security and trust play in the success of our Loyalty and Rewards Platform. The ISO 27001 certification reaffirms our dedication to providing a secure environment for our clients' data.
By obtaining this certification, we have strengthened our security practices, complied with global standards, and built a foundation of trust with our clients.
As we continue to evolve, we remain committed to maintaining the highest level of data security and delivering exceptional value to our clients.