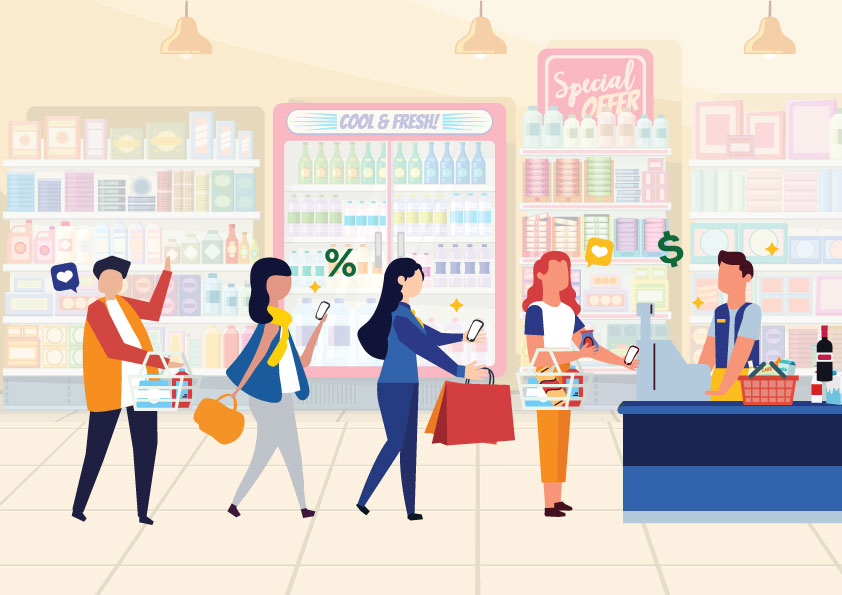 Did you know that 65 percent of business revenue typically comes from existing customers?
In the 1990s, Bain & Company (management consulting firm) collaborated with a professor at Harvard Business School to analyze customer life cycles. Ultimately, they derived that increasing customer loyalty by just five percent
increases profits by 25 to 95 percent
. On top of that, acquiring new customers is
five to 25 times more expensive
than retaining new ones.

It is apparent that loyal customers are extremely valuable.
Value of Retaining Loyal Customers
A tough battle ensues between businesses and their competitors as both parties try to gain the attention of their customers. Business owners rack their brains and continually improve their products and services as they know the importance of retaining loyal customers.
Loyal customers are vital for the overall growth of any business. The following statistics demonstrate the importance of loyal customers:
The Effect of Loyal Customers
Needless to say, loyal customers form a huge part of a business' revenue. One key consideration that the majority of businesses neglect is that these loyal customers have the potential to bring in more customers. Through the power of word-of-mouth, loyal customers will encourage their close ones to purchase the product or service they love.
Loyal customers are perfect marketers for a business in the sense that they will willingly advocate for the brands they frequent. They are the organic sales driver every business hopes to have. Businesses will be able to reach a wider audience with a lesser cost than their conventional marketing strategies.
Ways to Retain Loyal Customers
1. Provide Customers a Reason to be Loyal
A multitude of strategies can be used to ensure that customers stay loyal. Chief among them is communication. A database of relevant information on the customers can be utilized to touch bases on special occasions. This will make them feel important. For example, offering a complimentary cake during a customer's birthday month. Customers will feel like they are being appreciated by the brand they patronize and thus come back.
For certain businesses, a selection of extended payment plans to enable secure payments over time also helps. Customers will feel that the brand cares about them and their well-being.
How do top brands give customers a reason to stay?
The short answer is brand loyalty. A study was conducted whereby a team of neuroscientists scanned the brains of Apple fanatics and saw that a part of their brain lighted up similar to the brain activity of religious people when asked about their deity. This illustrates the extent of effect a brand may have on its users. Brand loyalty is an emotion so ingrained into customers that they will regularly patronize with little to no effort on the businesses' side.
The long answer? Combining a myriad of strategies specific to their customers' needs.
2. Offer Incentives and Rewards
One of the most effective ways to increase the number of loyal customers is to display appreciation in the form of perks. Customers love discounts. Having the occasional sale, or even progressive perks for members is how you acquire new customers and turn them into loyal repeat-purchasers. Communicating incentives through marketing channels and equipping customers with the necessary knowledge to not only partake but also get their close ones to join in as well, is also important.
When you offer incentives and rewards, you are encouraging customers to make a return visit. Perks are a proven method of boosting customer satisfaction. Loyalty programs go hand-in-hand with the disbursement of rewards. However, make sure that the loyalty program meets the needs of customers. Do not rush into a loyalty program. Allocate some time to tailor a loyalty program specific to your business.
3. Provide Excellent Customer Service
Good customer service is vital in retaining loyal customers. It requires an analysis of the brand, especially from a customers' point of view. A brand has to ensure that people can contact them quickly and at any time. They must be prompt in responding and polite in words. 66 percent of customers leave a brand due to poor customer satisfaction. Businesses need to treat their customers right if they want them to stay.
The most important element to take note is human touch.
Although chatbots and automated call systems are effective in providing 24-hour customer service, it may not be the best. Never forget human touch. Businesses may choose to pair the automated system with real staff speaking on the line to optimize customer service.
Remember, one happy customer brings another.
Conclusion
Do not undermine the value of loyal customers. Loyal customers form the heart and soul of a business and can bring in tremendous profits. Active steps need to be taken to retain them. Loyalty programs may be an effective strategy businesses can look into. Now that you know the importance of loyal customers, how would you keep them coming back?
Interested to find out how to incorporate this seamlessly into your current program?
TADA is an end-to-end customer retention platform that improve businesses sustainability by retain their customers better.