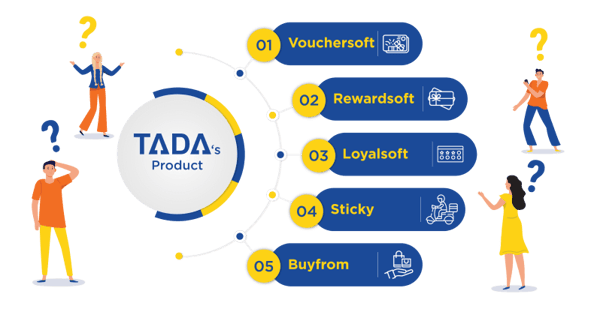 Exciting year
Last year has been challenging for everyone but it did not stop us from growing. Businesses are forced to adapt to new habits and TADA is no exception. We aimed to help sustain businesses by retaining their customers. With that in mind, we also adapted our product and services to fit our partners' needs.
In 2020 alone, we improved our existing products and services, and rolled out a new sales channel to help businesses increase their revenue, improve their retention capabilities, and reach more audiences than ever before.
The product guide to help you
Knowing that TADA has developed so many products last year, here's a quick guide to our product line to help you understand which product is the perfect fit for your business.
This product will enable you to create and sell e-vouchers or digital coupon books directly to end-customers or B2B partners. To learn more about this product, click here.
We realized that one of the ways to retain employees, customers, and channel partners is to give them rewards. Rewardsoft will let you manage your rewarding system such as sending points or e-vouchers to your stakeholders.
If you're looking to capture various activities such as referrals, promotion, and social media sharing, then Loyalsoft is the right product for you. With the many engagements and gamifications associated with loyalsoft, it would be like loyalty on steroid for your business to effectively retain your customers.
Dynamic rewards is our newest innovation that allows you to give instant rewards to customers based on the frequency of their visit to your business. With Sticky, make your schemes of rewards that will surely make your customers return repeatedly to your business. Sticky integrates loyalty, online order, and delivery all-in-one! To learn more about Sticky, click here.
When the pandemic strikes, many businesses are forced to close down their stores due to social restrictions. Buyfrom will enable you to recruit resellers for your business. Resellers will act as your new sales channel which will increase your revenue by promoting your products through social commerce (social media and chat platforms). If you're looking to increase your sales by using Buyfrom, click here to learn more.
Knowing what's best for you
Now that you have learned about our products, it's time for you to decide which is the best suit for you. We have created this simple table to help you decide the best product for you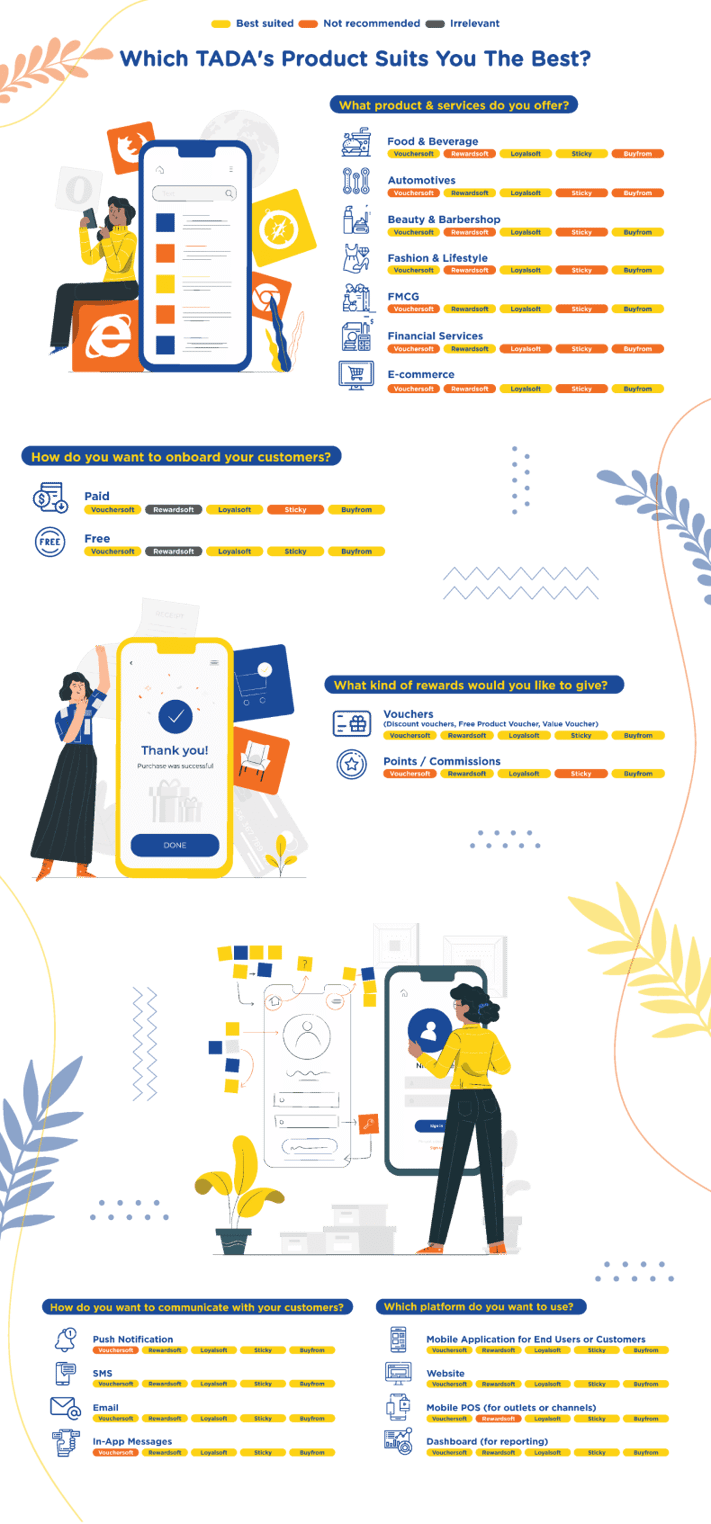 What are the products and services that you offer?
Naturally, all of our products can find a fit in any type of business. Nevertheless, few products excel in certain types of business.
If you're in the F&B business, Sticky fits for you. The food business tends to have high volume and fast-moving products to be delivered to customers quickly.
Rewardsoft is suitable for big corporations that offer financial and insurance services to enable them to give personalized rewards to their customers.
Across the board, Buyfrom will fit in most types of business especially in the retail business where the brand has higher reach and market share with a high range of buying power (depending on the business target market).
How do you want to onboard your customers?
There are 2 ways of doing this, paid and free onboarding. If you want to have upfront and steady income, you can implement the paid membership model otherwise known as subscription.
Loyalsoft and Buyfrom are the only products that support this model. The payment made by the customers can be done automatically and will be charged depending on the cycle that you have determined at the beginning of the program.
What kind of rewards would you like to give?
Points and digital rewards are two types of rewards that you can give to your customers. Rewardsoft, Loyalsoft, and Buyfrom will enable you to reward your customers using both points and vouchers, making them the most flexible product in terms of rewards compared to others.
Vouchersoft and Sticky mainly rely on e-vouchers. Vouchersoft will let you create your e-voucher catalog. Sticky encourages customers to buy your products using vouchers with a small expiry window which can be redeemed both in physical stores and via our integrated delivery system.
How do you want to communicate with your customers?
One of the effective ways to maintain a relationship with customers is by using various digital channels. We have provided many channels over the years such as push notifications, SMS, emails, and in-app messages that work hand-in-hand with our products.
Most of our products are compatible with every type of communication channel. There are only 2 products that utilize only SMS and Emails as their way to engage with customers.
Vouchersoft and Rewardsoft do not require customers to download any application or register through any website, additionally, most of the clients that use Vouchersoft and Rewardsoft come from the financial industry where they use emails and phone numbers as the primary identifier.
Which platforms would you like to use?
Over the years, we have developed numerous platforms to help businesses connect with their customers, from mobile and web applications, mobile POS, and dashboard for reporting.
Most of our products are accessible through all of our platforms. Choosing the best one is entirely up to your business. If you're looking for a smoother experience for your customers, we highly recommend using a mobile application since the data will also be recorded on the customers' device.
What we have in store for you
If you reached this part of this article then congrats! Now you know which of our products will suit you the best.
But we know that you'll need more proof right? Don't worry, we got you covered. In the next post, we will give you some data regarding the performance of each product in different industries. With this, we hope that you can be more certain about which product that you would like to use in the future.
If you want to know more about our products, click the button down below to contact our sales team and we'll reach out to you shortly.