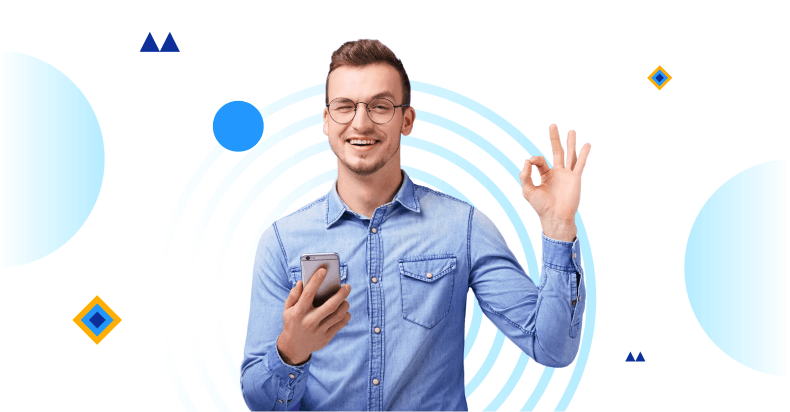 Some of the most successful, popular, and iconic brands in the last few decades generally are built on compelling and sophisticated loyalty endeavors. They have successfully retained loyal customers as well as acquired lots of new ones.
Many companies build their own loyalty programs from scratch, but many of them also rely on white label loyalty programs that are much cheaper, simpler and still a powerful tool to retain customers.
So what is a white label loyalty program? Is this program applicable for all industries? How does it work and what are the benefits?
This article discusses how you can use white label loyalty program to launch an advanced loyalty experience without designing a program from scratch, saving developer resources and giving your business team greater agility.
What is White Label?
White-label, sometimes also called private label or headless label—is a product/service/program that is provided without the logo or name of the original provider. Generally, the solutions offered can be in the form of customizable white label applications or websites.
So the white label loyalty program refers to a loyalty program that is ready to use and can be tailored to your needs. Starting from putting your logo, use your company's brand color to choose what features to be included in your loyalty program.
White labels are standard in retail, e-commerce, digital marketing, banking, and many other industries.
How Does the White Label Loyalty Program Work?
The way white labels work is more or less look like this:
Third parties or platform vendors create products or services and then sell them to other companies without a brand.
Then the business owner will be able to customize the product, put their logo on it and use it for their end consumer.
This way, white label provider platforms can focus on developing and improving their products without paying attention to branding and marketing.
Meanwhile businesses can concentrate on expanding their program without wasting time and energy on production
It is a win-win-solution business model for both platform vendors and business owners
What are the Benefits of Using the White Label Loyalty Programs?
Interested in using a white label loyalty program for your brand's customer loyalty program? Here are the various benefits offered by this business model.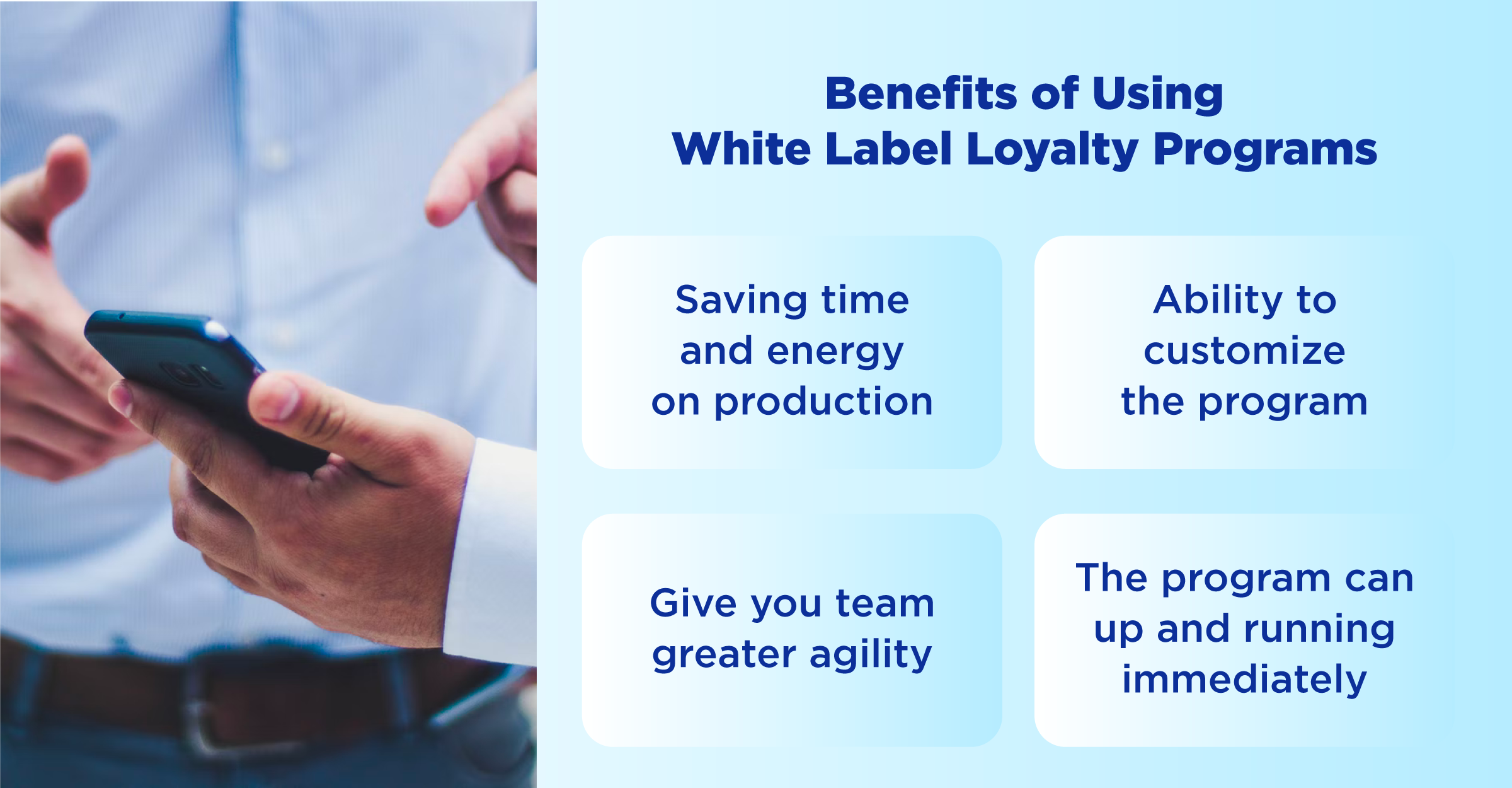 Save time and energy on production
Creating your loyalty app takes much time, effort, and money. The costs of sourcing, human resources, planning, debugging, experience, and program development are huge and can take years to perfect.

The white label platform has this ready for you to be up and running and running your business in no time. White label solutions help minimize the costs and risks in creating a loyalty program, too.


Ability to customize the program
Although not very flexible in customization, using a white label loyalty platform can still display your branding. Logo customization and colors can also be set based on your brand. Usually, white-label platforms make the system as simple as possible so that even non-tech-savvy businesspeople can use it.


Give your team greater agility
Working on a loyalty program with in-house developers is not impossible as long as you have reliable resources. However, because the production process can take a long time and use up a lot of resources, employee performance is hampered because all their efforts are devoted to the project.

With the white label program, you don't need to allocate a lot of employees to build this program because it's like buying a finished software or program from a vendor, you just need to customize it based on your company's needs.


The program can up and running immediately
Because the white label loyalty program is already an end product with complete features to support your loyalty program, so your program can be live in no time.
White Label Loyalty Platform for Distributors and Salespeople Incentives
A white label loyalty program can also be used if you want to give incentives and rewards to your distributors and sales team.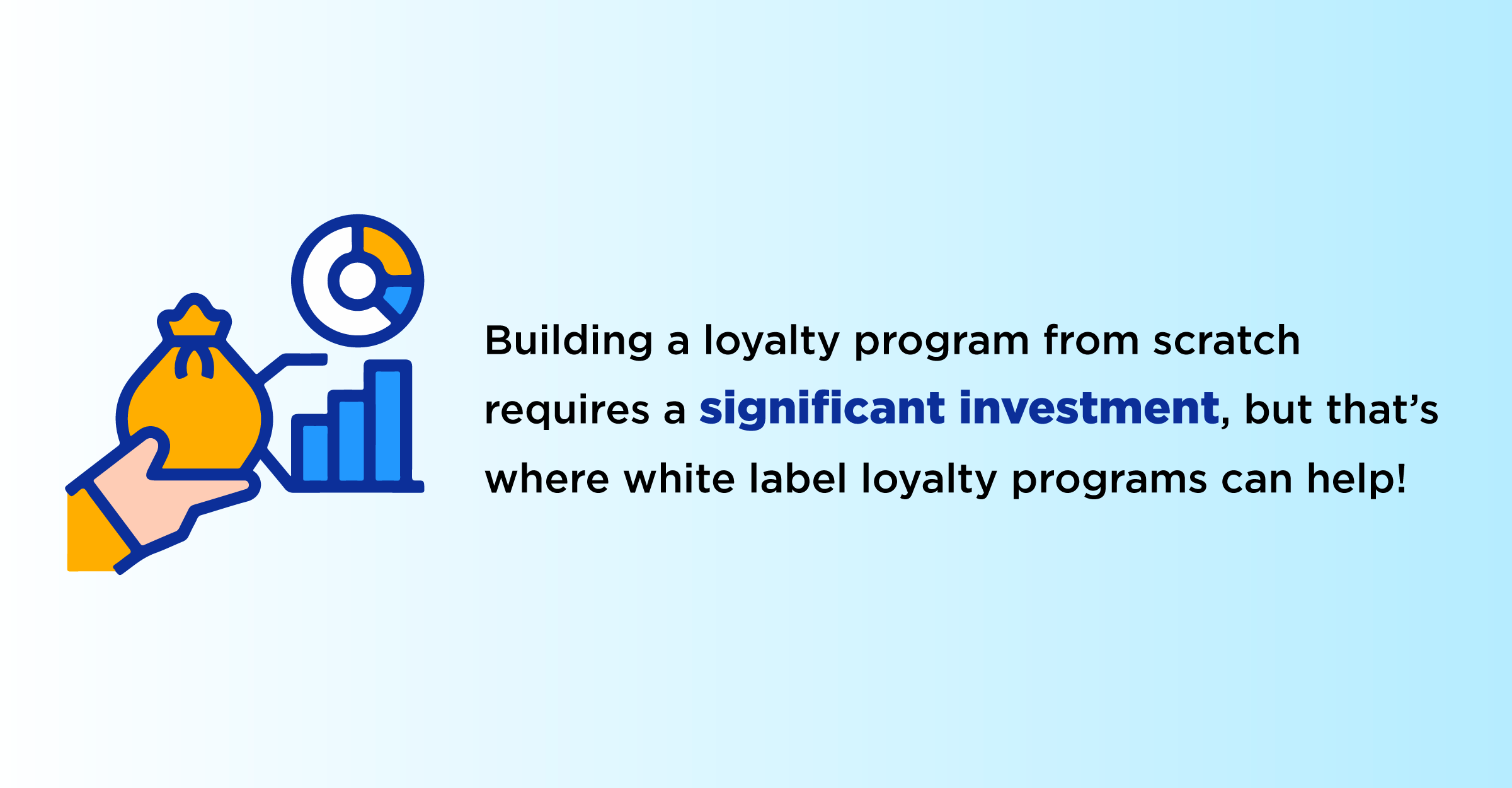 Distributors consistently attempt to acquire new customers while serving the existing ones. However, even though their sales are made for their own profit, the distributor's network of customer base is an extension of your product.
For this reason, maintaining the loyalty of distributors and sales teams must be the main focus of a business, one of which is by providing incentives and rewards by utilizing the white label loyalty platform or SaaS loyalty solution.
Tada, as a leading loyalty & reward platform in Indonesia, can help your business build a white label loyalty program that aligns with your company's needs. Here are some reasons why you should consider choosing a white label loyalty program over developing your own from scratch.
The program is ready to use
Tada's white label platform makes it easier for even non-tech-savvy businesses to run the programs. With a plug & play system, you don't need any special skills to customize it. Everything can be done as quickly as you register on social media. In addition, both the application and the white label web are designed to optimize conversions and ease of use.
Companies don't need to start from scratch
With the white label platform, you no longer need to think about the concept of the program from the basics. You only need to make a list of the features you need, then apply them on your white label application. So with the white label program, you'll have more time to expand your business rather than turn your focus in developing it.
Dashboard as a Data Center (insight)
Today, nothing is more important than data and its management. One of the advantages of the Tada White Label Platform is our extensive dashboard feature. You can get all essential data related to consumers centrally in the dashboard. This data center can help you identify consumers better to determine the proper marketing steps for them. You can also do consumer profiling, starting from behavior, such as their preferences and purchase history.
Segmentation based on specific categories
Segmentation helps you create a personalized approach that makes consumers feel like you understand them. It makes them feel valued, partly because you "know" them well enough to send them relevant promotions that don't waste their time. Our white label platform also allows you to segment the customers by region, SKU (stock keeping unit), etc.
Sending messages and rewards is equally easy!
The dashboard feature on the Tada White Label Platform allows you to send gifts as quickly as sending a message. This feature can help you send personalized messages via email, SMS, or push notifications to engage customers at different stages of the consumer journey with your brand. Also, sending a reward e-voucher can be as quick as sending a message via chat, too.
Avoid the fraud with security features
Fraud in customer loyalty programs can be prevented, especially if you entrust your loyalty program to Tada because we have three security features that you can activate when using the Tada loyalty platform: Fraud indication, Redemption fraud indication, and Redemption approval. These features will give you maximum control over member transactions or redemption of points to prevent possible fraud.
Let's Talk!
Are you interested in creating a loyalty program using a white label solution? At Tada, we have the perfect White Label solution if you are looking for a complete and secure program.
Request our free demo now to see how Tada can help you build your loyalty programs with white label solutions.