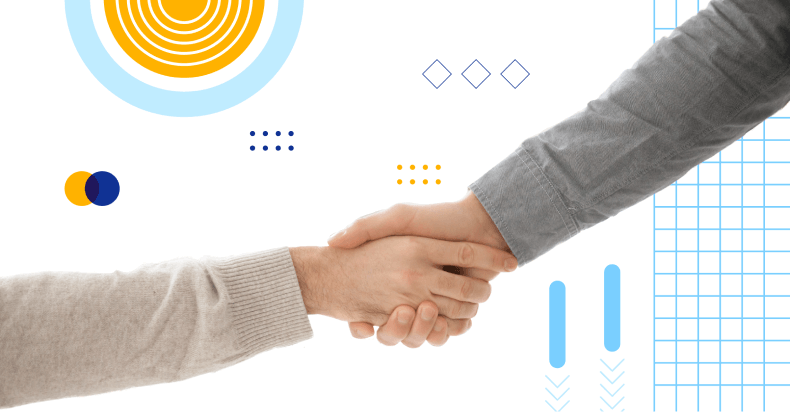 Customer loyalty programs have become common practice these days. But, not all loyalty programs have successfully achieve their KPIs because as today's consumers are unique and require better approach to retain them through a loyalty program.
An exciting report from Bond about loyalty programs shows that the average customer enrolls in 15 different loyalty programs. But unfortunately, according to Accenture, 78% of consumers in US left loyalty programs sooner than three years ago.
Now is the right time to review your loyalty program to know whether your customers abandon your loyalty program or still loyal over the time.
Reasons Why Customers Join Loyalty Program
Let's take a look at the main reasons customers decide to join different loyalty programs.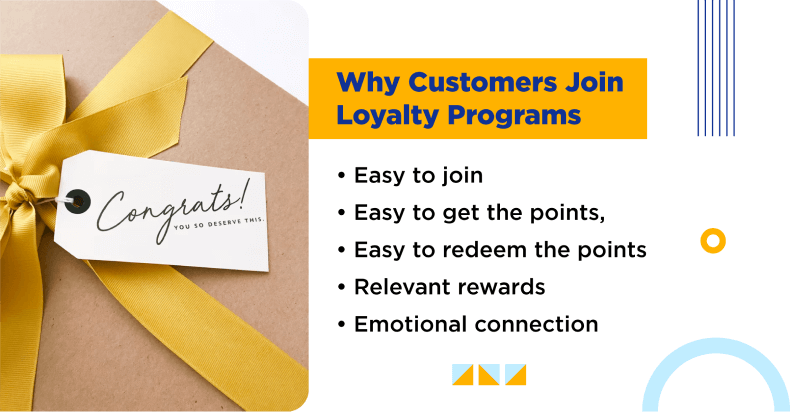 1. Easy to join
Customers, both online and offline, are always looking for convenient shopping solutions that can provide value quickly and easily. The simple registration form and fast registration process strongly attract customers to join a program. Therefore, minimize your registration forms.
2. Easy to get the points
In addition to the ease of joining, of course, getting reward points is the main reason a loyalty program has many members. Create a loyalty program structure that is simple and easy to understand. Your loyalty program page should also have precise details on how points can be earned and used.
3. Easy to redeem the points
After successfully creating an easy registration and points structure, customer also considers the ease of claiming prizes when deciding to join a loyalty program.
Because what's the point of getting something that can't be used, right? Create an easy process for claiming rewards with relevant terms so that your member won't have any problem if they want to redeem something.
4. Relevant rewards
As well as the customer's desire for rewards that are easy to claim is the relevance of the rewards and the perks they will receive. Customers tend to choose programs with bonuses and perks that are relevant to them, either something they need or want in their daily lives.
Make sure you offer the rewards and perks that your customers want. Exclusive gifts are more appealing to customers, like getting something they can't buy, like a VIP invite to a special event at a product promotion event or free coffee for a year.
5. Emotional connection
Customers expect you to care about them, so 79% of customers consider joining a loyalty program where they can build an emotional bond with the brand.
You can show you care about your customers by offering them a birthday present or giving them something they didn't notice before.
Reasons Why Customers Abandon Loyalty Program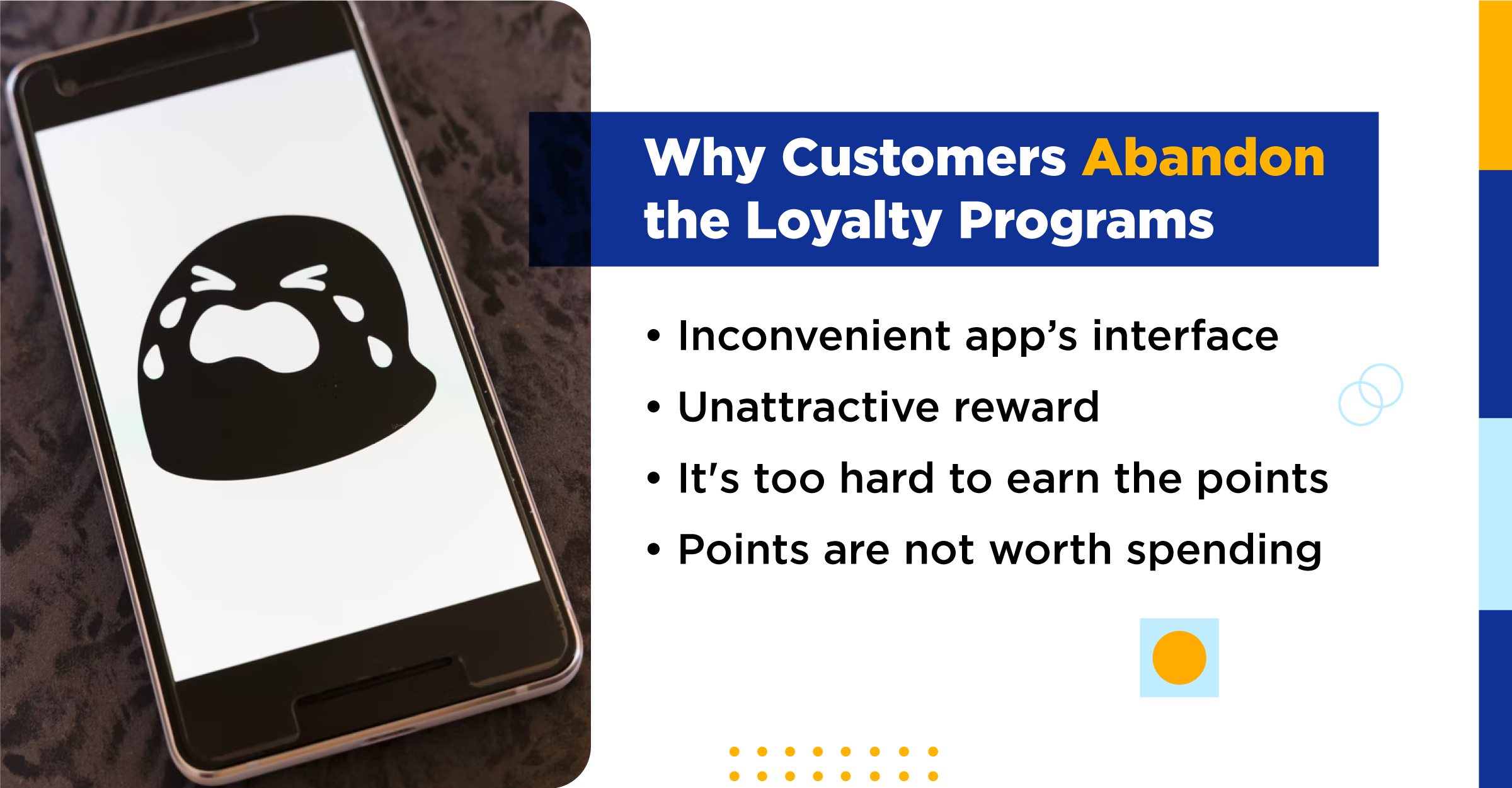 Not all loyalty programs have the same level of effectiveness. Some of them can even repel consumers. Here are some of the top reasons why customers abandon loyalty programs and what you can do to prevent customers from leaving the program.
1. Inconvenient app's user interface
Your customers spend a lot of time with smartphones, so they expect to have a loyalty app that is clean, easy to navigate and not cluttered.
For this reason, the user interface of an application is essential for customers. If your loyalty program's mobile application crashes too often, slows down, or is too heavy for even an entry-level smartphone, they may leave your program.
2. Unattractive reward
Loyalty programs are usually successful because they offer an equal exchange of value. Your customers provide their commitment and loyalty through product purchases, and you provide exclusive discounts, unique gifts, and other rewards.
If your customers feel that their rewards are not commensurate with their loyalty, the balance between you and the customer will be disturbed.
One of the nuisances with loyalty programs is that the rewards offered are uninteresting, not diverse, or even irrelevant to the customer's needs. Customers are not presented with attractive options for rewarding their loyalty, and as a result, they will no longer consider continuing to join your loyalty program.
3. It's too hard to earn the points
Too many conditions and the effort made by customers to get points can be a factor in abandoning the loyalty program. Even if you offer a desirable rewards, if the conditions for earning reward points are too complex and too much effort for the customer to put in, the program is in vain.
So it's best to avoid giving them new "homework" to earn points. Provide convenience in earning points from every purchase, any successful interaction via social media and many more. Just don't make your earning point mechanism too hard for your customers.
4. Points are not worth spending
Often the reward points are not proportional to the spending issued by the customer.
For example, if a customer buys a product worth 1 million rupiahs, it will generate 10 points. To convert into a smart TV, the customer must have 100 points. So, customers must spend as much as 10 million to get 100 points that can be exchanged into Smart TVs.
The lowest Smart TV price on the market is currently at 2 to 5 million rupiahs. Customers, of course, prefer to buy a smart TV directly instead of having to collect 100 points by spending 10 million.
How to Prevent Customers from Leaving Your Loyalty Program?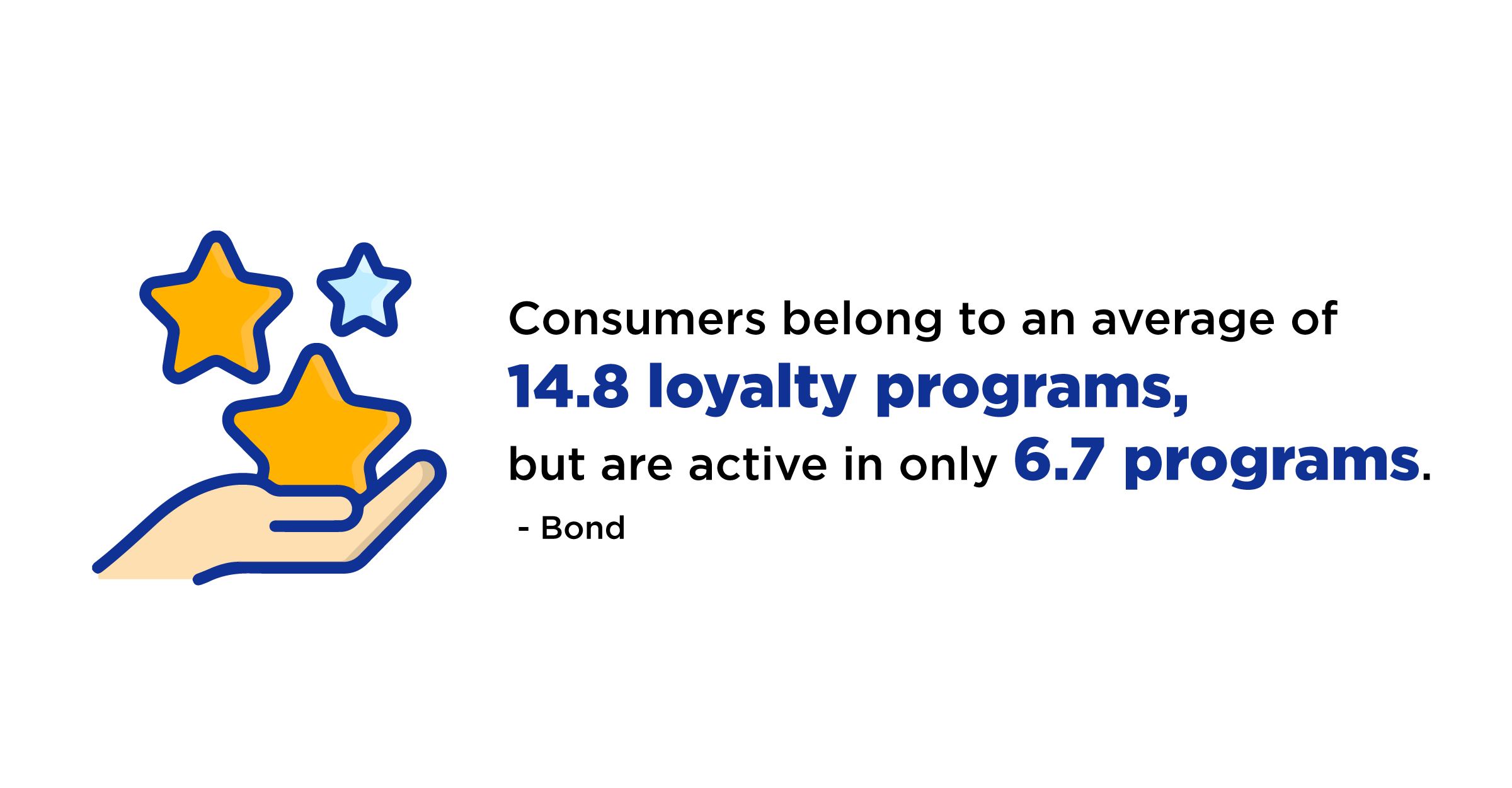 1. Evaluate the existing loyalty program
Most people who leave loyalty programs feel they aren't getting the points or rewards they expect or the speed with which their spending habits are commensurate.
Create a survey about the implementation of the loyalty program and distribute it to the customers who join the loyalty program.
View and analyze customer feedback. Update overly complex requirements and review burdensome and irrelevant rules. Consider conducting regular polls or surveys where you can ask your customers what they would most like to receive in exchange for their loyalty.
2. Create a comfortable and attractive loyalty app
Check the technology that supports your loyalty program regularly. Is it up-to-date and can provide convenience to customers? Or should be immediately updated to the latest version.
Choose a loyalty program platform that can give good performance. It will do wonders for your program's reputation and your brand.
3. Promote your loyalty program
Ensure you provide all the details about this loyalty program on your website. Include a page that contains important information about related loyalty programs such as how to join, earn points and a list of some of the great prizes your customers can get.
Also include information on how to easily register for your program, award bonus points upon first signing up, and notify them of any product exceptions or if their points will expire after certain period.
Reach your customers by promoting loyalty programs across all your marketing channels. Approach them through exciting content and, of course, attractive offers.
4. Offer various rewards
The exact choice of gifts can make many customers back off. Therefore, vary the selection of gifts that customers can get.
Besides the wide choice of merchants, also consider the variety of gifts, from physical to electronic. Options such as e-wallet balance, free subscription to streaming services Netflix or Spotify premium for one month, free internet data, game vouchers, and many others can attract many customers, of course.
But you have to be careful choosing the variety of gifts because, after all, this loyalty program must be in line and in accordance with your business. The choice of rewards must also be relevant to your business.
5. Ask for feedback from customers
Feedback is the key to knowing and delivering what customers want. Customers' motivations and desires are constantly changing.
To stay relevant to their needs, you need to find ways to stay up to date about these desires through feedback and surveys. Invite customers to provide feedback about the loyalty program and give gifts or points afterward.
The Takeaway
Loyalty programs are a great way to turn your customers into dedicated supporters. However, this campaign only works if you know how to keep your clients engaged and subscribed. If your loyalty program doesn't feel right, they can abandon your loyalty program right away.
Keep in mind that although loyalty programs can often feel challenging when you first start it, they can offer tremendous benefits and more long-term benefits for your business.
At Tada, we have expertise in making a user-friendly loyalty app for any industry. You can count on us if you wish to have a loyalty program that is secure, well-designed, and offer various benefits to your customers. Request our demo now to have further talk with our team.