Imagine this scenario:
One day, you are enjoying scrolling Instagram or reading the daily news on your favorite platform. Suddenly a post from your friend appears. She shared her experience of consuming slimming pills, which successfully helped her reduce body weight by up to 10 kilos in 2 weeks. Instantly you grab your cheeks; it's getting fatty from time to time. You want to be like her! Without realizing it, you take a screenshot, saving the shop's name that sells the slimming pill!
The era of hearing about a company for the first time through a sales or marketing person is long over. Now, in our increasingly digital, social, and data-driven age, the most powerful way to sell is through harnessing the power of the customer's voice. Simply, it's customer advocacy.
The scenario above has become commonplace today. The circle of friends on social media often has a significant influence on the process of buying decisions. Customer advocacy paints an accurate picture of business products. It spreads recommendations through word of mouth and social media, making it the best marketing tool for B2B brands.
When making a purchase decision, customers want to hear others who have experienced the product or service. According to Nielsen's latest Global Trust in Advertising report, 92% of consumers worldwide said they trust recommendations from friends and family rather than all other forms of advertising. This is an increase of 18% from 2007.
Customer advocacy is not a complicated notion. Moreover, with the proper marketing skills and the promotion plan, it can propel a business ahead of its competitors. Let's see how this happened.
This article will cover:
Understanding Customer Advocacy

The Importance of Customer Advocacy

The Benefits of Customer Advocacy
How to measure Customer Advocacy


What is Customer Advocacy?
When you browse and type in the definition of Customer Advocacy, there are various definitions. At least, these definitions approach two perspectives, the internal and the external. An internal perspective, focusing the business on what is most beneficial for customers, creating a great customer experience, advocating for them, and helping them solve problems. This is the general view in customer service and operations circles.
The other is an external perspective, which defines customer service based on the customers who support business and disseminate information about the products, services, and brands. Both views are essential and closely related. They are two sides of the same coin. You cannot allow customers to promote your products and brand without identifying and satisfying their needs. Customer advocacy is the act of putting customer needs first and working to deliver solution-based assistance through your products and services.
Why is customer advocacy important to your business?
Building loyal customers and earning a positive reputation for your business requires consistently maintaining highly satisfied, trustworthy, and positive word of mouth for existing customers. Research shows that customer recommendations are more credible than paid advertising. According to McKinsey's research, word of mouth accounts for 20% to 50% of all purchasing decisions. There are at least two main reasons why customer advocacy must be considered by business people today.
Customer Advocacy can boost brand awareness
Customer Advocacy can build brand awareness in a variety of ways, regardless of scale. It can have one-on-one conversations with colleagues, company leaders, and other stakeholders to encourage them to accept your product or service. They could also promote their product or service to hundreds or even thousands of social media followers or conference participants.
Sometimes just using a product or service is enough to get your customer advocates promoting it and others with similar interests curious about it. For example, suppose a company is known for its truly outstanding customer service. In that case, other companies will naturally want to know how they do it and what tools they use. They can resonate with other customers and provide honest opinions in ways your sales team normally couldn't.
Customer advocacy offers insights and assistance to other customers.
Customer advocacy can help the support team by sharing the product experience with other users. They are a massive asset for customer self-service, especially their branded community forums, which are becoming more and more popular as a support solution. Customer advocacy can step in to resolve customer questions or concerns or share feedback with their support agents on the forums to help reduce your workload.

Is Customer Advocacy beneficial?
In 2016, IDC research found that only 10% of B2B companies surveyed had customer service plans. This year, the report "The Role of Marketing in Customer Advocacy" found that this share has risen to 67%, representing an increase of 570%.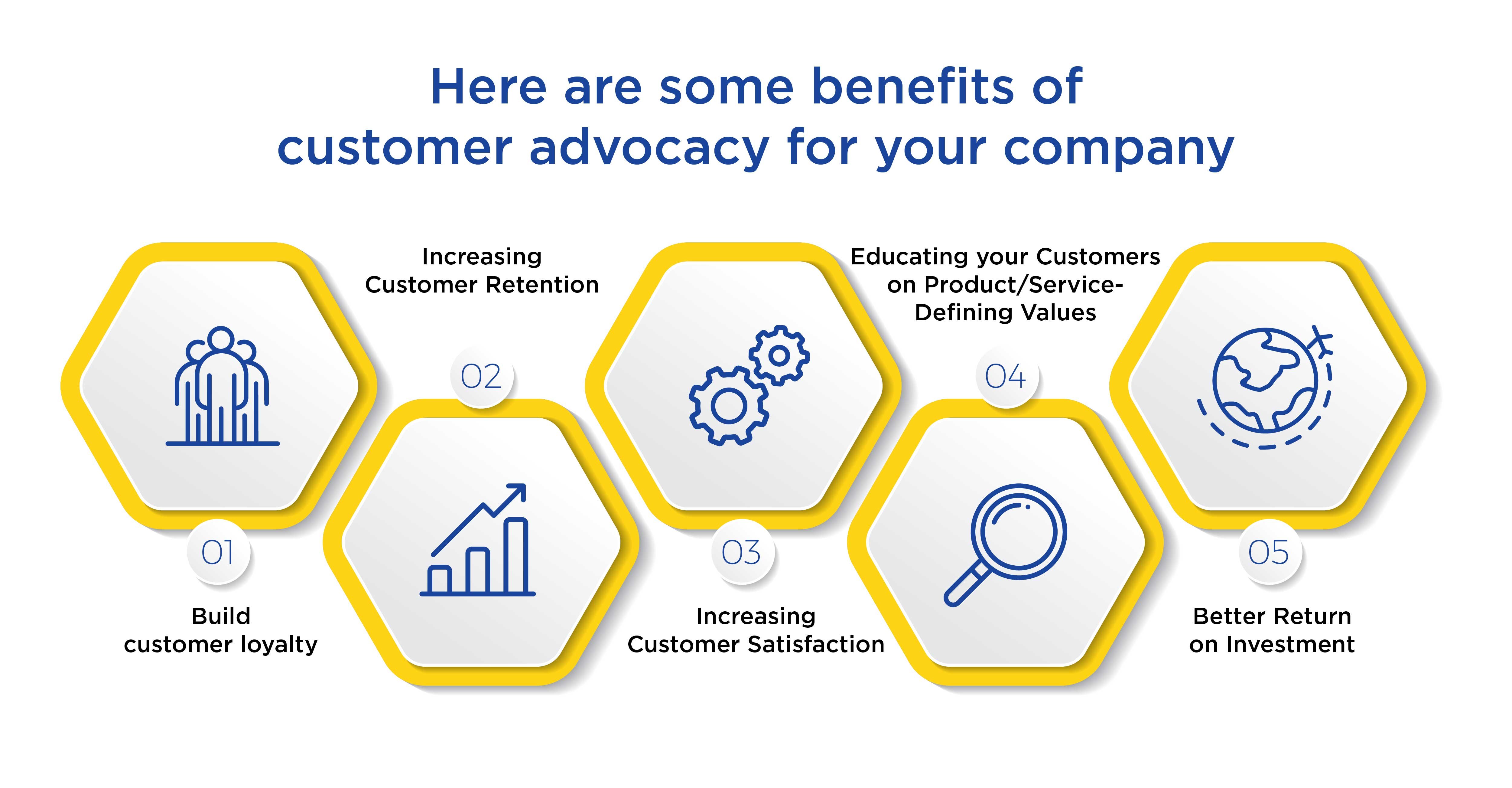 Here are some short-term benefits of customer advocacy for your company:
As mentioned above, customer support provides direct contact and recognition with your brand. Customer advocacy aims to maintain loyal/potential customer engagement through the following methods: branding, customer engagement, and promotional marketing activities to attract Top Gen (niche) by increasing ROI through Acquisition, Retention, Referral, and Promotion Rate.
Increasing Customer Retention
If you don't increase customer retention, it won't be easy to maintain repeat business. For potential customers, nothing can motivate them more than finding positive recommendations from previously satisfied customers. Your customer success team should use feedback, advice, reviews, customer feedback, and social media to improve your customer experience and attract more loyal customers continuously.
Increasing Customer Satisfaction
Many times, companies do not know how to help their customers when it comes to selling products. Customer support plans can help solve this problem and are more effective than referral plans because customers don't know what to do next.
This makes it easier for them to find more helpful information and share more information with friends. It also helps encourage customer advocacy teams to continue serving clients in the future.
Educating your Customers on Product/Service-Defining Values
Every customer has a different brand that speaks to them. This is why understanding more about this person's personality and ownership process can be paramount to becoming a successful advocate by understanding your people and their values. Your promotional marketers can develop detailed action plans for your customers to create continuous and personalized marketing plans specifically designed for them.
Better Return on Investment
Return on investment (ROI) is undoubtedly fundamental to any business, as investments following customer travel and buyer travel can directly increase the profitability of a company/brand. Also, the ROI of advocacy programs is usually higher after referral marketing.
According to the Internet Promoter Score (NPS) and Social Proof, customers participating in advocacy programs refer to highly loyal customers. To generate more sales, provide more referrals, you need to use Advocates to promote advocacy and marketing.
Measuring the Customer's Strong Voice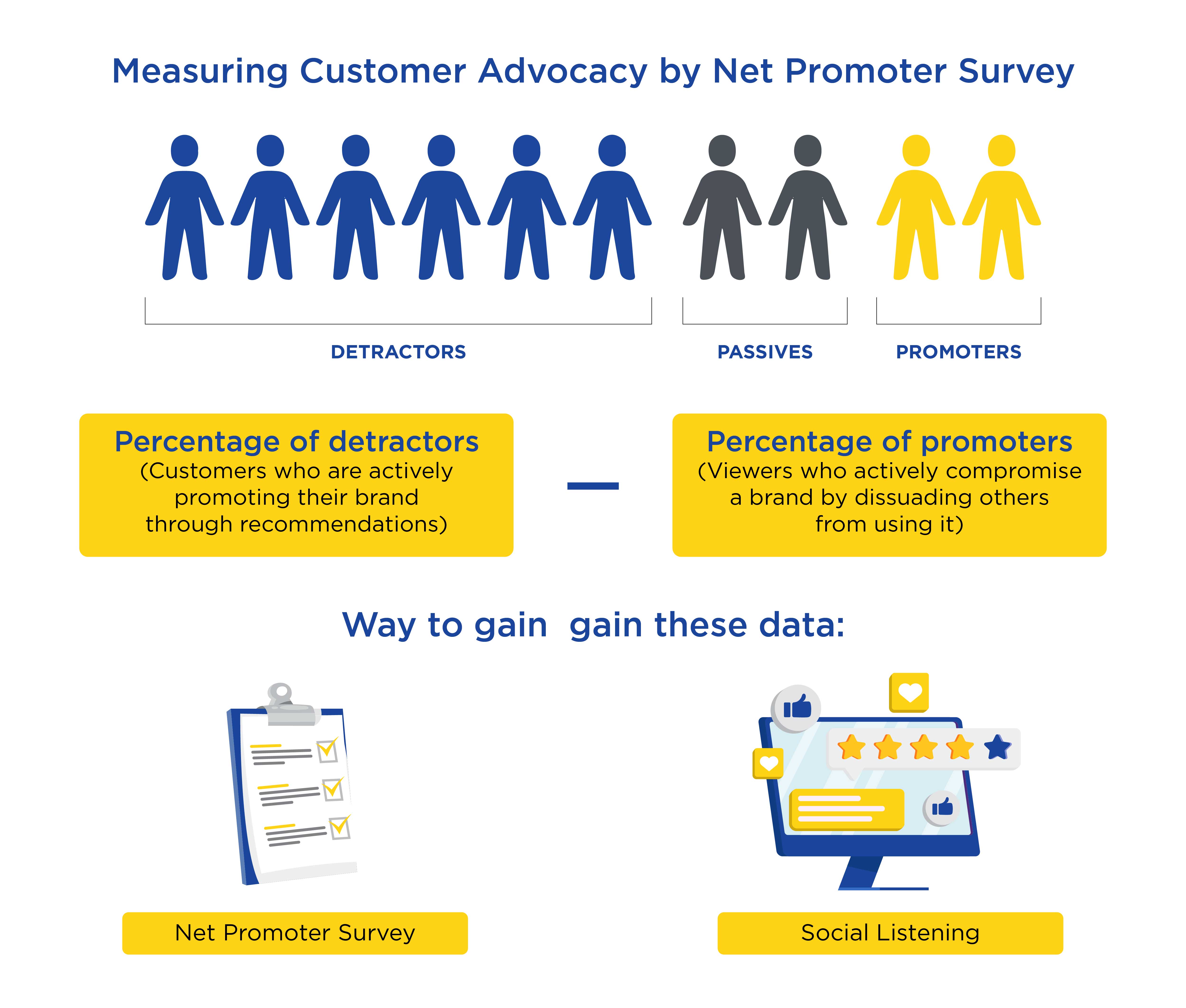 The Net promoter is a reliable indicator for customer advocacy. It measures the quality of your customer relationship, customer loyalty and criticism, and what percentage of your audience suggests your brand to others.
To find your NPS (Net Promoter Score), you need two essential pieces of data:
Percentage of customers who are actively promoting their brand through recommendations.
Percentage of viewers who actively compromise a brand by dissuading others from using it.
NPS is measured by subtracting the percentage of detractors from the percentage of promoters. Then, How can you gain these two essential pieces of data?
One option is to create a short net promoter survey. You can prompt people to complete the survey after they've completed a transaction or via email. Ask users on a scale of zero to ten to rate how likely they are to recommend your brand.
A more reliable way is to get statistics from online reviews and comments. Instead of asking customers whether or not to recommend your brand, this method looks at existing organically generated data. One way to measure customer advocacy is to listen to what your customers are saying about you online. Then, see whether it is reflected in your business aims and strategies.
Final Takeaway
Customer advocacy is a long-term strategy focused on building substantive and meaningful relationships with brand champions. The key to successful and productive advocacy and client relationships is to combine effective advocacy tactics with incentive programs. The customer advocacy program provides a rapidly growing channel for continuing professional development and elevating the spirit of customers to support their business.
TADA has helped many businesses create the most suitable software and applications that answer their specific needs. Let us help you to decide the right strategy and initiatives that will help you achieve your goals. Request Demo Now!