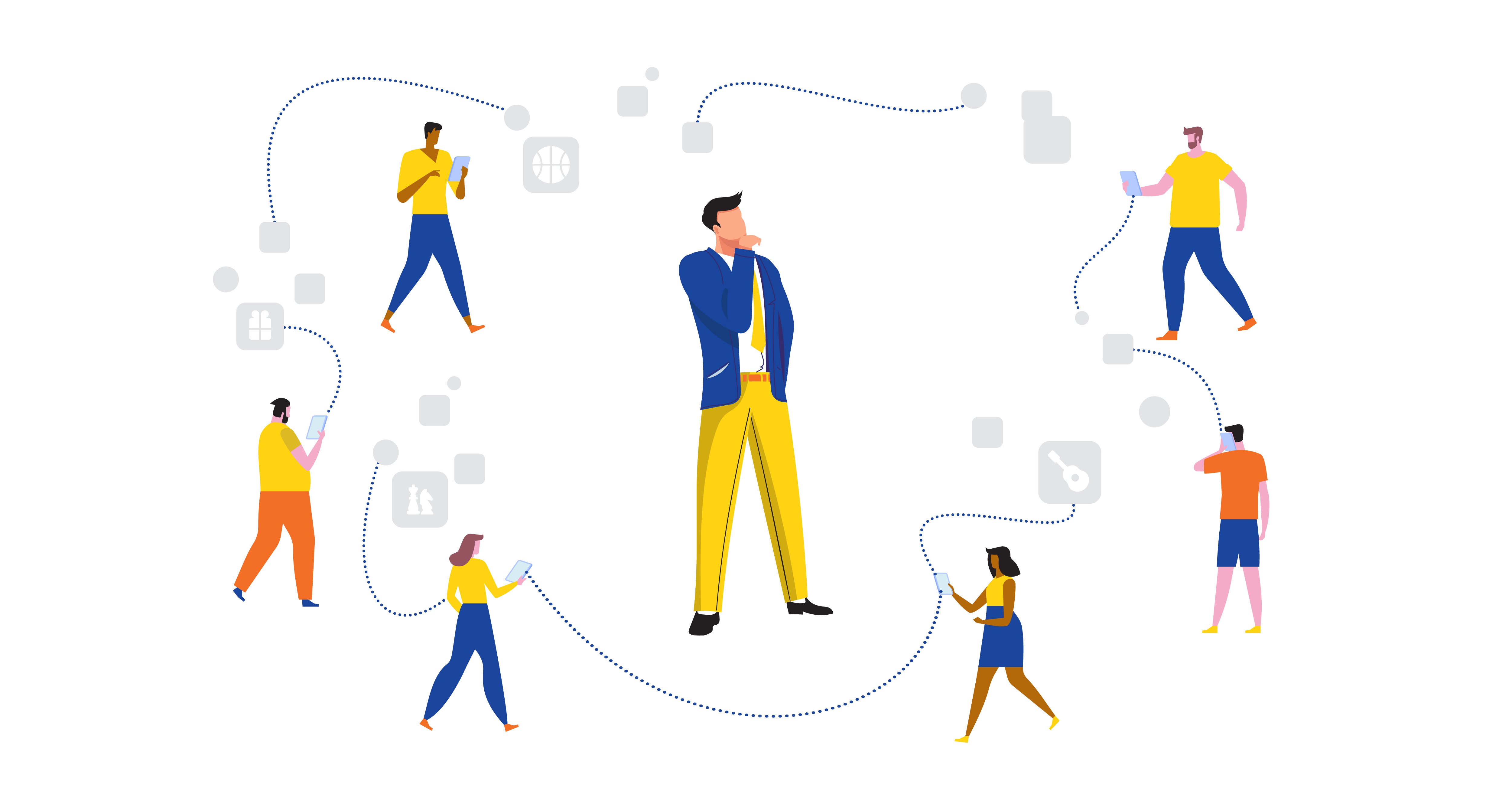 Why Automated Marketing
According to the latest study by Omnisend, you can achieve over 90% retention rate by implementing automated marketing channels such as emails. This indicates that automated marketing plays an important part in today's effort for retaining customers.
Another study from GetResponse indicates that 30% of marketers saved their time when they implemented automated marketing as part of daily life while 17% of them witnessed an increase in their revenue and 11% of them used automation as an effort to retain their current customers.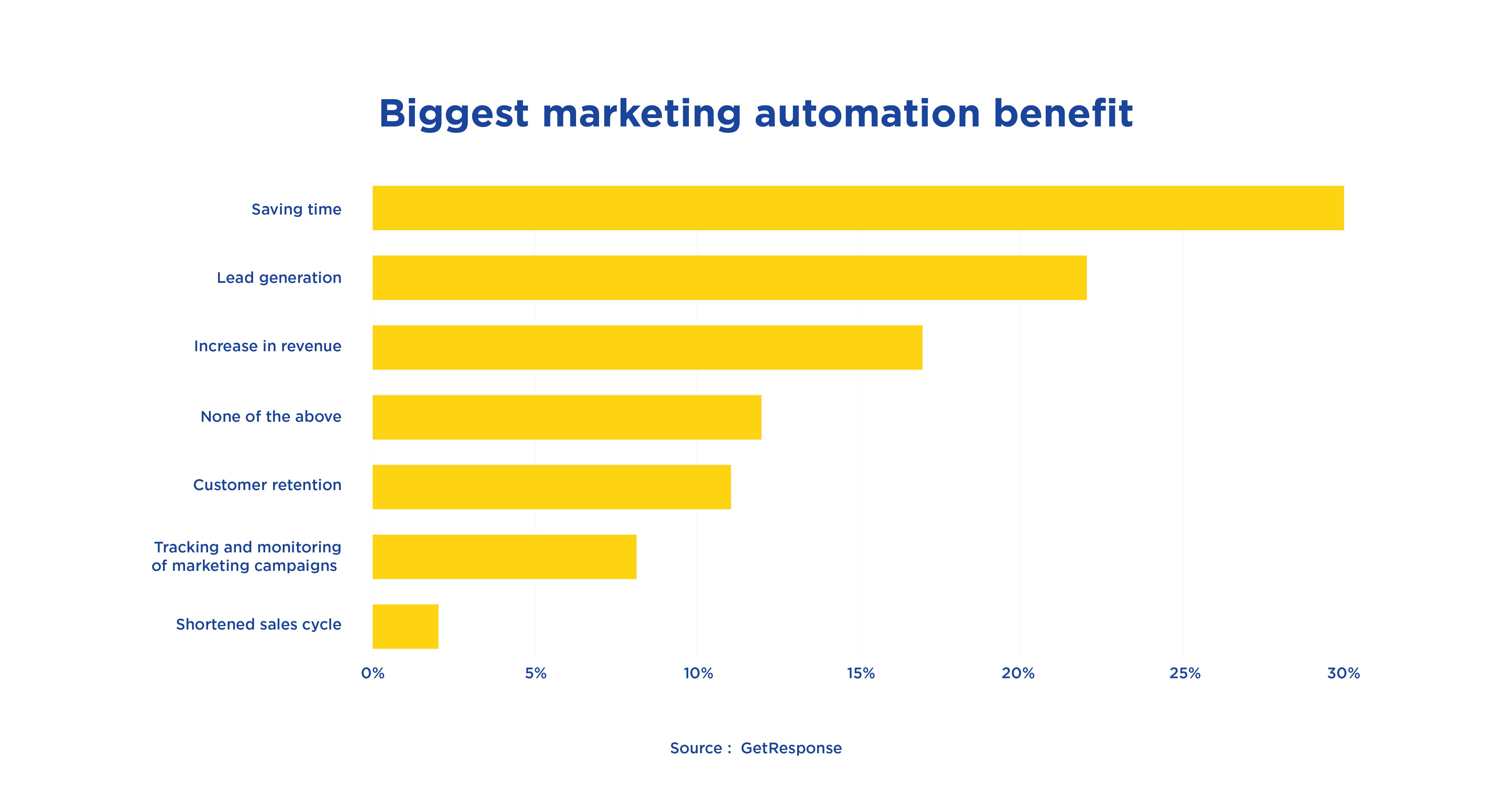 With all of this in mind, having an automated marketing campaign strategy has become a necessity for marketers everywhere and it should be your strategy to win over customers that are no longer engaged with you after a certain period of time.
In this article, we will walk you through on how you can set up the strategy for your automated marketing campaign so you can incentivize your customers with the right rewards and at the right time.
Identifying your product and customer lifecycle
One of the first things that you need to establish before running any automated marketing campaign is to know your product and customer lifecycle. First and foremost, you have to know what customer lifecycle is.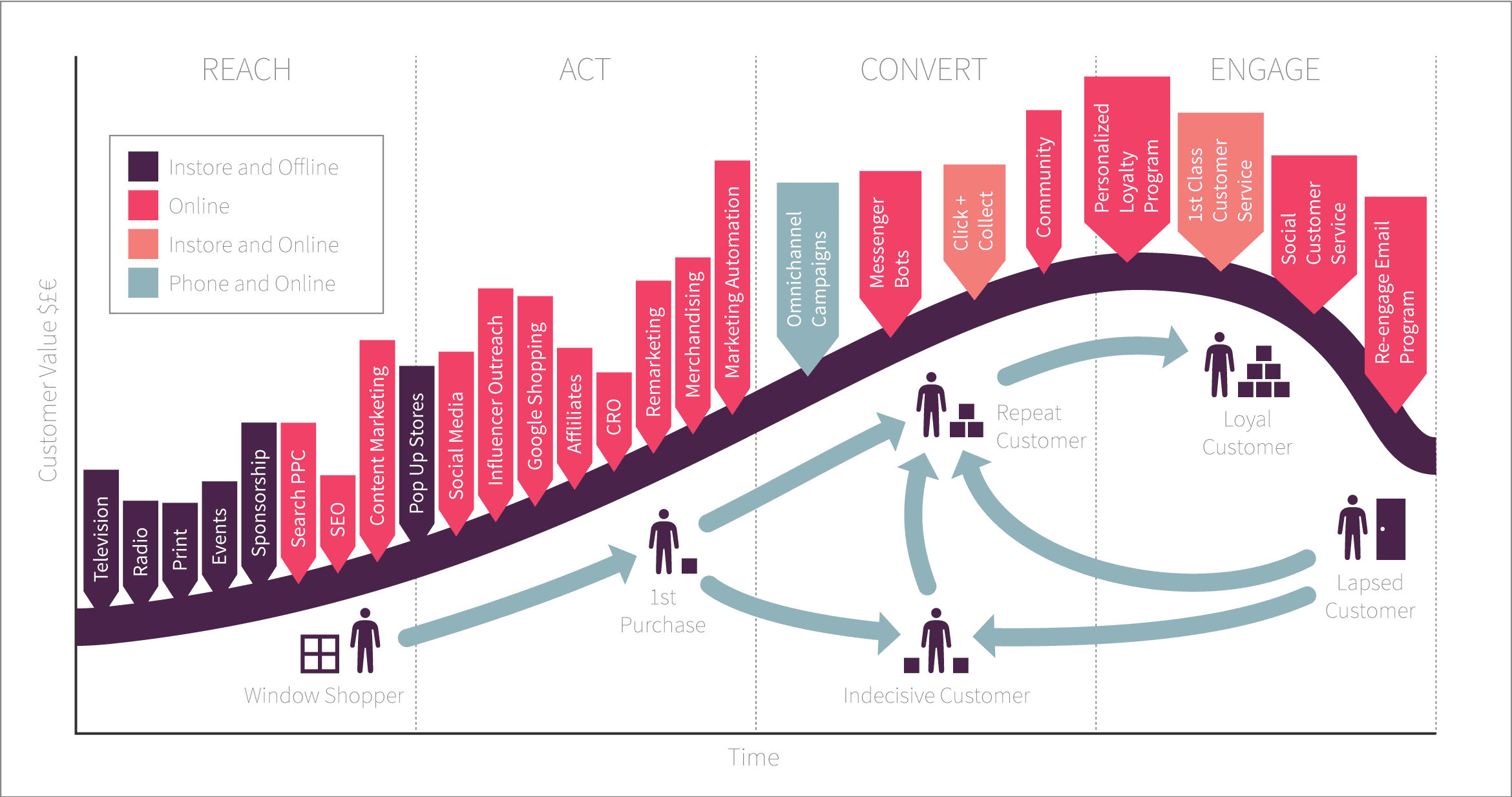 Source : Smartinsights
Customer lifecycle is the term that defines all strategies that businesses use to attract, convert, retain, and leverage their customers to boost their brands in terms of profit and revenue. Others also define customer lifecycle as the stages that the customers went through during their buying journey within your brand.
Customer lifecycle can be broken down into several stages:
At this stage, your customers become aware of your brand's presence. They know what you are offering and the value proposition. That said, at this stage your customers haven't converted into your customer since they are still comparing similar products or solutions that come from your competitor. At this stage, most of the marketers instilled paid marketing channels to re-engage their potential customers
During this phase, your potential customers have discovered more about your product or services such as the features, benefits, etc. This will be the perfect time for you to personalize your marketing efforts such as retargeting or ads through Facebook and Instagram (or any platform that is related to your business). The goal here is to increase the probability of conversion
Finally, on this stage you have successfully converted your potential customers into your actual customers. They have spent a certain amount of money to purchase your product and services. This is a great opportunity for you to upsell your products to retain your customers.
At this stage, your customers have become repeat purchasers. They return to your brand for the second and third time. On top of that, they have found their most preferable product, so during this stage you might see the same pattern of purchase on each of their customers such as their favorite food, drinks, or clothes. Luckily enough, if they are very pleased with your product or services, they will refer their friends to purchase from you instead.
This is the last stage of a customer's lifecycle. At this stage, your customers have found different alternatives to fulfill their needs and by doing so, you will see a decrease in purchase. If your customers have reached this point, there are two things that you can do: You can let them go which will result in a loss of more profit, or you can try to re-activate them by incentivizing your customers so they return to you and make a purchase.
Knowing that each stage in the customer lifecycle presents a different need, defining the customer lifecycle can help you to set up your automated marketing campaign in the future.
Leverage your data to find the right incentive
The next thing that you want to do is going deep into your historical data. Based on those historical data, you should know what kind of rewards or items that attract most of the customers. Knowing this fact will help you to determine which rewards are suitable if you want to re-engage your customers so they will make a return to your brand. It can be a discount, freebies, or any kind of rewards that you can offer.
There are several key metrics that you can use to determine the right incentive for your customers:
Redemption Rate
In the past, you might distribute or offer a lot of discounts to your customers. The question is: Did they really use it? Redemption Rate can be defined as the number of used rewards compared to the total number of distributed rewards. Higher redemption rate indicates the attractiveness of the discounts or promo itself. Discounts with the higher redemption rate can be considered as the right incentive for your automated marketing campaign strategy
Number of Purchase
This metric indicates the number of purchases that occurred with the applied discounts or rewards. Combined with the redemption rate, you can have the perfect candidate for incentivizing your loyal or even lost customers
Average Order Value
Knowing how many vouchers have been used sometimes is not enough. You have to know whether those rewards actually bring actual profit to your business or completely the opposite. That's why knowing your Average Order Value (AOV) is important. Do the rewards incentivize customers to make a higher amount of purchase? To ensure this, you can apply the minimum transaction rule for your voucher / discount so it does not fall below your profitable margin. To calculate the AOV you can compare the total amount of purchases that have been made by the number of purchases.
Knowing the right incentive plays an important role in setting up your automated marketing campaign. You can attract more customers if you have the right incentive for them.
Choosing the right channels
Knowing the right time and rewards for your customers brings you closer to setting up your automated marketing campaign, the last step is choosing the right channels to send it to them.
There are several channels that you can use to notify your customers about these rewards and incentives: Push Notifications, Emails, or Text Messages. With TADA, you can use all of them to notify your customers or you can select the most suitable ones.
Smart Campaign by TADA
In TADA, we have provided you with one of the best solutions to retain your customers with automated solutions. There are several features that you can use to maximize your retention efforts with TADA's Smart Campaign:
With Welcome Email, you can directly send an email to your customers once they have registered themselves as a member. This is a perfect moment for you to interact with your customers during their onboarding process. Additionally, we highly suggest that you can write down your membership program's benefit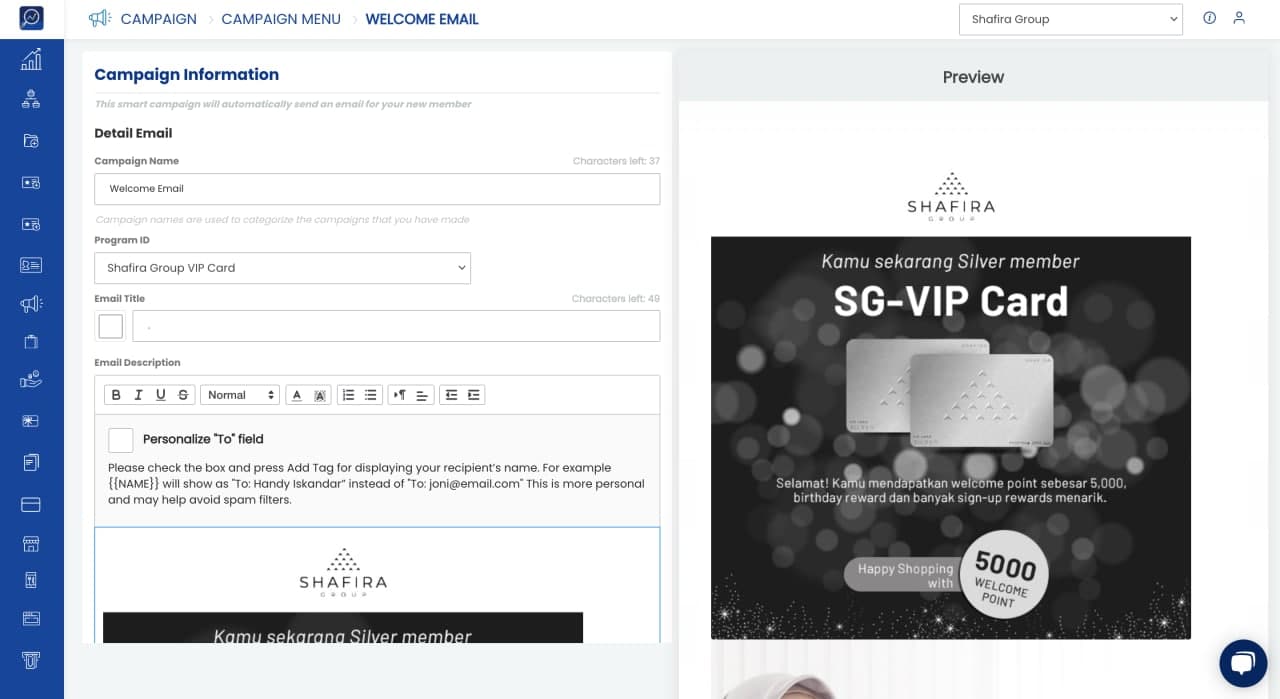 You can engage your recently lost customers with a reward. For Comeback Rewards, you can choose customers that have not made any transaction within the last 15 to 45 days. If you can interact with them as early as this stage, you have better chances to re-activate them.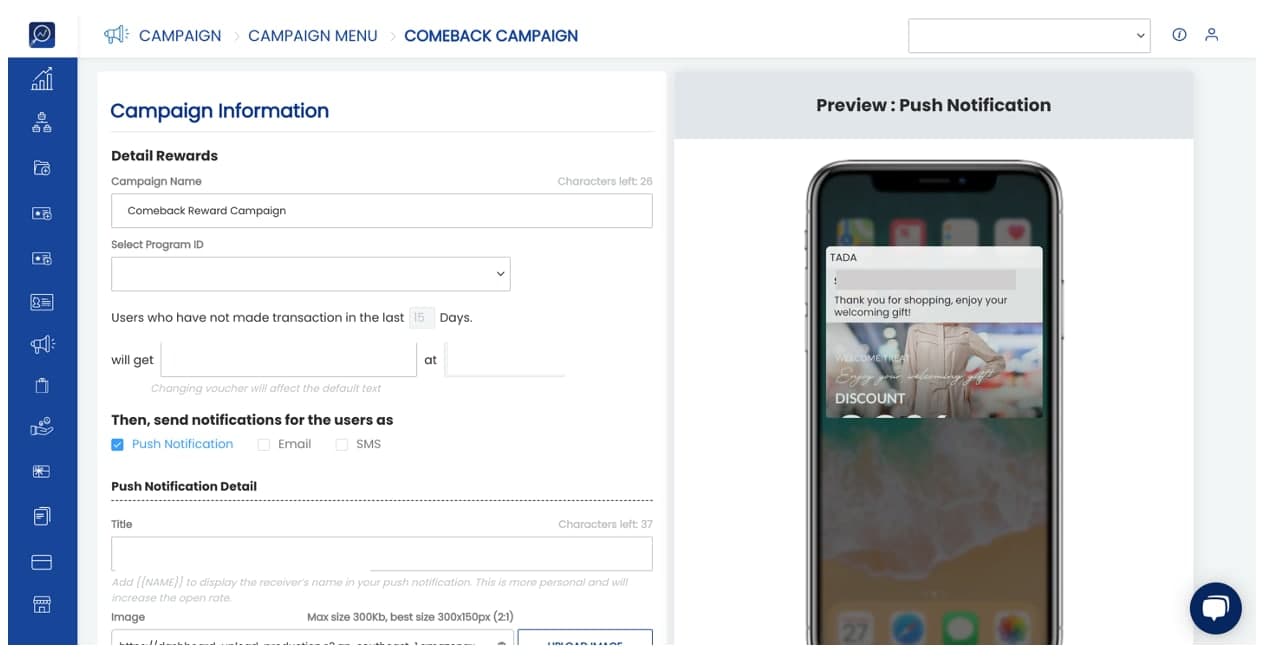 Basically, Lapsed Rewards serve the same purpose as the Comeback Rewards. The only difference is that you can target customers that have not made any transaction in the last 60 to 150 days. You can use the same rewards as the previous Comeback Rewards or choose a different one.
When you have tried all of the efforts, but none of them seems to be working, you can use the Lost Rewards and target customers that have not made any transactions from the last 180 to 365 days. We highly suggest that you can use different and more attractive rewards based on the provided data to increase the chance of customer activation.
TADA has helped more than 400+ brands to capture, connect, and reward their customers automatically. Now it's your time to provide the best gifts for your customers. Contact our team to learn more about our product.