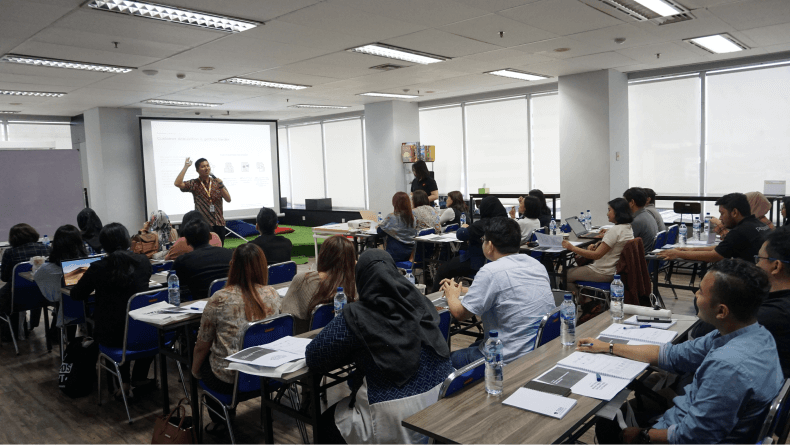 The Certified Customer Retention Program is finally back! This event has been held for the fifth time, the customer retention & engagement training was held at TADA HQ on 20 February 2020. As usual, participants were full house and excited by the customer retention training.
Customer Retention Training was presented by Mr. Ryan Pasaribu as Customer Retention Expert, Mr. Kurniawan Zainmar as Data Analyst, and Mr. Mardiansyah Putra as Customer Retention Expert.
In this training, Mr. Ryan explained how important it is to retain customers, as well as providing strategies in carrying out customer retention & engagement for brands. Mr. Kurniawan Zainmar explained about how to analyze predictions for the future of a brand with data, and Mr. Mardiansyah explained about the calculation of ROI, measuring methodology and improvement strategies.
Program Outline
Chapter 1: History of Customer Engagement Methodology
Chapter 2: The Essentials of Customer Retention & Engagement Program
Chapter 3: Implementing the right Customer Retention & Engagement Strategy for your Brand
Chapter 4: Rise of Subscription Economy: The Ultimate Way to lock your Customers and prevent them to switch to other Brands
Chapter 5: Retention Strategy with Predictive Analytics
Chapter 6: Program Measurement Methodology and Improvement Strategy
Chapter 7: Identifying ROI for your Program
Chapter 8: Identifying and Preventing the Risk for your Program
This training teaches how to retain customers and always come back to make purchases in your business using customer retention marketing and also taught how to improve customer retention levels and build relationships with customers. This training also provides important teaching where customer retention is cheaper than making an acquisition.
Renewing customer retention levels is what companies must do to build sustainable relationships and profitable growth. Today many businesses focus on retaining customers rather than acquiring them
Conclusion
With the end of the 5th Customer Retention & Engagement class, we would like to thank the speakers who provided their knowledge and experience, as well as to all participants who attended and the enthusiasm that made this event a success. TADA hopes to provide valuable knowledge to help each participant in each field.
With this, it's a wrap up for TADA's 5th Customer Retention & Engagement class. Click for the next class here and be a Customer Retention Expert.