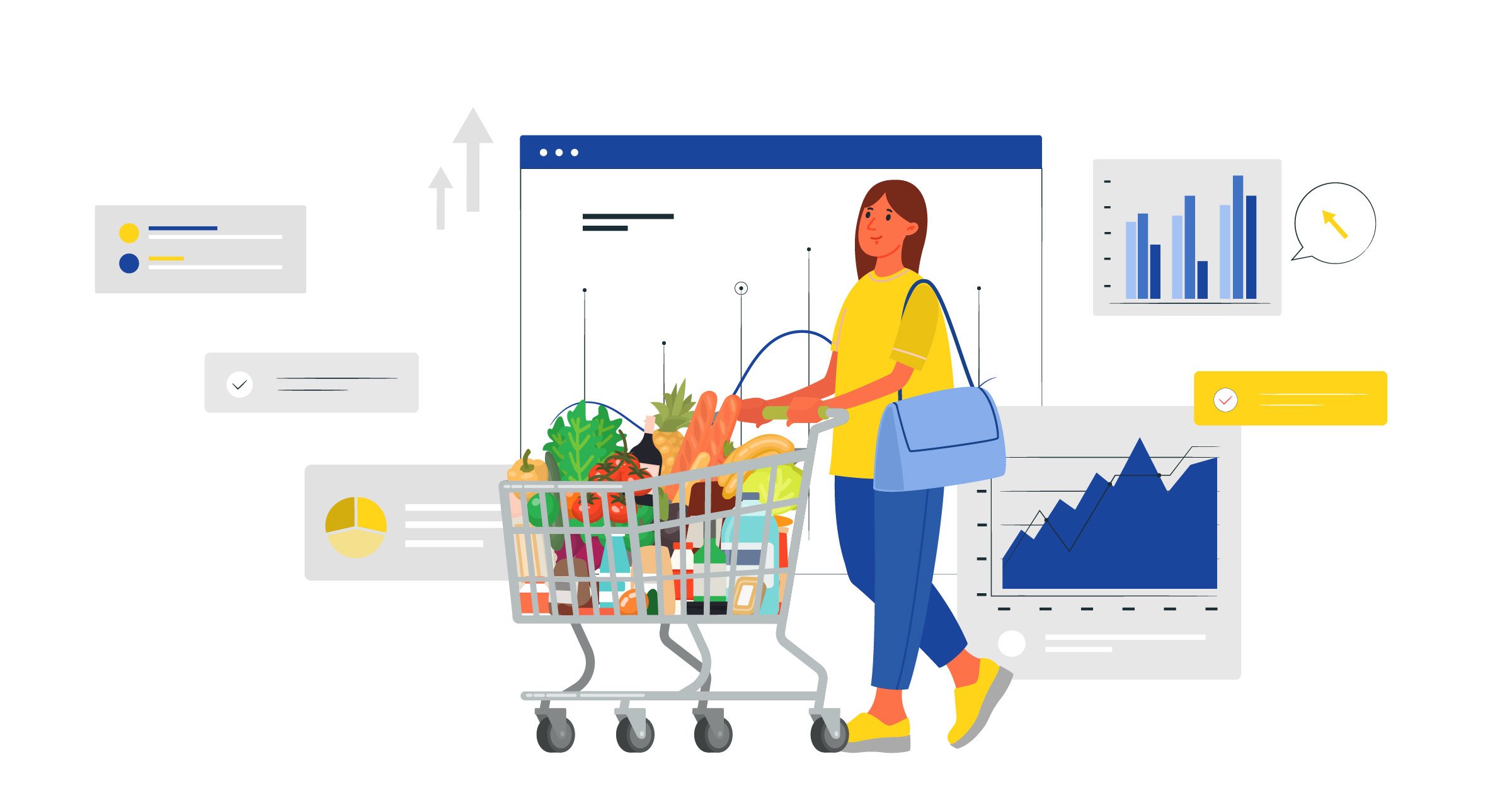 Most FMCG companies do not lack data from a variety of sources. What they lack is the ability to extract actionable insights from that data to create true business value. Although in fact, taking advantage of data and its analytics will lower expenses and can target the customers more precisely.
For FMCG sectors, companies need to utilize big data to discover what's clicking with their customers and drive more valuable customer experience. The insights from data will allow businesses to be more relevant and meet customers where they are, which can be a genuine move to win customers in today's crowded market.
So what is customer data? How FMCG companies can extract it and leverage it as a powerful tool to understand their customers better.
An Overview of Customer Data
According to Toolbox, customer data is defined as the information that customers provide as they interact with your business touch points; from websites, mobile apps, surveys, social media, marketing campaigns, and other online and offline opportunities.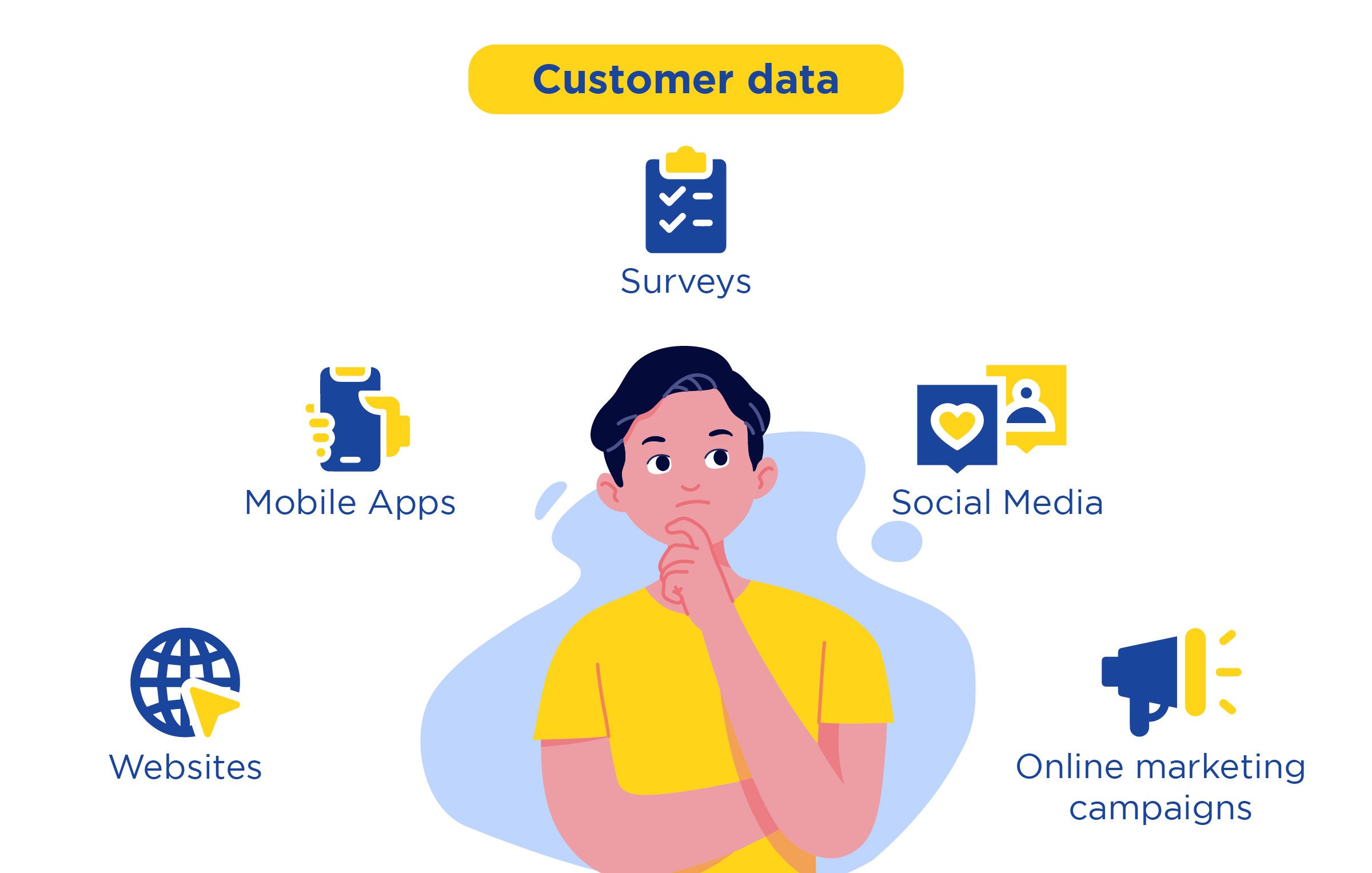 Customer data is the basis of a successful business strategy. Data-driven companies recognize the importance of this and are taking steps to ensure that they collect the customer data points they need to improve their customer experience and optimize their business strategies over the long term.
Why Customer Data is Important?
Approximately 2.5 quintillion bytes of data are generated each day, and this staggering number continues to grow. Regardless of the industry you belong to, the demographics of your target market, or the type of goods / services you offer, collecting data about your customers can help you understand almost every aspect of your business. And while it may not be possible to collect all 2.5 quintillion bytes of consumer data, you need to make sure that you are making the most of the customer data you collect.
In today's landscape, having accurate and unified data is more important than ever before. A solid data foundation has enabled many businesses to go through the disruption by easily pivoting and focusing on consumer centricity. And for those who don't have it, it is just about time before their downfall.
So, what are exactly the benefits of collecting customer data for FMCG companies?
1. Provides deeper understanding of your customers
This is the most important reason why many companies collect consumer data; to understand their consumers better. How they behave online, demographics segmentation, and identify which area they can improve to give better customer experience.
2. Improve your consumer databases
A growing database can be beneficial for any business owner. You can utilize data collected to grow your business and to reach out to people who have interacted with your brand in some way. This means you can reach out to them about future opportunities as well as improve your lead generation.
3. Improve marketing strategies
Data will play important roles to support your digital marketing campaigns. With data, now you can make certain customers only see certain messages or products from your brand. Thanks to segmentation that allows you to boost any marketing campaign to the demography you want. This way, data is clearly helping distribute campaign messages to the right customers.
4. Enables better personalization
By collecting data, you can meet consumer expectations for personalized communications and suggestions. You can also segment your customers based on their favorite products and even understand what kind of device they prefer when buying directly from your website. All possible with data.
What Makes Good Customer Experience?
According to a survey by professional service company Engine, 62% of customers said that businesses should focus on implementing "simpler, more flexible and more affordable customer service options" to make them purchase their product.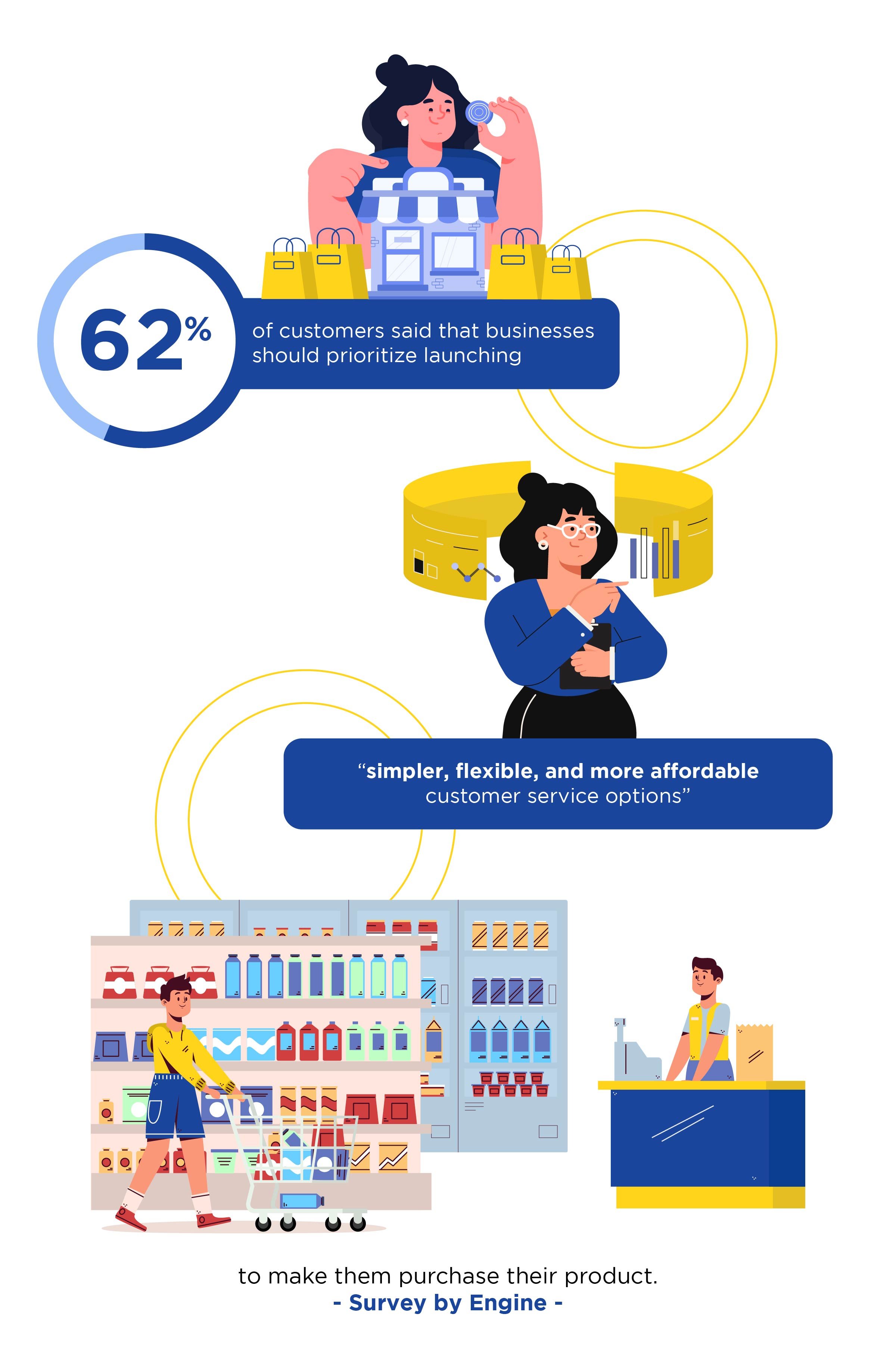 And given the recent changes in business, there are new factors that make creating better customer experience, such as:
Our "always-on" culture has caused increased customer needs and expectations.
New disruptive technology makes it easier for businesses to reach out to their customers.
Social media with easy access to brands represents a fair competition for businesses of all sizes.
Furthermore, the same survey also found that 58% of respondents suggested that companies offer better training and incentives for customer-facing employees.
From that survey alone we can conclude that more than half of customer interactions with public representatives of a particular company are of poor quality.
So what makes a good customer experience then?
Today's customers expect to be able to have a wholesome experience when interacting with any brand in any touch points; be it through an offline store or social media.
Everyone in your organization that interacts directly with your customers needs to have the best customer service skills, but customer experience gets even deeper. It's about building a great customer experience strategy for all teams, even those teams that you don't feel you need to get involved with.
How Customer Data can Help FMCG Companies to Improve Customer Experience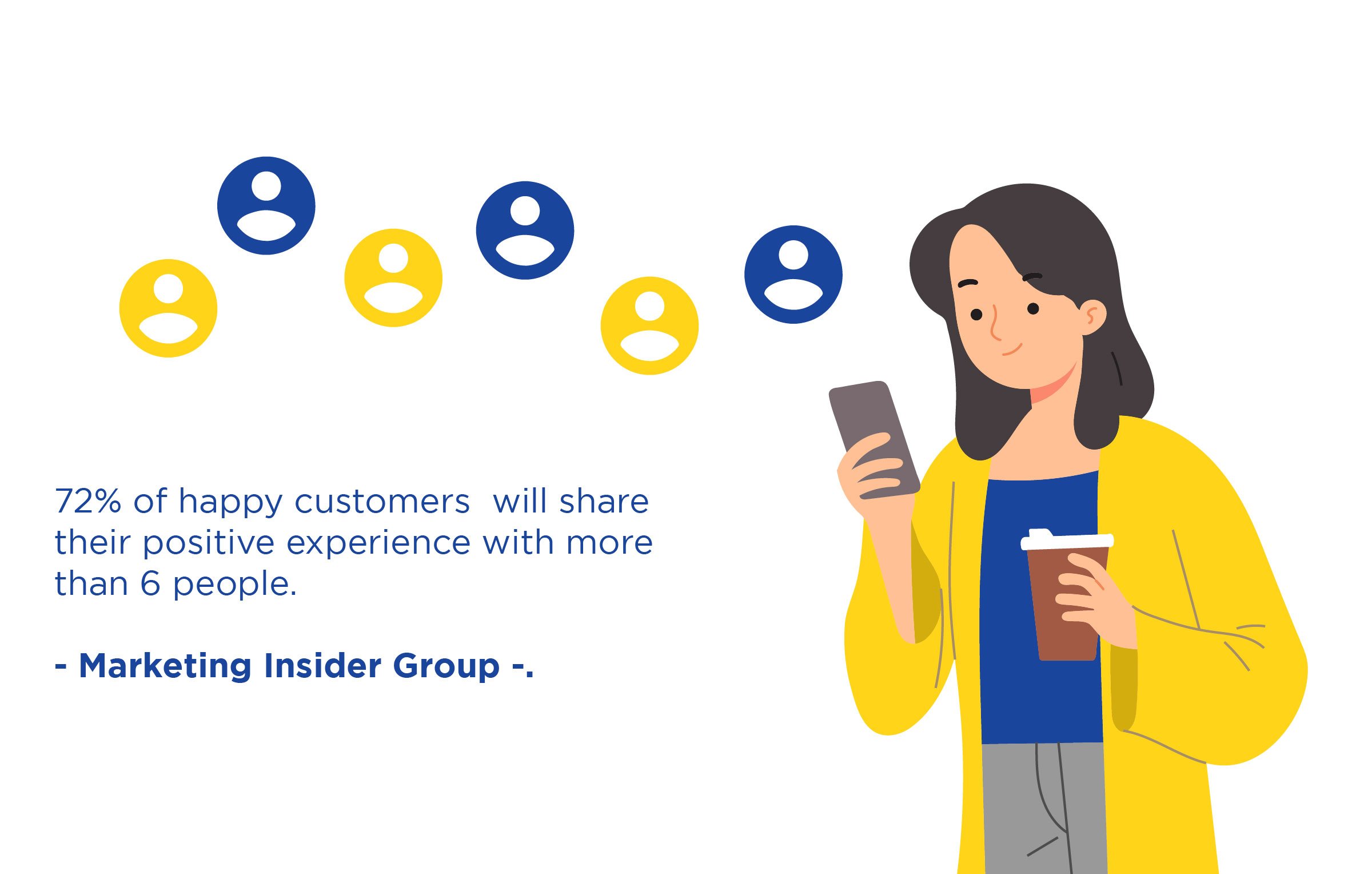 The good news is that happy customers with positive experiences can increase their chances of gaining an advantage. According to the Marketing Insider Group, 72% of happy customers share a positive experience with more than 6 people.
Then, how do you create a positive customer experience that enhances customer loyalty and creates a brand ambassador? The simple answer is data.
Marketing has historically achieved high ROI if brands can target the right audience for a particular campaign. To do this, you need to know as much data as possible about your prospects.
This data is collected on a variety of channels, including point-of-sale, social media interactions, and past purchase history. Using this data, FMCG companies can launch customized campaigns through intelligent marketing platforms, pushing relevant content to target users and encouraging shoppers to focus on their products.
A simple example of smart marketing in this scenario is upsell and cross-sell for e-commerce purchases. For example, if a brand receives data that a particular customer brought in one of its core products, such as shampoo, you can send a marketing email with a link to buy a suitable support conditioner for shampoo. If the shampoo you purchase has some unique properties, for example B. You can use this knowledge to recommend conditioners with the same properties.
Perform smarter promotions
The FMCG brand spends billions of dollars each year on advertising and promotions to improve reach for its products.
What if you could access data such as demographics about top buyers, gender, and consumer habits of buyers from different locations? What if we could combine this with details about local events, festivals and even local weather attributes? All this data can be used to create more compelling promotions for your product based on each identified focus element.
Intuitive promotion of store sales
E-commerce has disrupted retailing a lot, but that doesn't mean that physical stores are closed or gone. While physical stores contribute significantly to the sale of FMCG products around the world, COVID-19 saga presents new challenges in ensuring a safe shopping experience. According to a survey, almost 65% of all consumers look up products online before going to a store to buy.
Therefore, what is important for the FMCG brand is that store partners provide an enhanced customer experience that matches what the online store offers, and consumers maximize both online and offline retail for that particular brand. It is to be able to utilize it.
Again, the data is the magical fuel behind such an innovative in-store experience. From product placement in stores to dynamic pricing and inventory optimization to meet projected demand, data can drive better planning. This could be data about the customer's past purchases, or data about personal preferences such as tracked trends, budgets, ages, etc. Such consumer data can be used to provide all customers with a richer experience at all retail stores.
Final Takeaway

Data is arguably the most important factor in determining the future of consumer-centric enterprises.
Today's FMCG sector has access to intelligent and intuitive digital platforms for a variety of operational capabilities that can leverage data from existing customer ecosystems and market conditions, such as CRM, marketing automation, and ERP. You can use this data to build a better customer experience and ultimately lead to more sales, customer retention, and a better experience.
TADA has assisted many businesses in creating the most suitable programs that answer their specific needs; from customer loyalty to social commerce. Our platform will provide you with relevant data through a unified dashboard to build more successful customer experiences for your market. Request demo now!