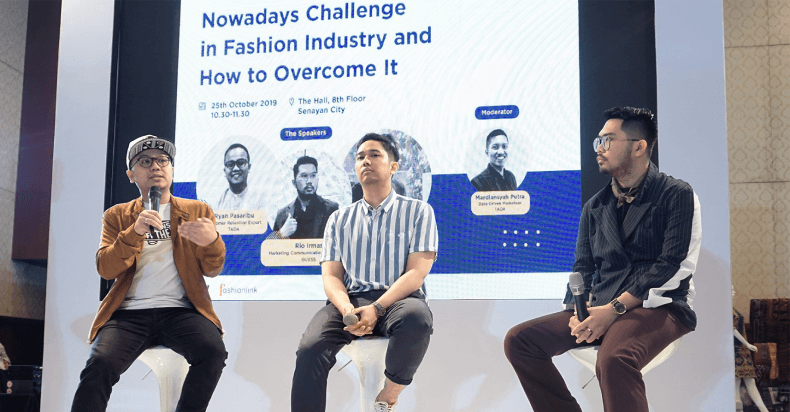 Jakarta Fashion Week or otherwise known as JFW has been around since 2008, it is a fashion event held annually in Jakarta, Indonesia. This year it was held from 22nd to 26th October, at Senayan City.
Just like the name suggests, this is an event that revolves around fashion, and they aim to bring Indonesia's fashion industry to greater heights. Jakarta fashion week is the largest, and most influential annual fashion week in Southeast-Asia.
And, TADA was invited to be part of this honorable event.
TADA is a leading customer retention platform that helps businesses double their profit per customer by provisioning them with the best membership, digital rewards, referral, and subscription programs.
On board, Fashionlink, a part of the JFW group, has also joined to be one of the many brands using TADA's membership solutions, enabling their customers to collect points from their purchase and redeem them in exchange of a shopping voucher.
In the coming future, Fashionlink aims to encourage customers and influencers to push their products to their friends using a unique link that enables potential customers to purchase the product using that specific link directly.
TADA had a booth at the Jakarta Fashion Week where they introduced TADA and the abundance of growth that TADA had brought upon companies that partnered with them, using their expertise in turning 1-time customers into returning customers in the fashion industry.
In addition to the booth, TADA also held a talk show, "Nowadays Challenge in Fashion Industry and How to overcome it" on the 25th of October. Our speakers were TADA's customer retention expert Mr. Ryan Pasaribu alongside, Mr. Rio Irmas, Marketing Communications Supervisor from GUESS and Mr. Fabiandi, Head of Marketing Communications from PT Navya Retail Indonesia.
The talk covered the challenges of the fashion industry in Indonesia and ways to curb those challenges and emerge as a fashion industry ace. The audience was thus able to use the exclusive insights from the fashion industry experts themselves and set their strategies confidently.
"We all have to try to learn what are our partner's preferences. So as with customers, the brand must learn their customer's preferences," said Ryan Pasaribu. Different business has different sets of customers which also means different ways to approach and retain them, it takes time and effort to get up close and personal with your customers and potential customers. Adding on to Mr. Ryan Pasaribu, Mr. Fabian (Navya) also mentioned," Each brand has its own unique way to get close to customers."
The turnout for the event was overwhelming, the atmosphere was great, with curiosity and genuine interest in the air, everyone that has had attended the event is sure to have taken away something valuable that day.