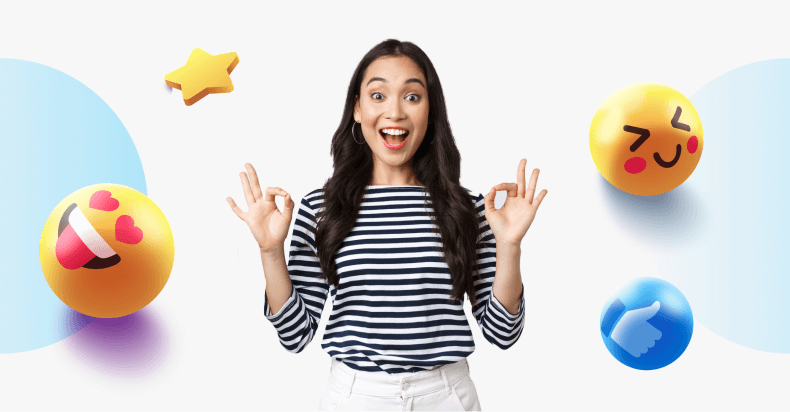 Customer satisfaction is essential to the success of your business. It doesn't matter how innovative your product is or how competitively priced it, if your customers aren't happy with their whole experience, they won't stay.
Thus, it is not surprising that 45.9 percent of businesses surveyed in 2020 mentioned that customer experience is their number one priority over the next five years. This customer experience is closely related to their level of satisfaction with your product or service.
However, not many people understand how 'satisfaction' is measured in customers. With so much focus among brands on stimulating emotional connection and positive customer feedback, 'satisfaction' emerges as a condition away from emotional attachment to the customer.
So, what is customer satisfaction? Why is it so important, and what can you do to improve it?
What is Customer Satisfaction?
Customer satisfaction is a measure that determines how satisfied customers are with a company's products and services.
This information about customer satisfaction, including surveys and ratings, can help a company determine how best to improve or change its products and services.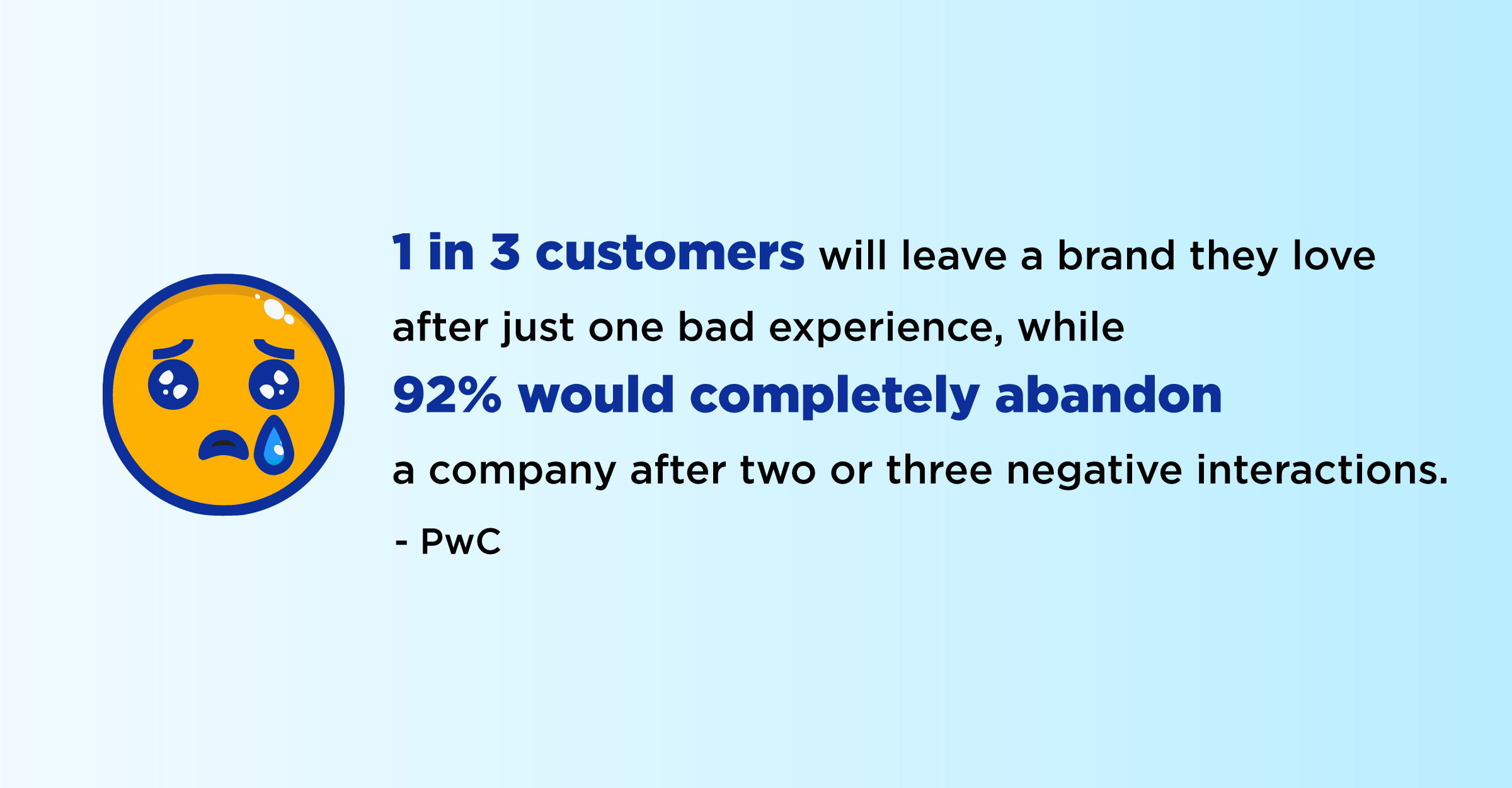 Customer satisfaction can also give you an idea of ​​customer loyalty and predict the likelihood of referrals.
In addition, by continuously measuring Customer Satisfaction Score (CSAT), companies can map trends over time and use it to evaluate the impact of changes. For example, a response to a new product, a price increase, or an improved digital customer experience.
Need-to-know Customer Satisfaction Metrics
The customer satisfaction metric, also known as the CX metric, is a numerical score representing the existing customer experience.
Standard metrics used to assess customer satisfaction include Customer Satisfaction Score (CSAT), Net Promoter Score (NPS), and Customer Effort Score (CES). Others that are less well-known but sufficiently representative are Customer Acquisition Cost (CAC), Customer Lifetime Value (CLV), Average Handling Time (AHT), and First Response Time (FRT).
Here are some well known customer satisfaction metrics that you should know.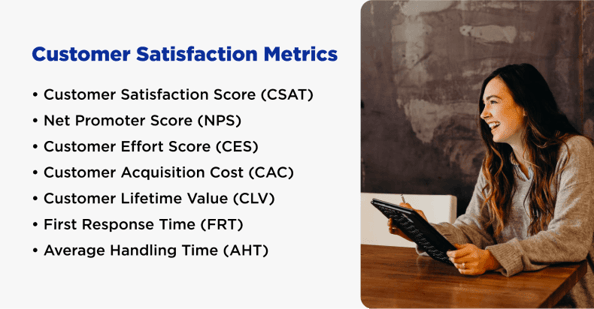 1. Customer Satisfaction Score (CSAT)
CSAT is widely used to measure and accurately represent customer satisfaction. Generally, customers are asked to rate their level of satisfaction on a scale from 1 to a predetermined maximum, usually 5 or 10. Sometimes a percentage scale (0 to 100) may be used, a lower score reflecting a lower level of customer satisfaction.
2. Net Promoter Score (NPS)
NPS is used to measure how well a business treats their clients or customers. This metric explicitly examines the likelihood that a customer or client will recommend a service, product, or brand. The NPS survey only asks one key question:
On a scale of 0 to 10, 0 is 'do not like it at all, and ten is 'like it very much:
How likely are you to recommend this [brand, product, service] to a friend or colleague?
3. Customer Effort Score (CES)
CES is one of the more exciting customer satisfaction metrics. This metric aims to determine how much effort they do to interact with the brand.
Respondents will be asked to choose their answer from a numbered scale (eg 1 to 5), where one was 'strongly disagree' and the highest score was 'strongly agree.' for questions around the brand.
4. Customer Acquisition Cost (CAC)
CAC measures how much, on average, your business costs to acquire a new customer. It can be calculated by adding up the amount spent on sales, marketing, promotions, and advertising, during a given period and dividing by the number of new customers acquired.
5. Customer Lifetime Value (CLV)
CLV is generally the revenue your business earns from customers over a while. This period is usually the lifetime of the brand's relationship with the customer.
By combining CLTV with Customer Acquisition Cost (CAC), you can determine an overall lifetime return on investment. By segmenting Customer Acquisition Costs by acquisition channel, you can decide which customer acquisition path is the most profitable.
Choosing the right customer satisfaction metrics for your business is very important. The choice depends on what you want to know. Remember that there is no 'one size fits all' customer satisfaction metric that caters to everyone's needs.
Why is The Customer Satisfaction Score Important?
Customer satisfaction score or CSAT is highly important for a company because it indicates how well it has met its customers' expectations and how likely it will retain them. For this reason, companies need to measure customer satisfaction scores.
The following reasons can show how important a customer satisfaction score is to your company:
Direct investment accurately to the right area
Tracking movement in the CSAT score can help business owners to determine which area needs investment to achieve the best outcome.
Helps marketers attract new customers
Customer testimonials from happy customers can be one of the best assets to attract new customers. Favorable reviews were also proven to boost sales by 12.5%.
Leads to customer advocacy
Having a high customer satisfaction score will lead to a higher brand loyalty and advocacy.. These customers will refer new leads to your company and generate more testimonials for your brand.
Increases customer retention
By measuring CSAT, you can look at an individual customer's needs and create personalized offers for potential churn users because according to PwC's Future of Customer Experience report, 32% of customers will stop transacting with a brand they love after one bad experience.
How to Calculate a Customer Satisfaction Score?
The calculation of the CSAT score is straightforward.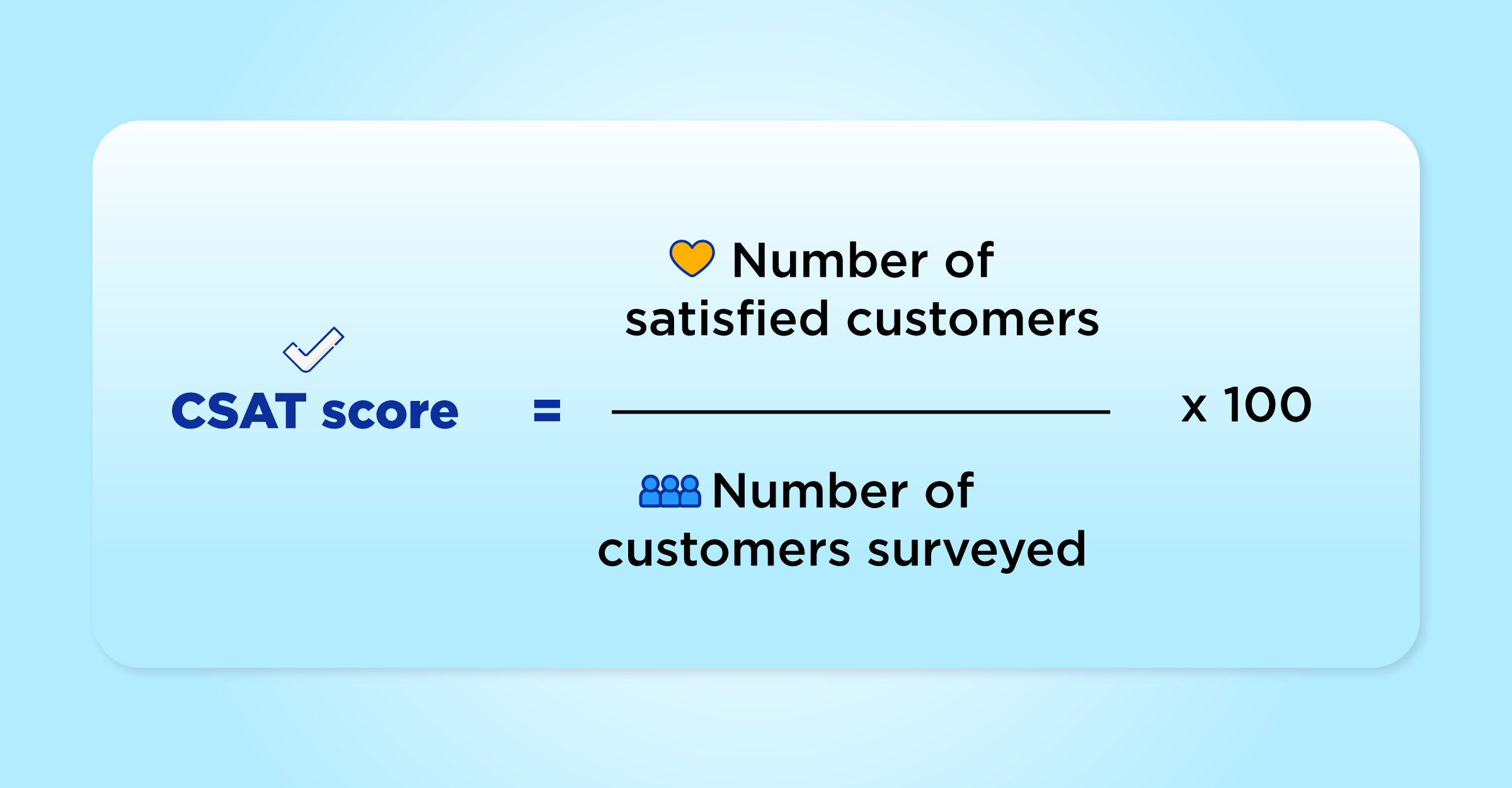 All CSAT scores are in the range between 0 and 100. A CSAT score of 0 indicates that none of your customers are satisfied. A CSAT score of 100 will mean that all customers are satisfied.
How to Increase Your Customer Satisfaction Score?
To improve your CSAT score, you need to meet customer expectations consistently. Today, customers' expectations are not limited to the functional benefits of your products or services, but include the whole experience that your customers have with your company.
Continuously improving your customers' experience at every touch point will help to win their hearts and give them the satisfaction they expect.
Here are some ways to perfect the customer journey with your brand and improve your business's CSAT score.
Customer support is part of the business that is directly in touch with customers. You need to enhance your customer support team with technology that provides a seamless experience, help them access all inquiries, live chat and feedback easily and automate data analysis, so they can address customers' paint points quickly.
Introduce more support channel
Call centers or email shouldn't be the only ways customers can contact the company anymore. You need to introduce other modern digital channels to make it easier for the team to provide uninterrupted service to customers.
Train your employees to provide knowledge about the company's products or services and the attitude to have when serving customers. They interact with customers the most, thus playing an extremely vital role in increasing your CSAT score.
Make customers your business center
Always ask how your customers feel about your brand. Doing this means you are thinking about what impact that each decision you make will have on your customers. Fyi, 84% of customers claim they are more likely to continue doing business with a company that treats them like individuals and not just customers on their system.
Fix internal and external pain points
The quality of your internal business process is critical to ensure a smooth and seamless service for your customers. A complicated process for submitting a customer's complaint or a long waiting time in your company's call center due to a complicated internal procedure or lack of staff can cause customers to feel frustrated and have a bad experience.
Key Takeaway
Customer satisfaction is essential because it determines how well your customers evaluate and perceive the quality of your products and services and indicates the level of their loyalty to your brand. High customer satisfaction will help you to prevent churn and build loyal customers who can later be developed into your brand advocates.
Measuring customer satisfaction can help your company determine how your products, services, and internal processes are perceived by your customers and provide actionable insights which you can use to . improve or completely change different aspects of your product or service.
As a leading and most trusted loyalty & rewards platform in Indonesia, Tada has many exciting programs that can help companies increase customer loyalty, through a hassle-free, end-to-end digital platform for managing customer membership, tiering memberships, referrals, resellers, and many others.
Request a demo so we can discuss how Tada can help improve your customers' satisfaction and power growth your business.