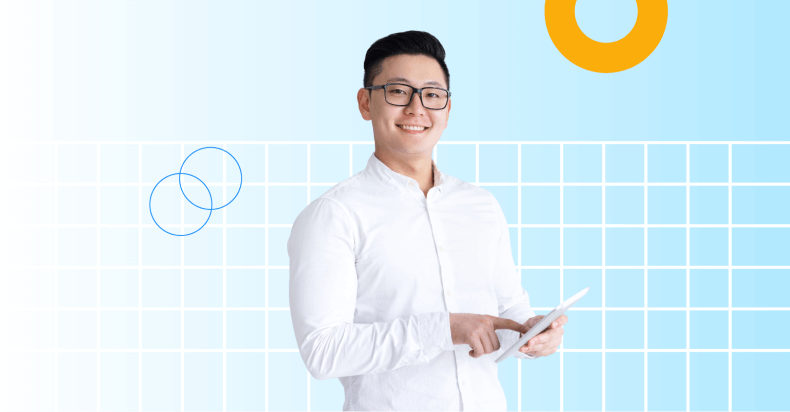 Recognition in the workplace is believed to motivate employees and increase their productivity. Employees are more likely to take the initiative and achieve KPI targets if their efforts and contributions are acknowledged and rewarded.
In fact, based on Gallup report, the #1 reason most employees leave their jobs is due to lack of recognition, while 69% of employees will work harder if they think their efforts are more appreciated (via officevibe).
Compared to a few decades ago, some companies have now changed how they view their employees and their achievements. Companies have started to find ways to publicly acknowledged and show appreciation for their employees' achievements and contributions.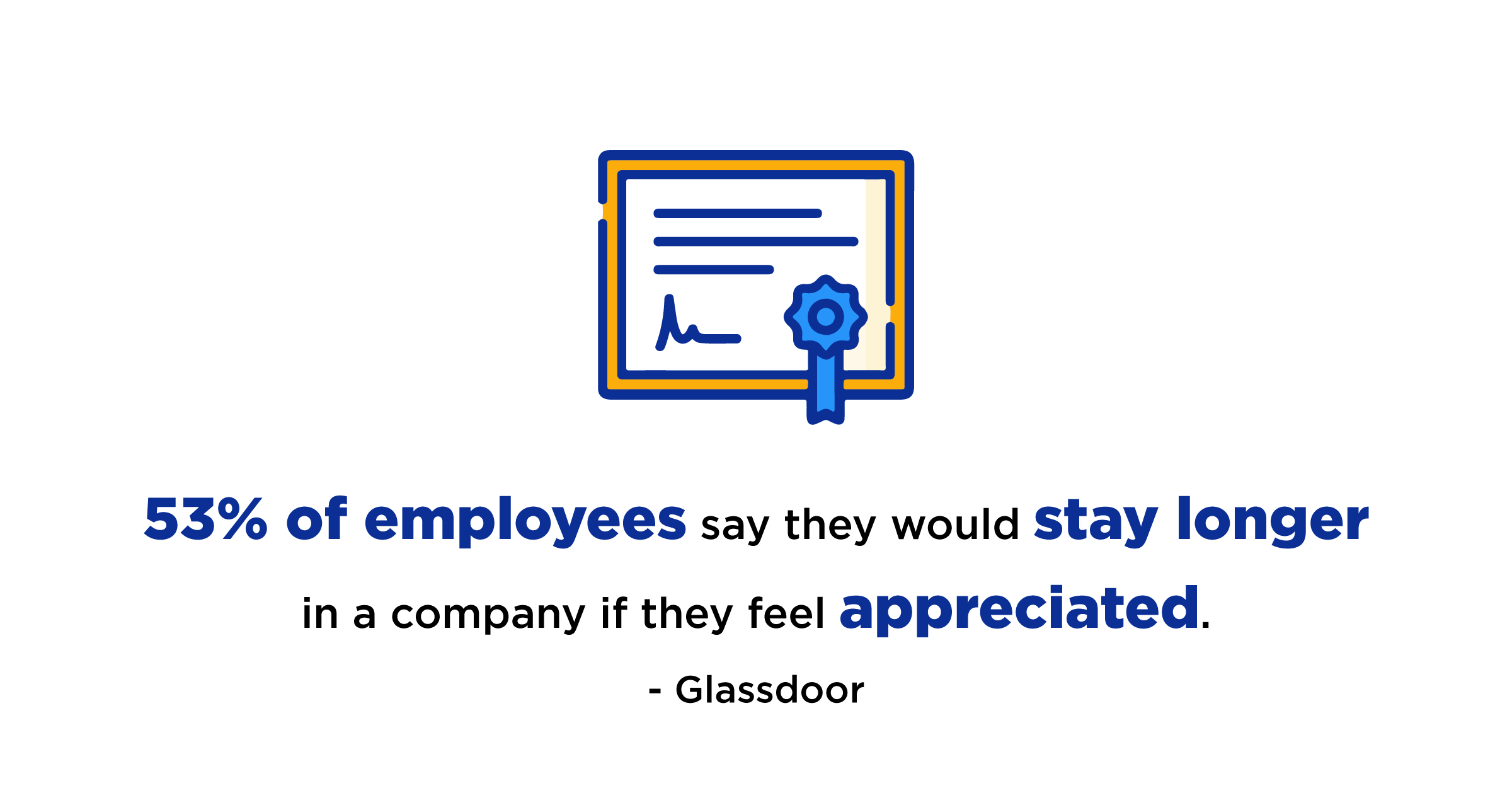 Unfortunately, there are still many companies who have not moved from the traditional way of recognizing their employees. The reluctance to change the way they value employees largely stems from misunderstandings.
Here we summarize the top 7 misconceptions that often occur about employee recognition in today's workplace.
1. Building employee recognition program is time-consuming
Companies often believe that setting up an employee recognition program is complicated and time-consuming.
They feel that creating a program that matches the company's values ​​and needs will require significant time and effort. The company is also unsure about the smooth integration of the forum with other technology platforms in the workplace.
#Facts
Currently, a SaaS platform for employee engagement and retention comes with configurable features that can be mapped according to company needs easily and can also be implemented quickly.
This platform also has built-in connectors with other platforms such as HRMS, MS Teams, Slack and many more.
2. Monetary rewards is the best option
Many companies believe that employees only need a salary and monetary benefits. So, if they increase the salary, it will motivate the employees and encourage them to meet the goals and targets of the company. However, this is not entirely true.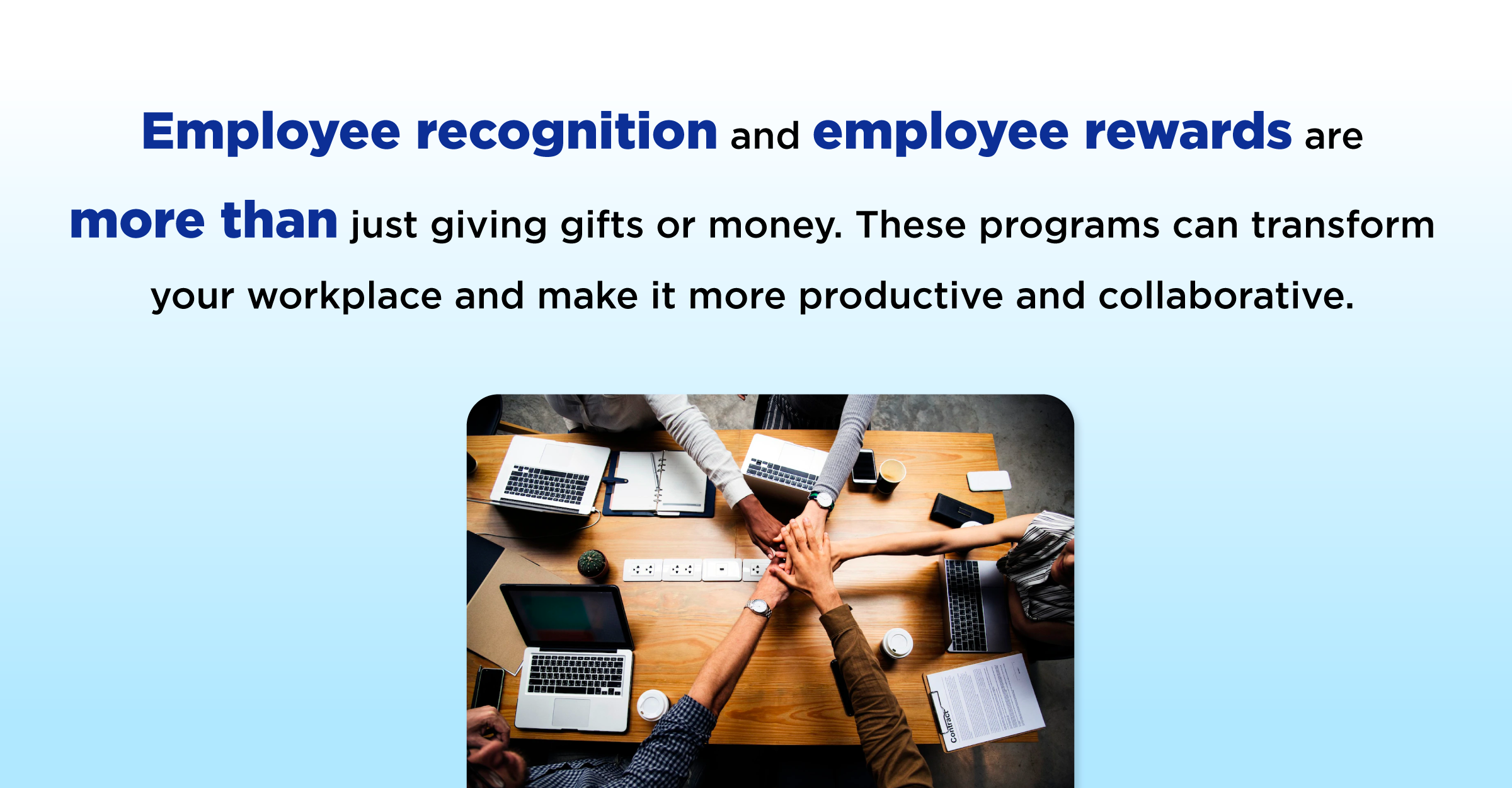 A study conducted by Deloitte revealed that companies that have rewards and recognition programs for their employees would increase performance, productivity, and employee engagement 14% higher than companies that do not have a similar program.
So, if you have a high employee turnover even though your company is one of the highest paying companies, it's time to rethink your employee recognition program.
#Facts
Money is just one part of getting employees involved. Offering a good salary is not enough to encourage long-term engagement. For example, if employees don't feel valued, they are less likely to become involved, regardless of how much you pay them.
3. Employee recognition has no measurable metrics
Many companies do not implement an employee recognition program because they are confused about how to measure the success of their program.
It is assumed that employee recognition does not require specific numbers and matrices. On the other hand, employee recognition actually has many aspects that can be measured.
#Facts
There are many Key Performance Indicators (KPIs) for employees to measure their success, including engagement survey scores, shifting, training hours, employee NPS, etc.
The key is to identify the specific problem the company is trying to solve. Once you've implemented an employee recognition program, watch the moves; are they moving toward the company's goals? If not, make relevant adjustments to resolve the issue.
4. It is expensive with no to little ROI
The awful news for the company is that employee recognition costs are expensive, and there is no Return on Investment (ROI). Running this kind of program seems like burning company's money without any profit. But that's not true.
Although incentive programs require substantial and often significant financial investments, employee recognition does not carry such a burden.
#Facts
Employee recognition can be very cost-effective and even accessible. For example, it starts with company leaders and managers taking small but consistent steps to communicate sincere and personal appreciation to employees. The award can be in the form of a thank you card or a private birthday treat.
These types of recognition are not only free to give, but have a more lasting impact than incentivizing employees at any given moment.
The Incentive Research Foundation revealed in its Trends Report that non-financial rewards, such as rewards expressed by a manager, are three times more effective than cash incentives such as cash bonuses, base salary increases, and stock options.
5. Employee recognition only for top performers
It has become a habit for companies to give recognition only to those who have above-average performance and to think that recognition is only worth giving to those with outstanding achievements.
#Facts
Recognition is not just for high-performing employees but for everyone. Most employees want recognition for their efforts, and they want to feel valued.
In a study conducted by the University of Southern California, London Business School, and PwC, more than 40% of millennials expect recognition for their work at least once a month or more.
Lack of recognition can have a detrimental effect on the company. For example, Gallup's research shows that "employees who don't feel recognized enough are more likely to quit next year."
6. Employee recognition program is expensive
The general perception within companies is that a proper recognition platform requires a significant financial investment. In addition, companies also need to invest in training their HR teams to use the platform efficiently, which can also add to the overall cost of implementing the platform.
Companies also fear that an expensive employee recognition platform might drain their overall program budget and leave little to do with incentives.
#Facts
Currently, a cloud-based employee recognition platform technology operates on a Software-as-a-Service (SaaS) model that does not require a significant up-front investment.
The platform has flexible pricing plans based on the basic features and functions used and the number of active users.
With a bit of research, organizations can easily find a platform that fits their budget. They can also opt for a monthly subscription plan that works on a pay-as-you-go model, making it very affordable.
7. It is only relevant to technology companies or businesses in creative industries
A ridiculous myth is an assumption that employee recognition is only for technology companies and creative industries because only those two fields need and can benefit from this kind of program.
#Facts
Every company can follow guidelines and best practices for higher engagement, no matter the industry. For example, whether your employees are young technicians in their 20s or middle-aged factory workers, the involvement of the two is bound to be different.
In other words, there are universal principles, such as the need for esteem, recognition, or the desire to work toward a goal greater than money, which apply to all.
Your company doesn't need to be the coolest to support greater employee appreciation. Just say thank you sincerely, and it's free. However, if it is carried out continuously, employee involvement will undoubtedly be higher because they consistently feel valued.
Conclusion
Employee recognition and employee engagement are more than just giving gifts or money. These programs can transform your workplace and make it more productive and collaborative.
It is clear that the common misconception about employee recognition platform is not based on reality but has more to do with resistance to change. Instead, companies should weigh the benefits of going digital and focus on evaluating the platform that suits them best.
As Indonesia's most trusted and preferred end-to-end loyalty & rewards platform & solution provider, Tada has a program which particularly focuses on employee recognition and engagement. Tada's Employee Engagement solutions can help companies plan comprehensive rewards for employees.
Through several programs such as birthday and anniversary awards or special programs such as Employee get Employee, you can create a continuous personal engagement with your employees and make them feel valued.
Your employees can also be your brand advocate by referring the job vacancies in your company to their friends or family members and you can easily reward them when they complete the recruitment process.
In addition, Tada's Employee Engagement solution includes an extensive rewards catalog with more than 1,000 various gift options, ranging from physical to digital gifts. Request our demo now to find out more!