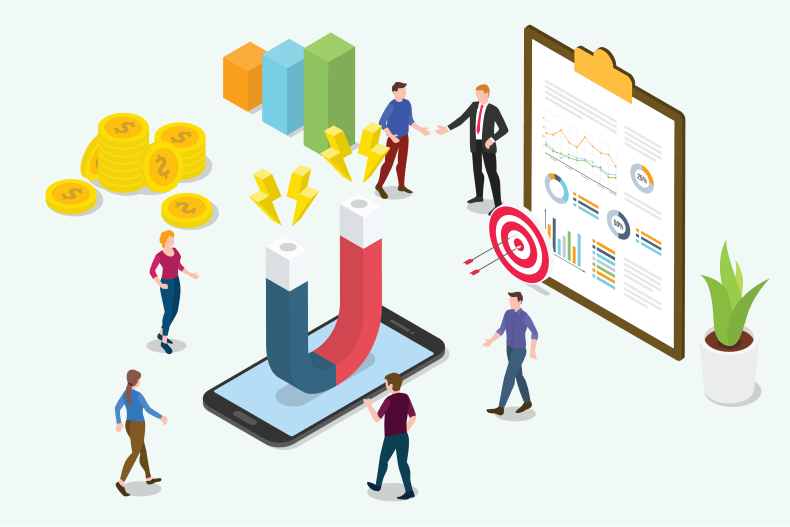 Which one is better? Getting new customers or retain the existing ones? Some research reveals that approaching to a new customers can be five times more expensive than to maintain a current one.
According to another study on customer loyalty, it shows that they are more likely to do repeat buying, more tend to look around and more interested to give a new offering a try.
Developing Customer Engagement with the Help of Data Analytics
Based on studies above, retaining customer is more critical than you think. According to HubSpot, companies that use data effectively for their marketing and sales purposes improved an average of 15–20 percent to their Return of Investment (ROI). But it is also important to know that every customer is unique.
Strategies for customer retention should cover several customer segments. In the beginning, the strategies start by take notice to customer's demand as they make a relationship with a brand, listening to their needs and conditions, and then setting up strategies over the things that most important for them.
Below are some instances of design thinking plans to retain existing customers.
1. Concerning to customers that pursue availability and speed
Today, customers tend to prioritize the quality of products and the quickness of process more than the price. Customers want a quick and comforting delivery service.
The obstacle in actualizing this strategy is to figure out a specific product and time to what and when your customer need. In order to do that, you can deploy predictive analytics to your particular products and stock up warehouses for quicken the delivery procedure.
2. Concerning to customers that looking to ease the decision-making
One of the problem of the customer is the difficulty of decision-making. Considerate this customer confusion, you could leverage the data and insights to create particular recommendations adjusted to customer preferences accurately. That way, you can improve the rates of customer retention.
3. Concerning to customers that flexibility oriented
One strategy that will cover flexibility problem is in case of bill payment. Provide their preferred type of payments and let them propose their due dates. This strategy will not only increase revenues and cut the company's costs but also intensify customer experience.
4. Concerning to customers that likes to have their advice personal
The consumers prefer their business to be transparent and personal. And helping them find solutions about their individual problems can be a non-zero-sum strategy.
Consumers have their needs over their control, while companies gain more leads on customer behavior for the purpose of personalize the upcoming offers.
5. Concerning to customers demanding quick help
For this situation, let's jump directly to the example. In the medical world, patients have to be taken care of immediately. Patient condition changes in any second. Technology interventions have been a big help to healthcare companies. Several innovations developed to ease the detection of diseases.