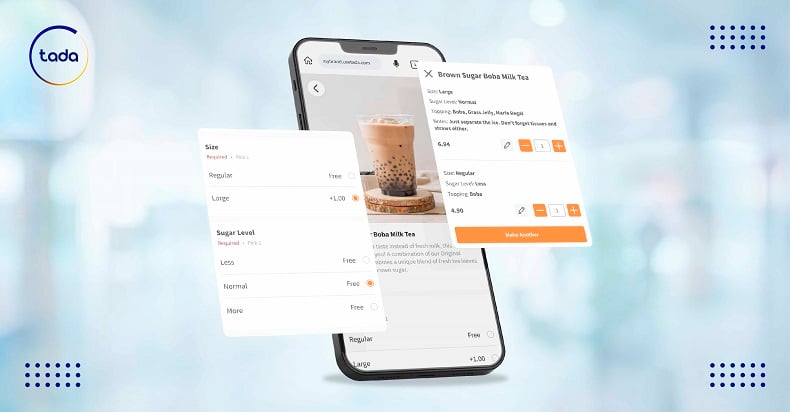 Have you activated the Online Ordering feature on Tada for your brands?
If yes, we're thrilled to introduce a new enhancement that will elevate your experience even further: Variant Options.
What is Variant Options for Tada's Online Ordering Feature?
As the name suggest, Variant Options is a game-changing feature designed to empower our valued clients to incorporate customizable variants into their menu for the Online Ordering function.
This significant enhancement demonstrates Tada's commitment to not only delivering products but also crafting personalized and delightful experiences for both our clients and their customers.
Variant Options simplifies the ordering process and significantly enhances overall customer satisfaction. This means no more manual entries when your customers wish to customize their food orders, such as selecting toppings, sugar levels, and more.
Benefits for Brands
By embracing Variant Options, our clients can enjoy a streamlined and user-friendly experience, effortlessly navigating through a range of customizable elements that meticulously curated to complement the diverse offerings of the brand's menu.
Brands can now:
Add variant options for all possible menus on their side. For example drink size, toppings, ice level, sugar level, and more directly from the Dashboard
Control the menu that displayed within their app, so that their customers can have full experience when using the online ordering feature
Attain clear visibility and transparency regarding the variant options selected for each order, which will be showcased on Tada Partner.
Benefits for Brand' Customers
When a brand with online ordering feature activated on their restaurant / cafe, their customers can get these benefits:
Customize their order based on their preferences
No more manual writing on the 'note' section to customize their order
Access clearer info the brand's menu, available options, and any associated additional costs.
Wrap up!
Gone are the days of settling for a one-size-fits-all approach to food and beverage orders. With the Varian Options feature on Tada Dashboard, brand can effortlessly customize their menus to allow customers to order their preferred foods and beverages, catered to their unique tastes.
All Tada' clients with the Online Ordering feature activated on their profile can seamlessly use this enhancement directly from the dashboard.
Should you encounter any challenges with this new feature, please don't hesitate to contact our team for immediate assistance.