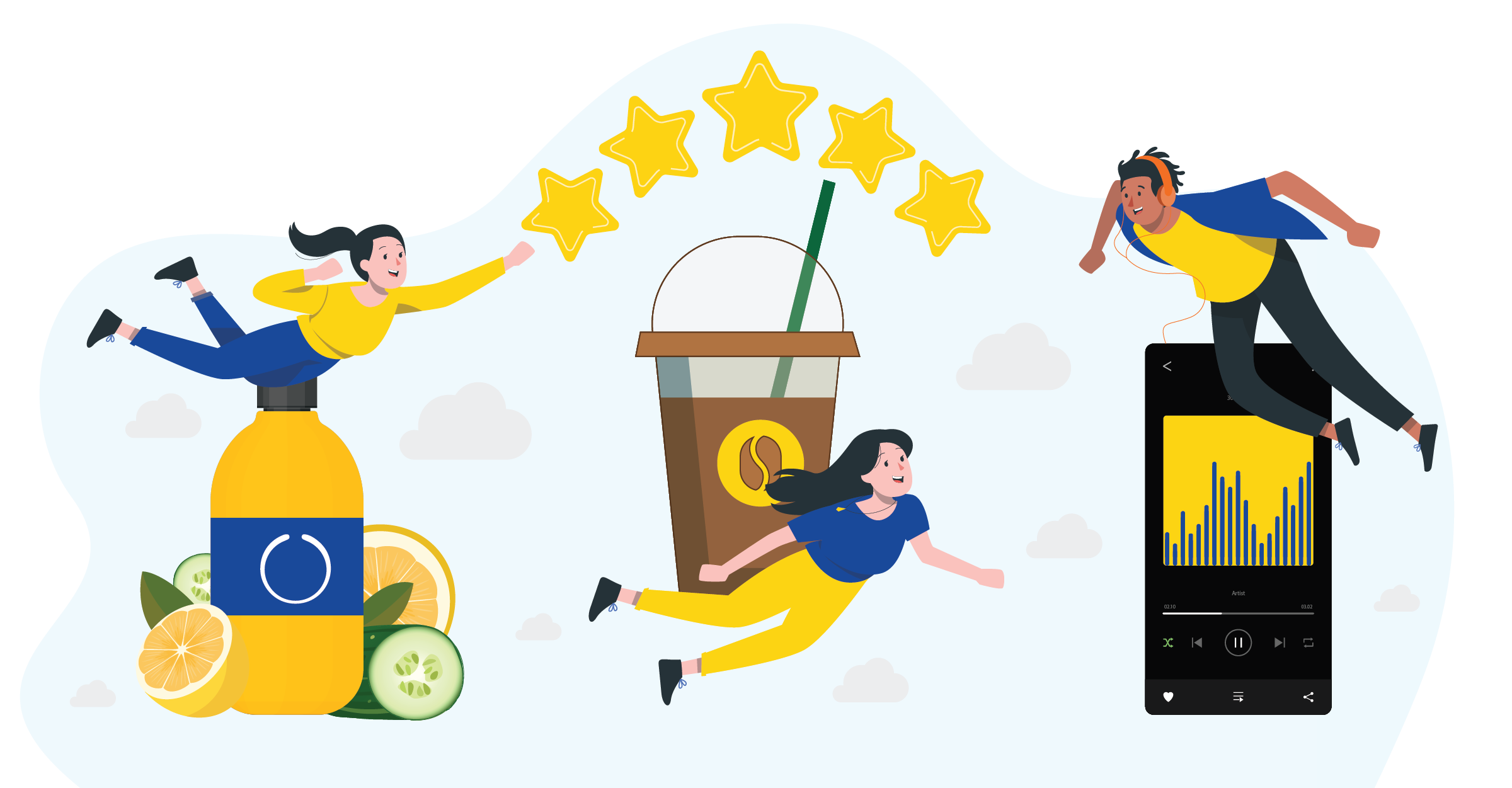 Acquiring customers is one thing, but keeping them loyal to your business and retaining them is no easy feat. In this new customer age, customers are getting harder to please than ever.
They do not mind switching brands purely because they do not feel cared for, their needs are not being met, or simply because they find better benefits elsewhere. Thankfully, with the right set of strategies, you have a high chance of turning first-time customers into loyal customers.
Let's take a look at three popular brands and how they nurture loyalty in their customers, ultimately increasing their retention for the long term.
1. Starbucks
These days, it's safe to say that everybody is familiar with Starbucks. Besides top-notch customer service and branding, this renowned coffee shop has a customer loyalty program that every business can learn from.
Starbucks is always revamping their customer loyalty programs to cater to customers' needs better, and according to the latest report by Hospitality Tech in January, latest innovations in their loyalty program are paying off, increasing their member enrollment by 15% YoY.

In Q4, Starbucks updated their program by allowing loyalty members to gain reward points with any payment method. This is a huge change from their previous policy where members can only gain points by paying with their Starbucks card. The result? Their 90-day active member base increased by 2.5 million members, reaching 21.8 million.

Aside from an increase in the number of active members, Starbucks also witnessed an increase in engagement, as their US program members contribute 50% of the sales, 43% higher than the pre-pandemic period. Despite the traffic being down in stores, purchase from loyal members remains high, as they can still purchase by drive-thru and Starbucks' mobile app.
By rapidly adapting to their changing customer behavior and enhancing their mobile app experience, orders by mobile app have increased 17% as compared to before the pandemic, representing 25% of the transactions in the US stores. This strengthens Starbucks' competitive position in a tough time for F&B businesses everywhere.

To summarize, Starbucks:
Makes their loyalty program convenient for customers
Enhances omni-channel experience through mobile app order
2. The Body Shop
The Body Shop is a green cosmetics and skincare brand that also understands the value of customer loyalty. Their membership program, "Love Your Body", is a free loyalty program with benefits such as rewards for purchases, leaving reviews, and promoting the brand. They do not just give simple discounts, but more exclusive offers such as event invites and gifts.
Now, The Body Shop's loyalty card has gone digital, reimagining their customer loyalty program into an app. This allows them to give more tailored offers for each member. They can also notify their members when they are near a certain location about offers at their nearest stores. Next, the app gives this member a specific QR code to be used at the store or online. The main goal is to engage customers in real-time and make their shopping experience one that is as convenient as possible.
Another thing that makes their loyalty program unique is that they are inviting members to be a part of their social cause. Members can donate their reward voucher to charity programs held by The Body Shop.
The charity programs stand for different issues such as domestic abuse, sustainability, emergency aid and wildlife conservation. By doing this, The Body Shop is giving its members a chance to feel a sense of belonging in a community by being part of a cause larger than themselves.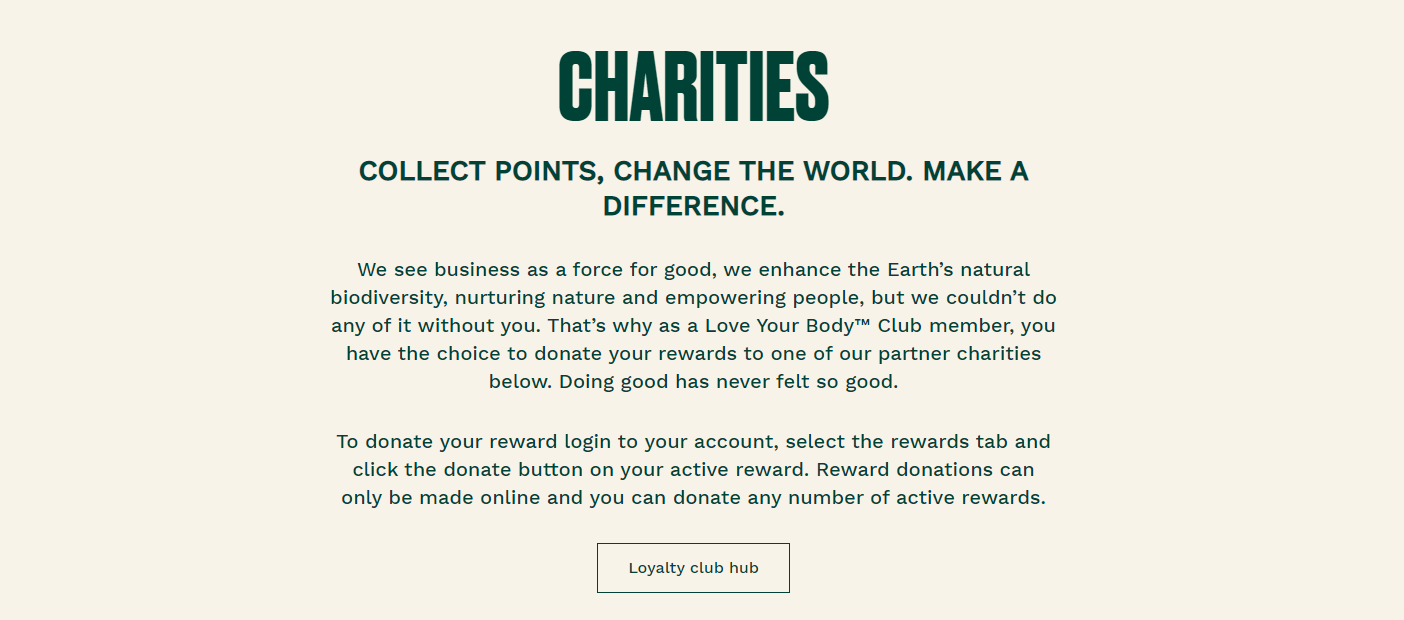 To summarize, The Body Shop:

Tailors offers and experiences for members in real-time
Connects with members on a deeper level by being a part of social cause
3. Spotify
Nowadays, customers are getting more familiar with paid membership programs. They have adapted to paying in advance to receive exclusive benefits. One of the brands that offer such benefits is Spotify, a music streaming brand. Spotify is known to be a highly customer-obsessed brand.
In fact, at the time this article is written, it is ranked 2nd in the top ten in the Brand Relevance Index, which reflects how relentlessly relevant brands are for their customers. What happens when a brand is relevant? Well, 80 percent of customers agree that they're more loyal to brands that continue to find new ways of being relevant in their lives.
How does Spotify do this? By offering a paid membership program, Spotify offers high-quality, ad-free, convenient music streaming service for their members. The company does not stop there. They view their members as partners for co-creation, collaboration, and participation.
They actively leverage their members' data and listening behavior into recommendations, playlists, and special offers. One of the examples is their "Discover Weekly" playlist, tailor-made for each member based on the type of music they listen to. This kind of personalization strengthens members' sense of belonging to their brand and locks them in for the long run.
Spotify is also known to be innovative with their strategies. They have partnered with other brands such as Uber, PlayStation, and mobile providers to give more seamless and personalized experiences for their members. Last but not least, they leverage the power of community by actively encouraging engagement across their member base, by being active on social media.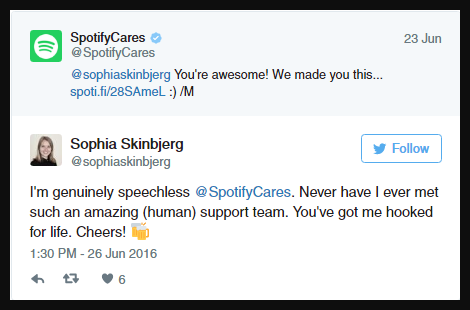 To summarize, Spotify:
Gets relevant with their members to provide personalized experiences
Innovates by partnering with other brands and social media engagement
Every business has its own take in increasing customer loyalty and retention. It's always a good idea to look to bigger brands and learn from their strategies as well as how they can be applied to your particular business. If you are looking for ways to retain customers better, don't hesitate to contact us as. We'll be happy to help!