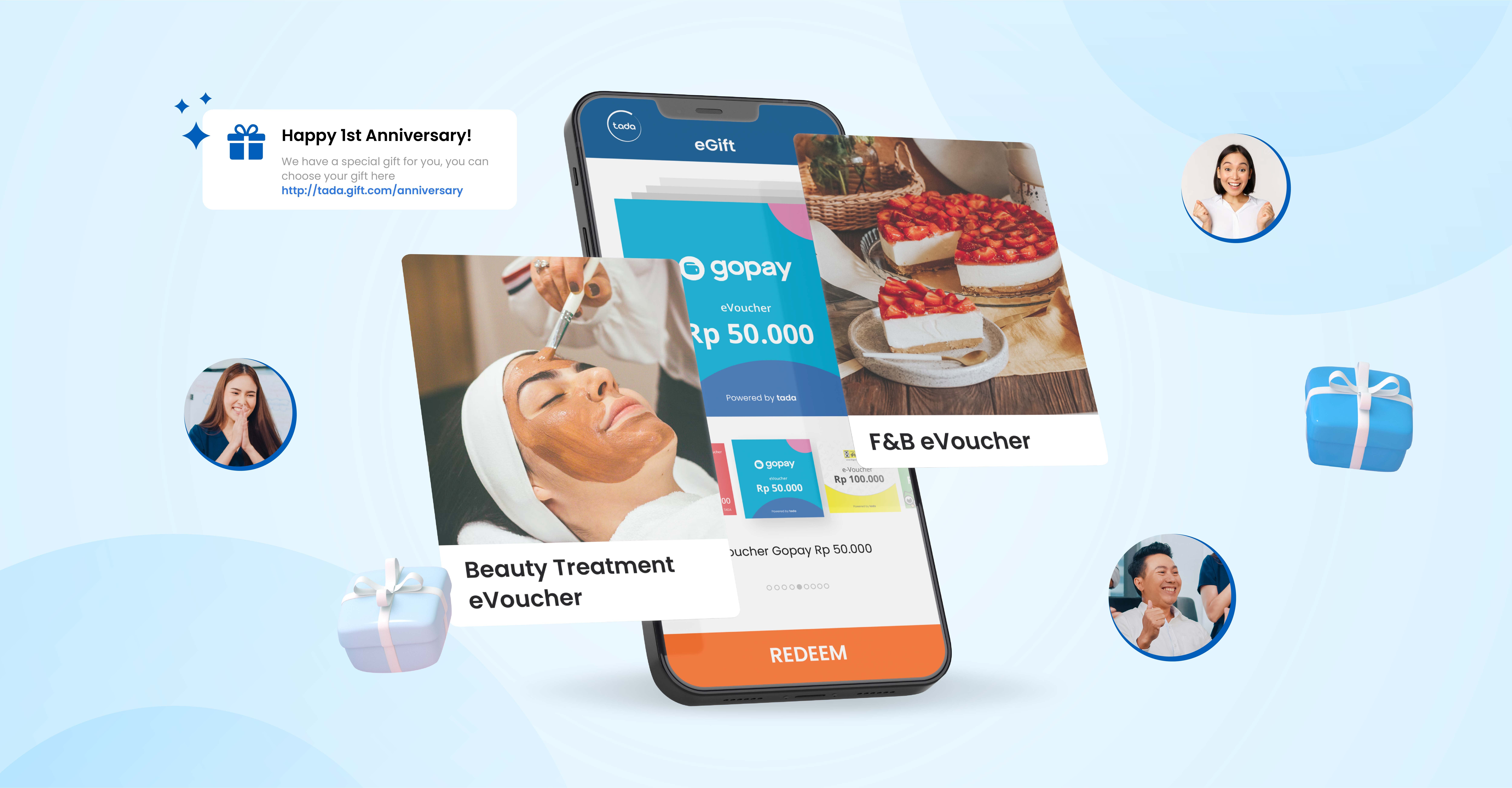 Now sending gifts for employees, clients and partners doesn't have to be a hassle anymore because you can utilize our gifting program to send meaningful and one-of-a-kind corporate gifts with a few clicks.
You can send gifts for various occasions; such as holiday season, important dates like first anniversary of collaboration and many more. The best part is you can allow your customers to choose what gift they want the most!
This gifting solution is available via API integration (if you have your own app), web dashboard (using Tada's platform and dashboard) and fulfillment request (Ad-hoc request to Tada without platform usage both for non or existing clients).
Personalized Gifting with Multiple Vouchers
Here are things you can do if you choose Tada for your corporate gifting:
Choose whatever gifts you want to give to your clients or partners; from e-vouchers to physical gifts from our catalog.
You can choose whether to send Single Voucher or Multiple Vouchers to maximize the gifting experience.
Once you set the gift choices, you'll get unique link with expiry date and PIN that can be broadcasted to your partners through SMS, email or WhatsApp
There are two types of multiple e-vouchers that you can easily choose when opting for this feature from Tada.
Multiple And; One unique link contains multiple rewards that all can be redeemed as long as the link has not yet expired. To sum it up, your customers will be able to redeem several e-vouchers or physical gifts in a click.

Multiple Or; One unique link contains multiple rewards options. Once one of the options is used, all other options will be unavailable.
The flow of customer journey once they get your gift link is as follow:
Your clients or partners click the voucher link
They must input the 6 digit PIN that are sent along with the link to access your gifting page
They can choose whatever gift they want from the list that you've set before and click Redeem
If it's an e-voucher, our system will automatically process it and if it's a physical item, we'll take care of the shipping process for you (you'll be able to track and monitor the shipment, too!)
Gift Giving to Nurture Loyalty
Nurturing customer loyalty is essential for any companies; especially for those who have corporate clients, channel partners or both. It is because loyal customers are one of the backbones of a company's success; better opportunities for cross-sell or upsell, possible recurring revenue and better market penetration.
Corporate gift giving is a fantastic way to encourage brand engagement and also customer loyalty, because:
Corporate gifts help people to feel valued and connected to the company and thus create a sense of loyalty.
It can create memorable experiences (opening the gift box or even choosing the gift themselves) that sparks emotional connection, strengthening their relationship with your company.
It can encourage existing clients or partners to keep doing business with you, motivate employees to be more engaged and entice the new prospect to choose you over other companies.
The Takeaways
With our innovative gifting solution, you can tailor your own preferred gift for your customers or employees in the form of a unique link. You can even choose the Multiple Vouchers option to bring your gifting experience to the next level.
If you want to know more about our gifting program for any occasion, we're always happy to help. Request our demo now to find out more about it directly from our team. It's free!