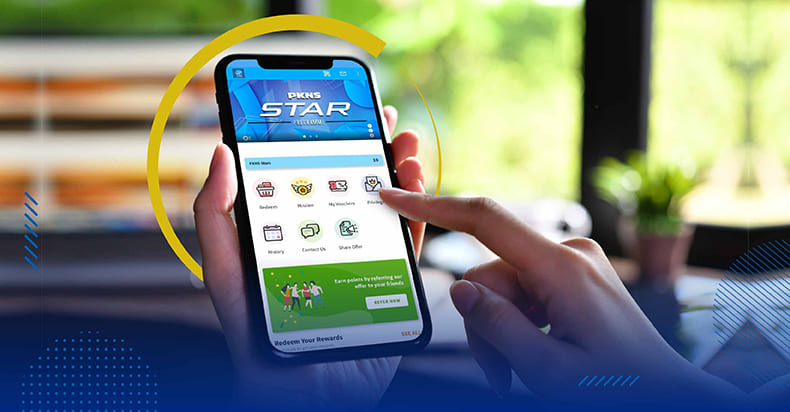 Tada, a leading loyalty and rewards platform in Southeast Asia, is thrilled to announce that Perbadanan Kemajuan Negeri Selangor (PKNS), a statutory body and development agency for the state of Selangor, has chosen its solutions to power their comprehensive employee rewards and loyalty platform in Malaysia.
---
Tada's platform and innovative technology enables businesses to easily motivate and reward employees for performing specific tasks or reaching specific milestones that can be defined by the business. PKNS uses the Tada platform to power an easy-to-use mobile app called PKNS Star to reward their employees and improve overall satisfaction and engagement.
Many employees are reevaluating their working lives as a result of today's competitive labour market, as well as economic and financial difficulties. Businesses are increasingly concerned with attracting and retaining people, which is why more companies have started implementing loyalty and incentive programs. Tada's loyalty and rewards program draws on a multitude of various reward schemes to generate incentives and products that may be customized to the preferences of a company's employees.
Tada's loyalty and rewards program has been tailored to meet the needs of PKNS. They were able to engage with their employees in more meaningful ways by incentivizing them through a points system.
YBhg. Dato' Mahmud bin Abbas (D.S.I.S), Chief Executive Officer of PKNS, shared "To stay ahead of the competition in today's competitive landscape, businesses must embrace technology and innovate on a continuous basis. While technology can help businesses transform their operations for greater efficiency and agility, employees are an important part of the company's journey. It is essential to keep them motivated and engaged so that they can be a part of the change and help foster innovation, which is why we decided to work with Tada Malaysia and introduce PKNS Star."
With the integration of Tada's technology, PKNS was able to transform its everyday experiences for employees into real-time rewards and recognition. Employees were able to participate in all of the company's events as well as do various missions related to the company's culture and get rewards with Star Points that can be easily redeemed for various options. There will be more reward items added in the future.
YBhg. Dato' Mahmud bin Abbas (D.S.I.S), Chief Executive Officer of PKNS, further shared that "by introducing PKNS Star, we are providing our employees with a platform that rewards and recognizes their hard work and dedication. We hope that by encouraging our employees to strive for success and excellence, they will be able to not only improve their skills and knowledge, but also reap the benefits of reaching their goals, both professionally and personally."
PKNS Star will reward all employees who work toward the new culture with Star points that can be redeemed for various e-vouchers. Using the app, PKNS encourages their employees to do positive activities such as sports, praying, etc. to get Star points. The objective was to make the employees feel engaged and make sure that they are in good health to be more productive.
"The best aspect of Tada's loyalty and reward program is that it can be tailored to PKNS culture, giving you a competitive advantage. This app is made for our needs and wants to make our 950 employees more active and more engaged at work. This collaboration has brought new fresh air to improve our employees' well-being as well as productivity and engagement." said Tuan Haji Saharom bin Mohni (S.I.S), Senior General Manager Administration as well as the advisor of PKNS star.
S.Sarkuna Shanmugam, Malaysia Country Manager for Tada, shared, "It is an honour to be chosen by PKNS, which is the state-owned company of Selangor. We are happy that we can assist PKNS in solving their problems to increase employee engagement and drive a new culture by providing end-to-end solutions, including a mobile app with a point system and various reward redemption options that offer a seamless and unique digital experience to PKNS's employees. We hope this can drive a conducive working environment for PKNS."
Tada has worked with over 200 local and global businesses in Southeast Asia since 2012 and has also launched in the Malaysian market.