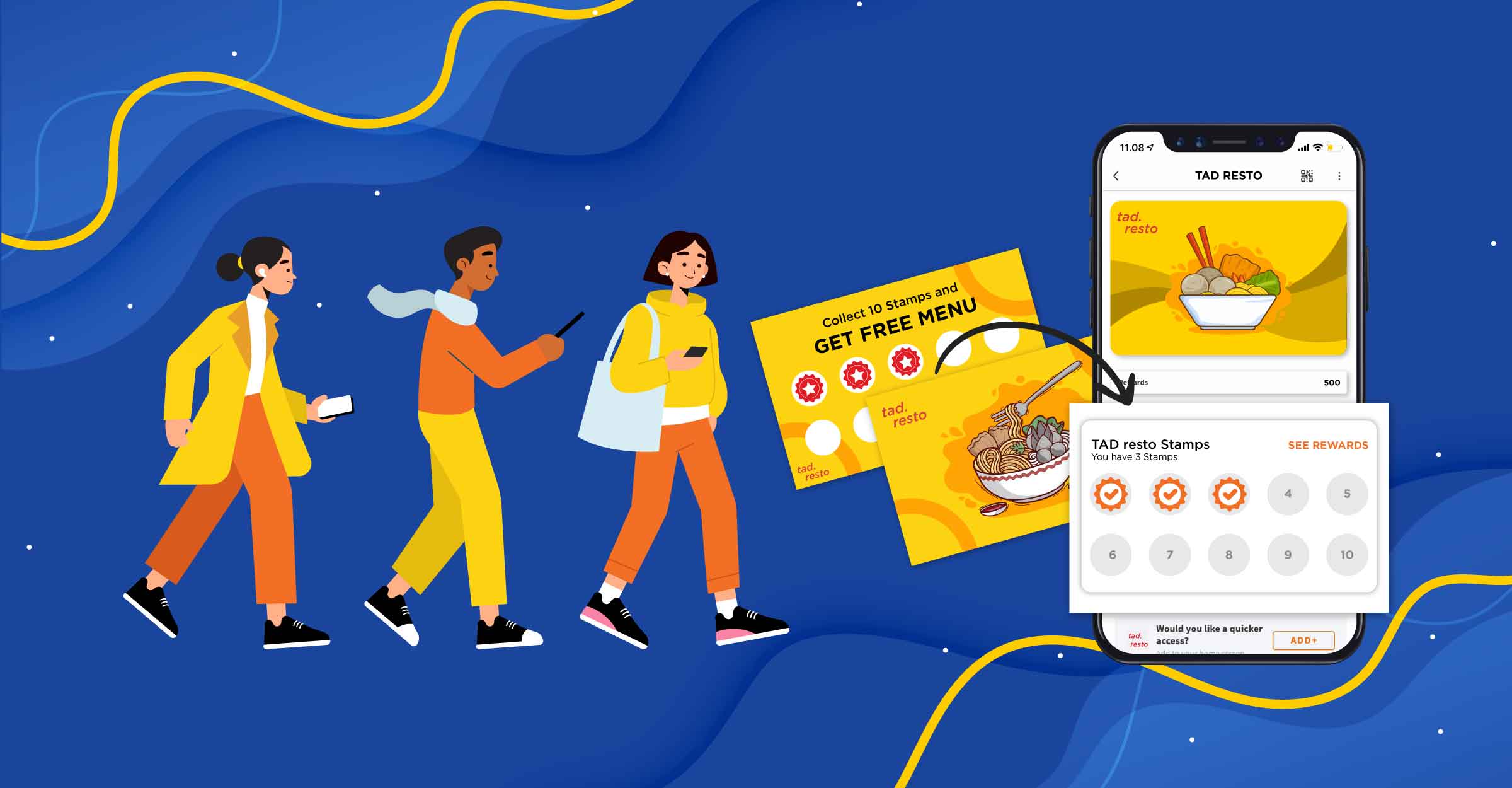 Are you aware that 55-70% of your total sales come from just 15% of your most loyal customers? They are the most important aspect of your business. Not only that, just by nurturing loyalty with 5% more customers, you can increase your profits by 25-95%!
Loyalty has a huge impact on any business. How's your loyalty? Are your customers loyal enough, or do they still hesitate to return to you because they don't feel rewarded?
Using a loyalty program is one of the strategies many business use to spoil their customers and retain them for the long term. Nowadays, loyalty programs are not just about manual stamp cards that get lost or torn easily, and require tedious maintenance. TADA has created a digital loyalty program with multiple features that retain customers and create an interesting experience for them. Start spoiling your customers with a loyalty program, birthday rewards, stamp collection, and many more!
Steps to build your loyalty program
Member registration

Using TADA's loyalty program, customers can sign up easily using a number of ways, such as guided by your staff at the store or online. They can scan QR codes printed on the receipt, brochure, or table tent. They can also sign up through social media or links from SMS or chat blast.

Set your loyalty program strategy

Next, you need to determine if your loyalty program will be a free membership or paid membership program. Come up with the benefits your customers can enjoy once they sign up. You also need to configure the rewards you will give your customers in every stage of their journey, such as when they first sign up, after they shop, and many more.

Analyze customers' behavior

Once your loyalty program is up and running, you will gain insightful data about your customers and their purchase behavior. Use this data to understand them better and create a more relevant experience for them.
Loyalty program features
In your loyalty program, there are many features that you can use to spoil your customers and make them more loyal to you. Here are the features you can find.
Point & stamp collection

Give rewards every time customers do business with you using the point & stamp collection feature! These points and stamps can also be accumulated to a certain amount which can then be redeemed into more rewards. You can also set a number of tiers or levels for members to reach in order to obtain more exclusive benefits. Motivate customers to reach a higher tier and be your most loyal shopper!

Pay with points

Let customers shop from you without worrying about limited bugets. In this pandemic situation, more and more people are getting wary to spend their money on businesses. With the pay with points feature, enable your customers to shop using the points they have accumulated instead of money to help them save cost.

Birthday rewards

Give an unforgettable surprise for your customers on their special day with the birthday rewards feature! TADA helps you keep track of your customers' birthday. On that day, rewards will be automatically sent exclusively for them through email, SMS, or push notification. Figure out the most interesting rewards for your customers whether it is free items, vouchers, or other forms.

Store rating

Enable potential customers to find your business more easily on Google by improving your store rating! When more customers rate your store on Google, you will move higher up the ranks. Whenever customers shop from you, they will be notified to give their rating on the loyalty program. When they give a rating of 4 or 5 stars, they will be redirected to your Google Review page and prompted to write their review. Customers will earn points or rewards when they do. Don't worry, should customers give you a low rating, it will only be stored in our internal database for your evaluation to improve your business.

Your customers' loyalty is something too valuable not to pay attention to. Losing customers simply costs businesses too much. So, start spoiling your customers and acknowledge their loyalty with a loyalty program! If you're not sure what kind of loyalty program works best for your customers, we are here to help. Contact us and start your journey with us today!