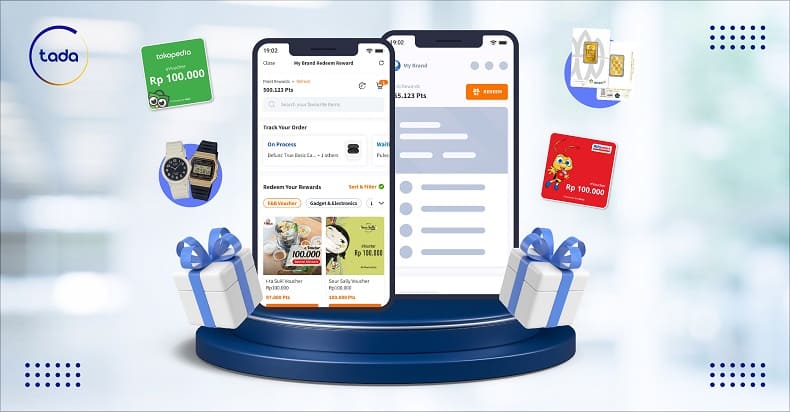 Gone are the days when organizations had to painstakingly build reward catalogs from scratch for their own loyalty app.
Picture the hassle: endless integrations for every single SKU, the chore of building multiple pages, and countless other challenges. But fear not, because Tada has your back!
We are back with new product that will elevate your loyalty game; Webview Rewards Catalog.
What is Webview Rewards Catalog?
Webview Rewards is Tada's latest and game-changing feature yet to dates. This remarkable feature enables brands with existing loyalty apps or web with point system stepping up their reward redemption game with Tada's customizable and extensive rewards catalog.
Webview Rewards catalog empowers brands to take their loyalty & rewards program to new heights, offering their members a more seamless and immersive reward point redemption experience right within their existing loyalty app or web.
No more redirecting your loyalty members to external link for claiming their rewards. Moreover, with Webview Rewards, as it is using the web, it requires minimum development for the integration and page development; so simple and smooth.
But that's not all.
Webview Rewards excels in providing a seamless integration process for brands. Brands can even release new redemption options in less than 3 weeks!
With Webview Rewards, members of a brand's loyalty program can easily check out lots of cool rewards, pick what they like, and make their loyalty experience even better, all within the brand's loyalty app or website.
How does The Webview Rewards Catalog Work?
You might be curious about how brands can make the most of this Tada's new product. Fear not, because it's designed to seamlessly integrate with your existing loyalty app or web platform.
Brands simply need to create a button or an entry point to access our Webview Rewards.
Subsequently, a straightforward integration between Tada's system and your application will occur, ensuring a seamless experience.
And that's it!
Once your loyalty app is connected to Tada's Webview Rewards Catalog, your loyalty members can view their points, cart, redemption history, and our complete range of reward items.
The points are calculated based on your system's calculations, which Tada will acquire through the integration, and we will deduct the points upon redemption.
Key Highlights of Webview Rewards by Tada
Simplify redemption: Say goodbye to cumbersome procurement processes. Tada handles rewards fulfillment expertly and you just need to watch your customers enjoy their rewards.
Endless reward possibilities: No more limited and boring reward options. With Webview Rewards, a world of exciting options awaits. Imagine exploring over 1,000 items across various categories in our reward redemption catalog!
Empower your brand: Build deeper bond with your loyal customers by giving them awesome rewards for their loyalty.
Wrap Up!
Webview Rewards not only revolutionizes the reward redemption experience for brands but also simplifies the entire process. With this feature, rewards fulfillment is expertly handled by Tada, taking the burden off brands' shoulders.
Say goodbye to the limitations of a few reward selection and welcome a world of possibilities with Webview Rewards. Don't miss this incredible opportunity to enhance your reward program and create lasting connections with your valued customers.
Request our demo now to know more about this game-changing products from Tada that will revolutionize the way you give exciting rewards to make your customers stick and loyal to your brand.