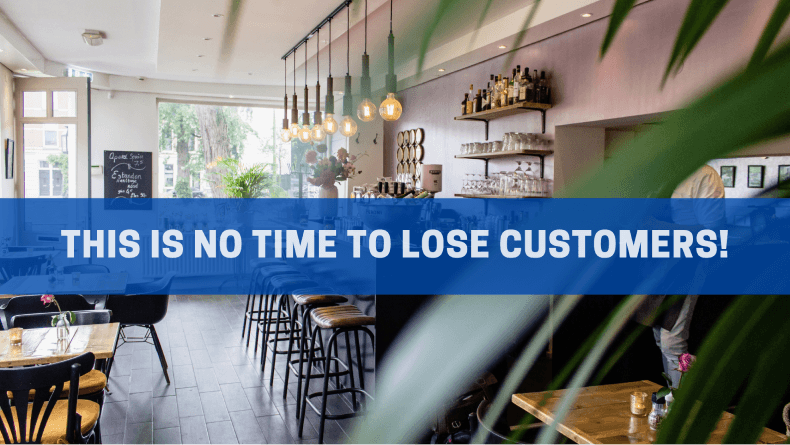 With the end of the year fast approaching, businesses are still struggling to survive and stabilize their sales due to the pandemic. Current government restrictions and people's wariness to purchase from physical stores make it even harder for businesses to stay connected with their customers. Even so, all hope is not lost! These are truly testing times for businesses and those who know how to maintain their relationship with customers are sure to lock in loyalty and prevail.
Here are some tips on how to stay connected with your customers during the local lockdown/restricted movement.
Provide seamless online order and delivery
Government regulations regarding the opening of businesses are constantly changing. For example, eating in restaurants is also considered to have medium-to-high risk for the spread of COVID-19--no wonder more and more customers are hesitant to visit restaurants these days. Other businesses are not exempted from the wariness of customers for visiting their stores. At the time this post was written, Indonesia's capital, Jakarta, was under large-scale social restrictions which prevented restaurants from accepting dine-in orders.
If your business is under similar restrictions, stay connected with your customers by providing a seamless online order and delivery system! This ensures that your customers can still enjoy your products without leaving the comfort and safety of their homes. Another tip is setting such systems independently instead of relying on third-party providers, because QSR automations states that 76% of consumers prefer to order directly, rather than through third-party services. If you are interested in setting your own order and delivery system, click here to learn more.
If you are an F&B business, TADA also provides a solution for your business, not only to provide online order and delivery seamlessly, but also to nurture customer loyalty and secure your revenue with our brand new all-in-one loyalty and rewards program, STICKY! Click here to find out more about STICKY.
Give incentives to encourage customers to return
In times when customers are wary to make a purchase, a little incentive can greatly increase their willingness to buy from you. In the past, businesses have spent a great deal of resources to print and distribute coupons, in hopes that customers will return and bring in sales. However, this method is not effective as businesses cannot capture the data of customers who are using the coupons. Physical coupons can also be easily torn or lost, and create a lot of paper wastage.
Now, you can engage more customers easily by giving e-vouchers and coupons with Vouchersoft. Customize and digitize rewards with special offers that motivate them to return. 48% of customers are more likely to purchase sooner and 37% will purchase more items than normal. With the whole process digitized, usage data can be tracked and leveraged into useful insights for your business.
If you would like to learn more about Vouchersoft, click here.
Share updates & listen to feedback
Your customer trust is greatly valuable to your business, especially during these times. Without trust, there is no way a customer would risk their health and safety just to visit a certain business.
Thus, be open, transparent and genuine about how your business is putting effort in hygiene and safety. These days, social media holds great power. Be proud and show your safety procedures, and take behind-the-scenes documentations of how your product is securely prepared and packed.
Not only that, to nurture an even stronger connection with your customers, you can also interact with them through emails, text blasts, or surveys to collect their feedback, concerns, and reviews during these times. With our multifunctional dashboard, you can do exactly this and communicate with them better. Not only are you nurturing your bond with them, you can also gain valuable insights to address your customer needs better.
Create creative virtual events
Even though it is harder to connect with your customers these days, you can still go the extra mile to engage with them through other ways. Hold creative virtual events such as workshops, webinars, demo classes, or other events relevant to your business to interact and engage with your customers. This is also a good way to broaden your market reach.
Have a social cause where customers can get involved
If there is anything good that comes out of this pandemic, it's that it stirs our humanity and compassion more than before. Think about it, there are so many social causes these days, be it to support COVID-19 patients, health workers, or your local neighborhood business owners. Connect with the empathetic side of your customers and provide for them a way to contribute to society. For example, donate a percentage of your profits to a relevant cause, or collaborate with small local businesses. Make your customers feel like they are making a genuine contribution instead of just making a regular purchase. This will instill their sense of connection to your business and motivate them to be more loyal to you.
The only thing we can expect about this pandemic is that we don't know what to expect. From the nature of the virus to the orders from authorities to the behavior patterns of our customers, nothing stays the same and they are going to continue to change, even post-pandemic (which we'll be lucky to see soon). Staying connected with your existing customer base is your best bet in keeping them loyal and securing your revenue during these times. And of course, we're more than happy to help if you're looking for ways to sustain your business in this pandemic!