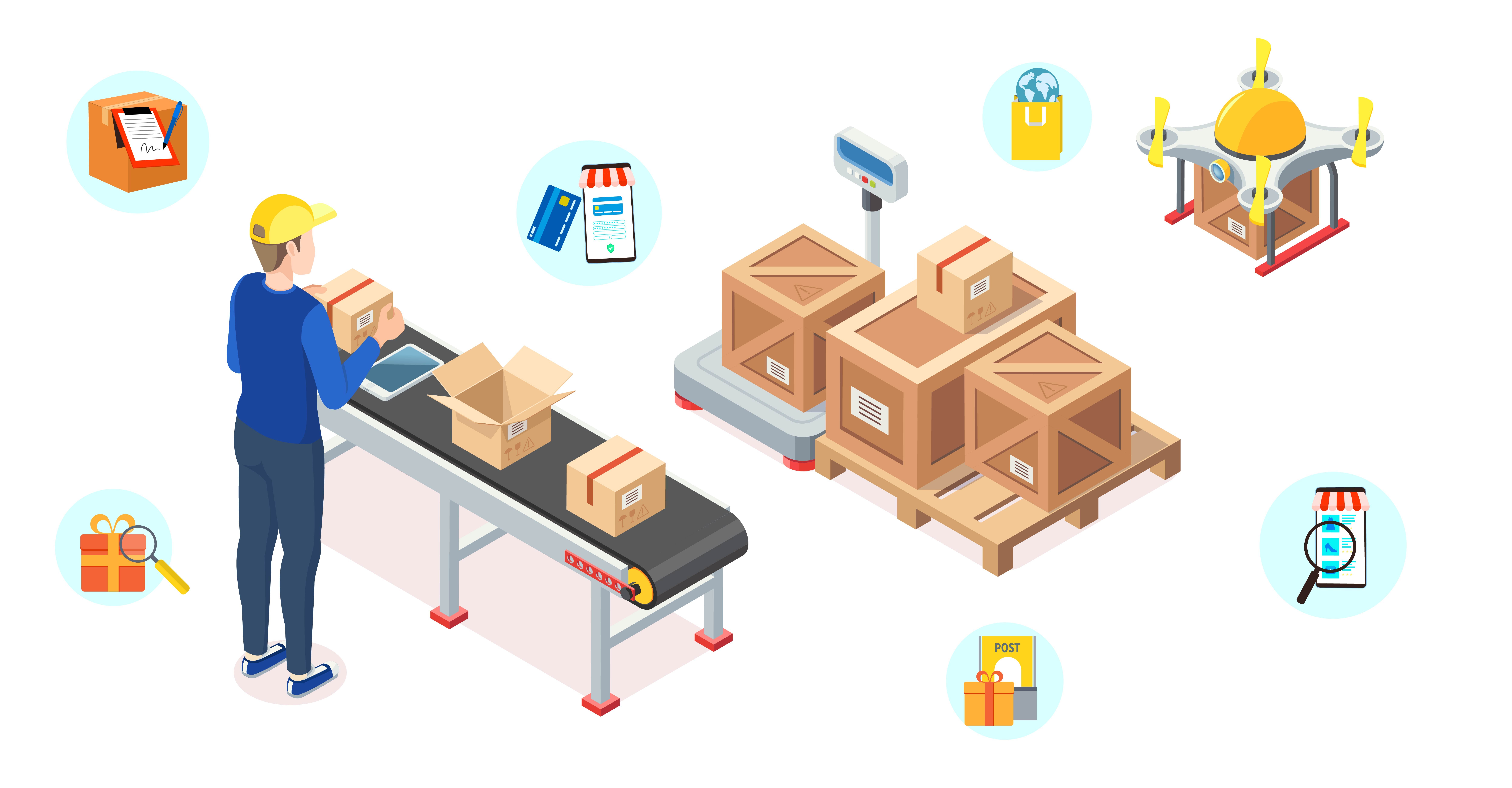 FMCG brands constantly face fierce competition because the market is mostly highly saturated with numerous brands competing in them.
Not only do they need to persuade end-consumers to choose their brands over others through marketing communications strategies, FMCG companies need to ensure that their products are available and have high visibility at store levels.

Although online trade is increasingly popular during the pandemic, general trade is still the backbone of the FMCG business to sell its products. Moreover, research from securities firm CLSA in September 2019 revealed that 70% of total retail sales in Indonesia are still carried out offline, of which 65% are served by small traditional retailers.
This further strengthens the distributor's position as an important partner in the success of the FMCG business because they are the one who supply your products to smaller retailers.

However, distributors often have pain points when working with FMCG companies that hinders their performance.
Multiple FMCG Distributors Pain Points
Every part of the supply chain; from manufacturers to distributors, retailers, agents and finally to end-customers, tends to be inefficient due to lack of adaptation to technology.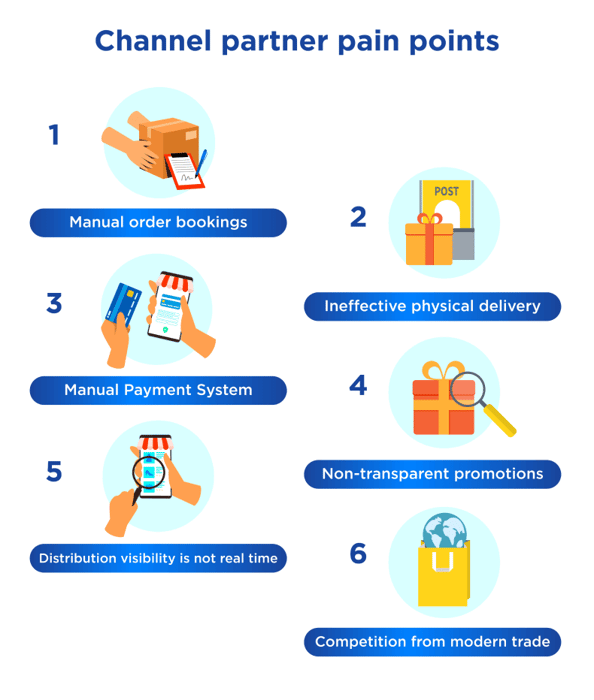 In general, some of the pain points that are often experienced by FMCG distributors are as follows.
The manual order booking system will hamper the smooth supply of products. This manual system will also take time, and as the result, the supply of goods also often experiences delays.
Ineffective physical delivery from distributor to various retailers
It has something to do with the first point, the manual and unstable system leads to the delays of delivery so that the stock can be empty at the distributor, and the products are not reaching the consumers on time. This makes consumers can easily switch to your competitors.
Manual payment is often become a problem for FMCG distributors in selling products. Although now many FMCG companies have started digitizing all marketing processes down to the supply chain, some are still using manual methods in recording sales to payments.

This is of course very ineffective, takes a lot of time and is also prone to human errors that can taint the good relations between the company and distributors.
N

on-transparent promotions
When companies create product bundling, many times the end-customer won't receive the bundling.
For example, when the company makes a bundling of "purchase a bottle of shampoo, get a free shower cap". Unfortunately, distributors can't be sure if the bundling will be received by end customers because it can be lost in the middle of the distribution process. There's always possibility of damaged packaging or even taken by someone for personal gain.
Distribution visibility is not real time
Large-scale FMCG companies are usually already using digital distribution management systems. With the exception of the top 10 FMCG companies in Indonesia, most manufacturers rely on non-real time, non-cloud services to manage their distributors and orders.

Often manufacturers do not have real time reports and insights about order levels from distributor to company and also order fulfillment rates. This can create disruptions in the supply chain because the data held does not reflect the actual conditions.
Competition from modern trade
Today's retailers are on the edge. On the one hand, margins are under pressure from manufacturers. The credit cycle has been shortened, too.
These restrictions makes it increasingly difficult for retailers to serve and maintain their customers. Almost all FMCG products can now be purchased at chain stores as well as online. This makes small and medium retailers lose consumers because they switch to online purchases because of the discounts and free shipping.
So, What can Companies do to Solve those FMCG Distributor Pain Points?
FMCG businesses are very dynamic and their products are always needed by customers in daily basis. Therefore, having a good relationship with distributors in the supply chain is very important.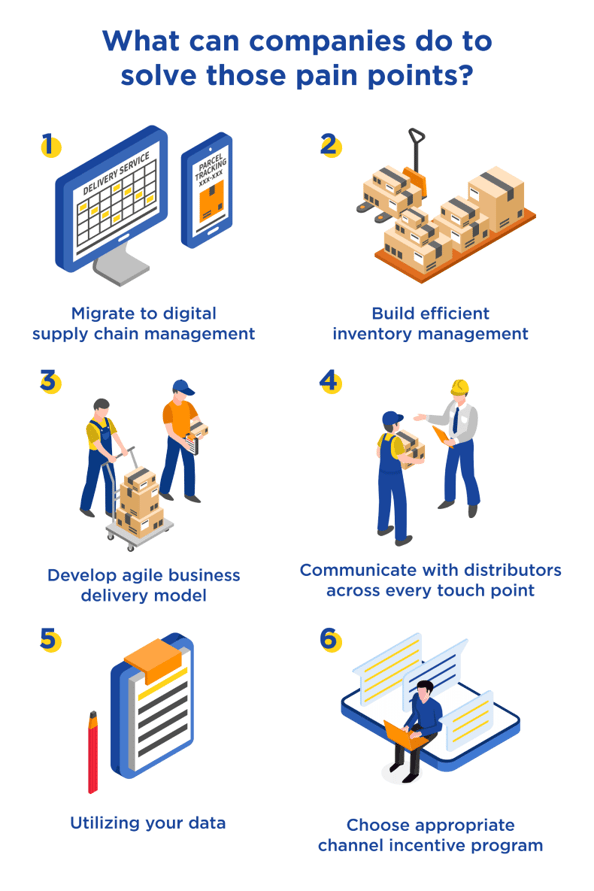 The company needs to overcome the pain points felt by the distributors to improve their overall performance in selling your products.
Here are some suggestions that might be considered by your company to resolve those pain points:
Migrate to digital supply chain management
Businesses are more resilient to supply chain changes if a strong supply chain model is supported by the best technology. This is important, especially in the uncertain economic conditions we are facing today.
It also enables companies to be flexible and adaptable to respond to different market conditions, supporting growth potential and opportunities for manufacturers and the supply chain as a whole.
Build efficient inventory management
By creating a digitally integrated asset inventory system, maintenance and procurement will become more organized and easier.
Develop agile business delivery model
The old standard delivery model is now fragmented into multiple delivery models, primarily due to the growth of the omni-channel experience.
Customers are tech-savvy and their needs are constantly evolving. As a result, FMCG companies are exploring and experimenting with newer and more innovative delivery models. Analysis allows FMCG companies to identify the most efficient and successful models for their business, based on customer data and success factors.
Communicate with distributors across every touchpoints
Build a dedicated ecosystem for partners to be connected to all processes; availability of products, ordering, tracking shipments & payment orders. You can use the web/app itself or use a solution from a third party, one of which is the Channel Incentive program from Tada.
Use big data to maximize sales strategy for different areas; SKU selection and mix match products that are popular in the area.
Build your own channel incentive program
Create your own incentive programs for all channel partners in your supply chain to acknowledge their achievements.
Everyone wants to be rewarded for their contribution, and you should do the same for your network of distributors and retailers to appreciate their performance in selling your products.
Make sure that your incentive program has simple rules, easy to use application / website and can easily redeem the rewards.
Save your time and money by using the best loyalty platform and incentive channel like Tada which will help you 100% in creating a personalized incentive channel program specifically for your own distributors.
Tada provides the following unique selling points:
Manage and monitor targets, achievements and rewards in real-time via dedicated dashboard
Monitor the progress of each distributor in achieving sales targets
White label solutions that can be easily integrated, so that distributors have their own dashboard to see their progress as well as see the reward points accumulated in their account.
Various rewards options from Tada's extensive catalog, ranging from shopping vouchers, electricity, e-wallet top up, electronics, gold bars and so on.
Distributors can easily redeem their reward directly from the application.
Conclusion
In the midst of fierce competition, pandemic disruption and a complex supply chain, FMCG companies are encouraged to implement the best strategies to maintain their market share and also increase the revenue.

One of the proven way to achieve those goals is to help overcome the pain points felt by FMCG distributors in the supply chain, so there will be no obstacles in their daily operations.

It is very important to maintain good relations with distributors and retailers because they are the middleman in the distribution network. Giving appreciation in the form of rewards and incentives can be one of the way to increase distributor brand loyalty, while at the same time encourage their performance.

Tada can be a one-stop solution for those of you who are confused about how to give appreciation to distributors or retailers who sell your products. With a wide selection of loyalty programs available, we can help you create the most suitable channel incentive program for your business. Request a free demo from us now!