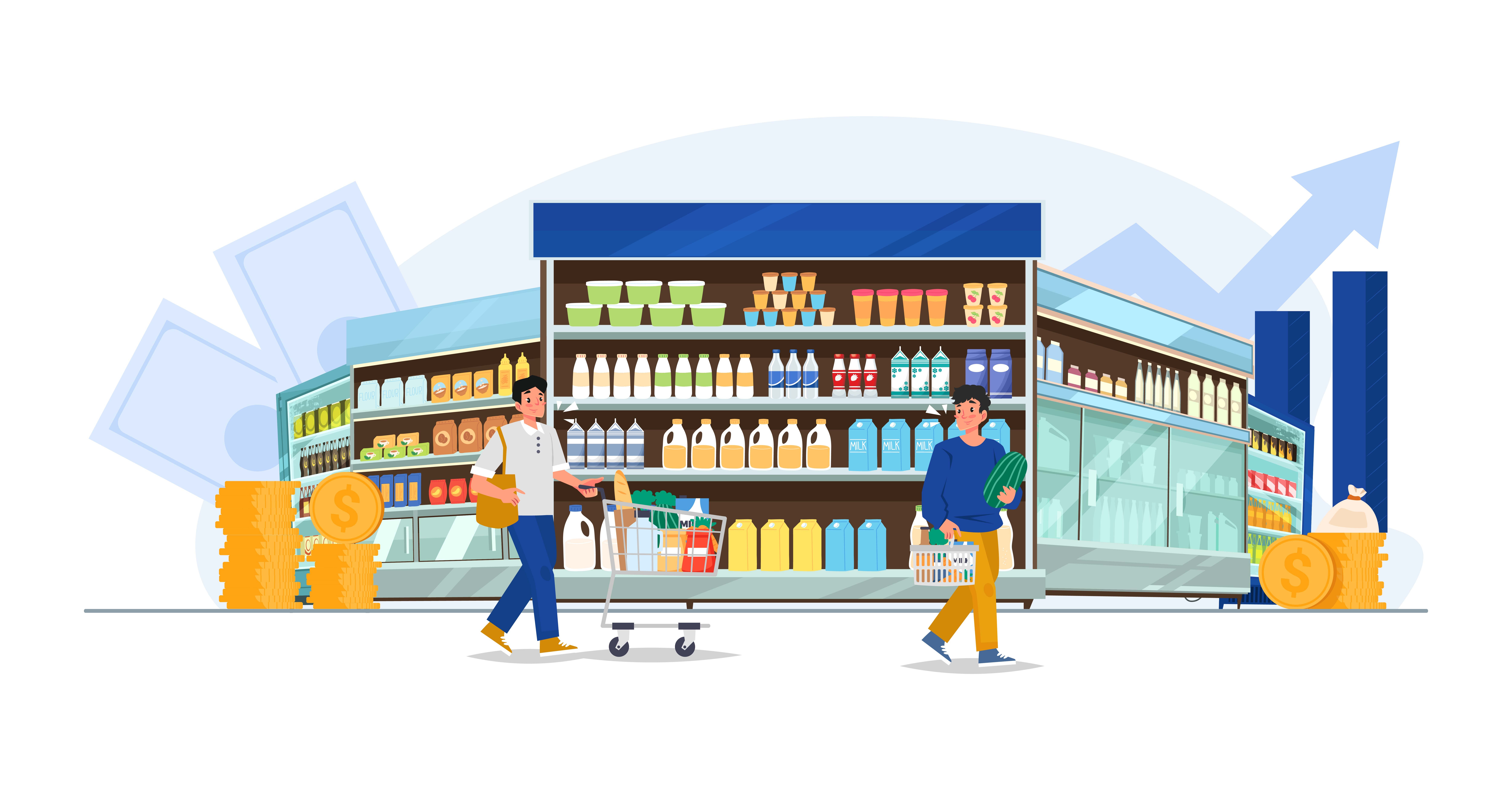 2021 is nearing its final lap, and the COVID-19 pandemic is still a looming threat that is being gradually weakened through vaccinations. Even if we reach that point, the habits developed for the COVID era are likely to persist for a longer period of time.
One of them is the reliance on digital for day-to-day needs such as shopping, banking, entertainment, and even education. FMCG (Fast Moving Consumer Goods) is one industry that may face disruption as a result of the new normal.
Customers would prefer a mix of online and physical retail experiences when shopping, further complicating the already muddled web of operations for FMCG distribution. The FMCG industry, which is expected to reach a market size of USD 15.36 trillion by 2025 (according to Allied Market Research), is undergoing a paradigm shift in the way consumers demand the supply of their favorite goods.
The FMCG industry has had a difficult time navigating the digital innovation curve. Social media adds to the growing sea of existing data streams (sales, promotional, supply-chain, and finance data). These are just a few examples; the FMCG industry faces numerous other challenges. Let's have a look at those challenges in 2022 and how to overcome them.
The Challenges to Conquer
Companies in the fast-moving consumer goods (FMCG) sector are shaping their growth more than ever before through constant innovation and the implementation of new technologies to better serve their customers.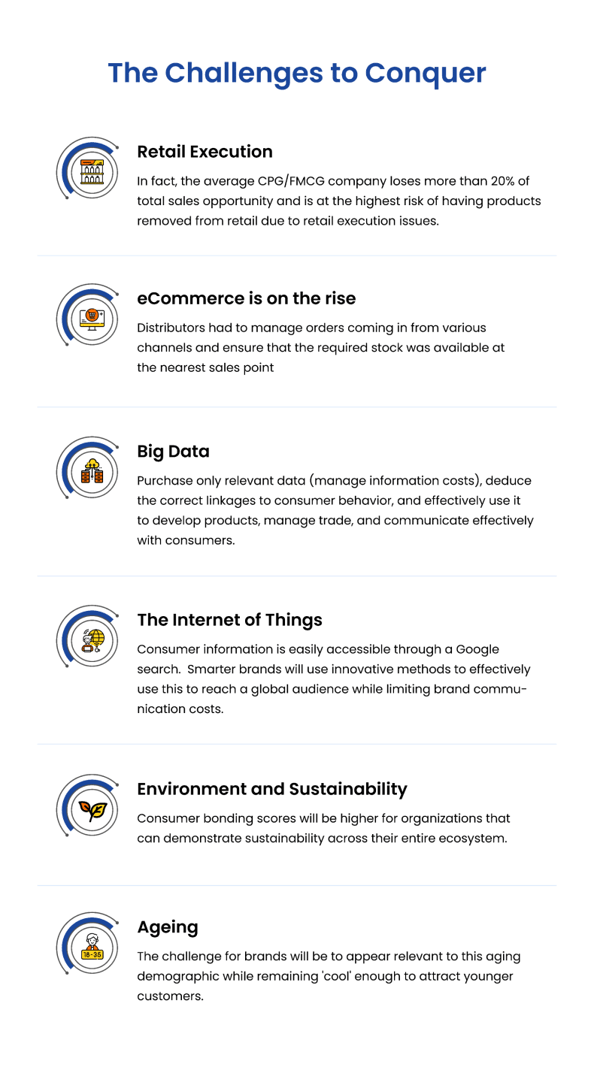 However, there are some significant challenges in the FMCG sales process.
Retail execution is the most difficult challenge for most consumer packaged goods (CPG)/fast-moving consumer goods (FMCG) companies. In fact, the average CPG/FMCG company loses more than 20% of total sales opportunity and is at the highest risk of having products removed from retail due to retail execution issues.
Even before the pandemic, the retail industry as a whole was shifting to an online-first business model. Even established FMCG brands with thousands of stores across the country were forced to increase their online presence through popular marketplaces or direct eCommerce stores.
This became a nightmare for distributors because they had to manage orders coming in from various channels and ensure that the required stock was available at the nearest sales point, a last-mile delivery partner, or a local store near the customer's residence.
The ability to acquire, store and process data is improving at an exponential rate, resulting in a data explosion. Weekly consumer sales, brand tracking, consumer panels, shopper data from friendly and well-compensated retailers, and a few hundred other metrics already existed in the FMCG world, depending on which data/analytics organization you spoke with.
95% of data generated and sold to eager marketers and analysts is useless. Smarter organizations will purchase only relevant data (manage information costs), deduce the correct linkages to consumer behavior, and effectively use it to develop products, manage trade, and communicate effectively with consumers.
Information now travels at breakneck speed. A tweet, Facebook post, or YouTube video can go viral in a matter of hours. An organization can no longer sell a product that was unsellable in a developed market due to health concerns in another developing market because regulations had not caught up.
Regulations will take time to catch up, but consumer information is easily accessible through a Google search. There will be no place to hide when it comes to information dissemination. Smarter brands will use innovative methods to effectively use this to reach a global audience while limiting brand communication costs.
Environment and sustainability
Consumer bonding scores will be higher for organizations that can demonstrate sustainability across their entire ecosystem.
However, the ability to charge a premium to cover increased costs will be limited because consumers will increasingly see sustainability as a given rather than a luxury afforded to a select few. The Tesla of the FMCG industry has yet to be created, utilizing new innovations and technologies.
What would a supermarket's product range look like if everyone who shopped there was 50 or older? Fresh foods, fish (salmon), whole grains, and a few premium sweet offerings are available, as is a large aisle of health supplements. This demographic is wealthier and places a higher value on food quality. The challenge for brands will be to appear relevant to this aging demographic while remaining 'cool' enough to attract younger customers.
How to Overcome The Challenges
However, not all of the strategies chosen can provide a competitive advantage. As a result, executives at FMCG companies must be able to make accurate decisions in order to identify the appropriate strategies that can provide solutions.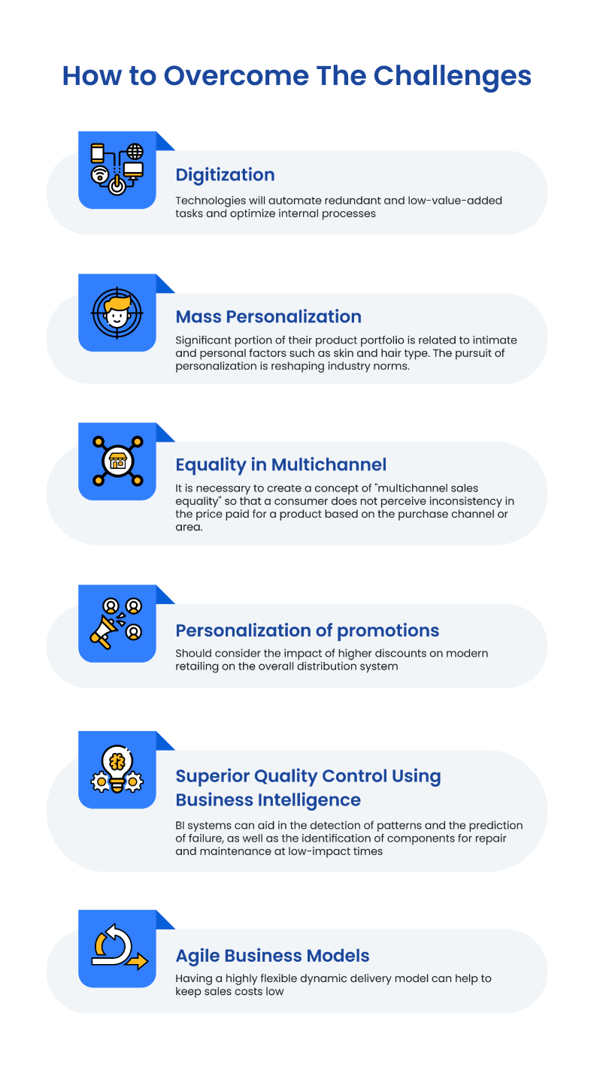 Hence, here are some things you can do to overcome various challenges in the FMCG industry:
For traditional FMCG players, digitization is one of the most disruptive trends. Each component of the value chain, from R&D to distribution, will be profoundly impacted. AI, data analytics, IoT, robotics, machine learning, RPA, and additive manufacturing are cutting-edge technologies that will transform FMCG research departments, factories, warehouses, and stores while improving customer experience and engagement.
These technologies will automate redundant and low-value-added tasks and optimize internal processes. They will improve client intimacy by leveraging data to provide perfect customized solutions to billions of customers.
In the industry, there will be a significant structural shift from mass production to mass personalization. For decades, players in the personal care and food and beverage industries have served their customers with a mass-market mindset. Nonetheless, a significant portion of their product portfolio is related to intimate and personal factors such as skin and hair type. The pursuit of personalization is reshaping industry norms.
Personalization is posing significant challenges for traditional FMCG players. The implications for sourcing, supply chain management, real-time production, packaging, distribution, marketing, and sales are critical.
Sales in recent years, businesses have been working to understand the sales equality of prices, promotions, and discounts offered to their customers. The value chain has become restructured, necessitating a thorough examination of the contributions made by each link in the chain.
It is necessary to create a concept of "multichannel sales equality" so that a consumer does not perceive inconsistency in the price paid for a product based on the purchase channel or area.
Personalization of promotions
Modern retailers have been attempting to extract higher margins from FMCG firms in order to provide better deals to their customers. The FMCG sector must, however, consider the impact of higher discounts on modern retailing on the overall distribution system, too.
Superior quality control using business intelligence
Product quality affects both cost and revenue in the short and long term. Through a thorough examination of the production line and quality processes related to product development, Business Intelligence assists in determining the root causes of poor quality.
BI systems can aid in the detection of patterns and the prediction of failure, as well as the identification of components for repair and maintenance at low-impact times, thereby improving the quality of your finished product. FMCG companies can ensure the quality of their products by being able to dive deep into the possible causes of failure.
Because of the growth of the omnichannel experience, the once-standard delivery model has now fragmented into multiple delivery models. Customers are technologically savvy, and their needs are constantly changing. As a result, FMCG companies are exploring and testing newer, more innovative delivery models.
Using analytics, FMCG companies can identify the most efficient and successful business models based on customer profile data and success factors. Having a highly flexible dynamic delivery model can help to keep sales costs low.
Final Takeaway
Without a doubt, there are lots of changes in the coming decades than in the previous century, resulting in radical changes for the FMCG and retail industry's leading players.
Be one of FMCG brands that always in top of customers' mind by having a stellar products and creative loyalty program will surely make you stand out in the crowd. Here's how where Tada can help you.
Tada has assisted many businesses in creating the most suitable loyalty and reward programs to help them retain their customers better. We have helped famous FMCG brands in the region with their customer loyalty program, too. Request our free demo now to know how we can help you.