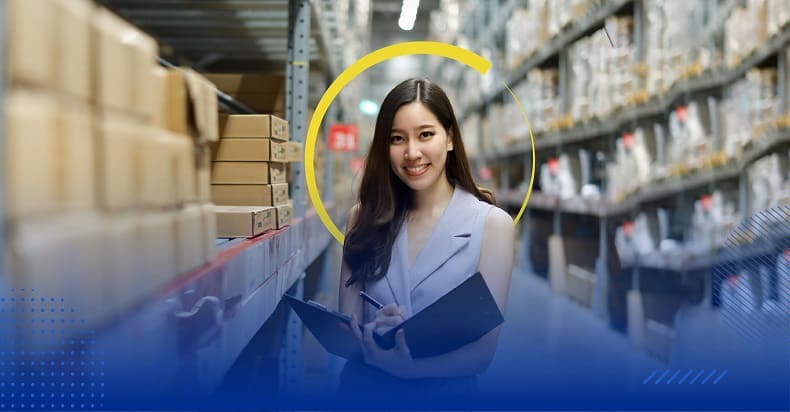 Building loyalty for channel partners in Indonesia can be challenging, but not entirely impossible.
As a developing country, a large proportion of sales still occurs in traditional channels which consist of distributors, wholesalers, retailers and sometimes resellers.
In addition to the long chain of distribution, the country's geographical condition also adds to the challenge, which all together presents various pain points for CPG (consumer-packaged-goods) companies when managing the distribution of their products.
Let's find out more about the distribution channel in Indonesia and how companies can strategically build more profitable relationships with their channel partners.
The Complexity of Distribution Channels in Indonesia
Indonesia is a large country with 277 million people spread out across more than 6,000 inhabited islands out of 17,000 islands. However, 95% of manufacturing firms are located in Java and Sumatra, where 80% of Indonesia's population and economic activities are concentrated.
Beside the infrastructure gap among the islands, the manufacturers must do business with mass retailers which operate about 4 million stores in the combination of both modern and traditional trade.
Though modern retail like convenience-store chains to hypermarkets is a growing player too, total sales are still dominated by general trade consisting of small independent stores owned by individuals.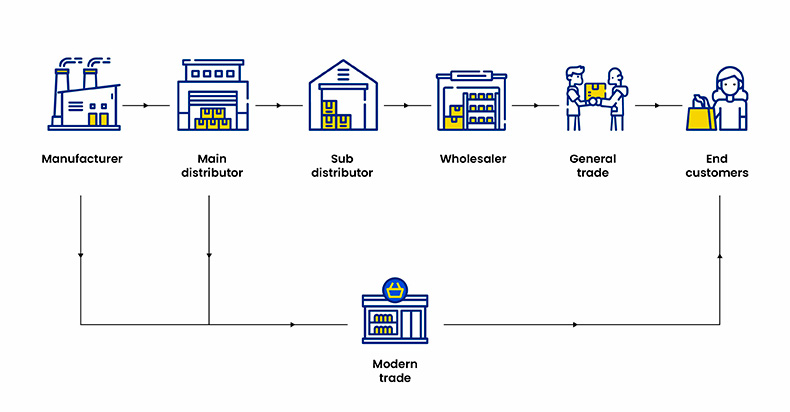 As the market presents great opportunities for various kinds of products, companies need to take advantage of the massive market and reach every corner of the country. A product's availability at a store level is highly important especially when no brand is a single player in the market and needs to be maintained vigorously.
The role of middlemen in the supply chain is critical in ensuring that a company's product is available in as many stores throughout the country as possible. Hence, the key to a brand's increase in sales is likely to be effective channel management.
The middlemen in Indonesia's traditional supply chain usually consists of main distributors, sub distributors, wholesalers and retailers. They hold important roles in making sure the continuity of a manufacturer's business, efficiency in distribution as well as the financial liquidity.
Main Roles of Distributors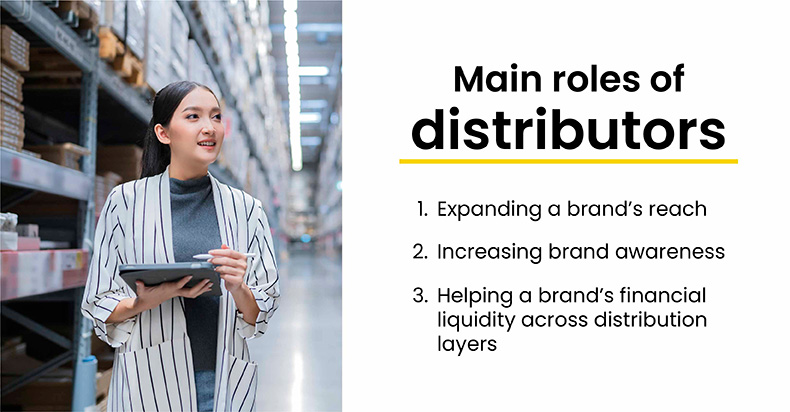 Expanding a brand's reach
By extending their product availability to as many area as possible
Increasing brand awareness
By advocating manufacturer's brand through promotion, placement and pricing
Helping a brand's financial liquidity across distribution layers
By giving trade payment term to sub distributor, wholesaler to retailer in traditional and modern trade
With the significant roles of the distributors in the supply chain, a brand needs to build a good relationship with them, so that it can optimize its products' route to market and reach the end-customers on time.
More complexities in distributing CPG goods in Indonesia also come from consumers' habit in purchasing CPG products. For most areas in Indonesia, general trade stores (like warung/mom & pop shops) are still the most preferred place for daily shopping, followed by the modern trade stores for planned monthly groceries shopping.
So, a brand undoubtedly needs full support from all of its distribution middlemen to make sure that its products are available and visible when customers are ready to purchase them.
Why do Manufacturers Need to Work with Distributors?
Product demands can come from anywhere in the 33 provinces in the country. To cater such demand, a brand needs to work and build strong relationships with local distributors in each region to ensure a greater distribution coverage.
Managing end-to-end distribution alone (from the HQ to the end customers) would be extremely complicated, time-consuming and costly.
Store acquisition efficiency
Acquiring local stores to distribute a brand's products would work better with someone who has local knowledge and has connections in that area. Hence distributors come into the play.
A CPG company has to pay attention to many critical tasks to ensure the continuity of its business. Among them are the ability to administer all sales orders, expand store and area coverage as well as ensure stock level in all stores across the country. These tasks are significantly related to how it handles its channel management.
Top 3 Challenges in the Distribution Process in Indonesia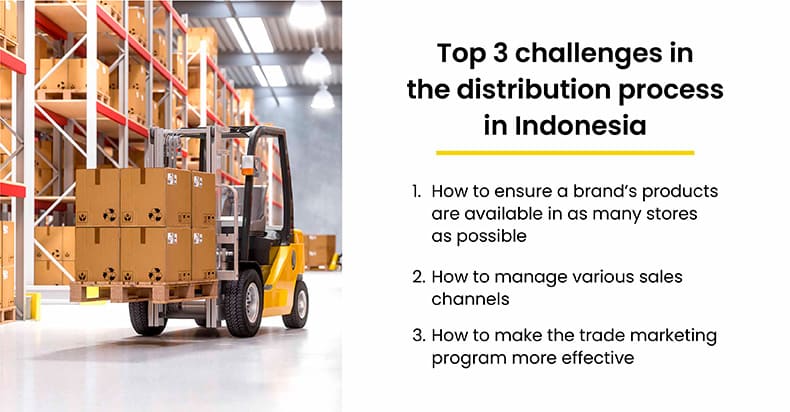 1. How to ensure a brand's products are available in as many stores as possible
With the complex distribution channel in Indonesia, maintaining product availability in each area is a must. Companies need to ensure that their products are available in the market at all times whenever customers need it.
2. How to manage various sales channels
To accommodate demands from a wide range of customers, manufacturers need to manage their sales channels accordingly. The company needs data and a good channel distribution strategy to effectively distribute their products.
3. How to make the trade marketing program more effective
It's almost impossible for a distributor or retailer to only sell products from one company. In fact, a single channel can sell from more than 100 CPG brands for general trade and can up to 1.000 brands for modern trade.
That's where trade marketing and channel management strategy is needed. The goal of this B2B marketing strategy is to make distributors, wholesalers and retailers promote your products more than the competitors.
This can range from collaborative initiatives to increase a brand awareness to creating incentive schemes in order to motivate retailers to sell more of its products in exchange for loyalty points and then rewards.
The Pain Points in Relationship Building Between Brands and Its Distribution Channels
The distribution channels have important roles in helping a brand distribute and make its products available everywhere for end-customers to purchase. However, a CPG company should not expect them to prioritize a particular product without any incentives or rewards. That's why there must be a strategy and a tool that will help a brand develop a mutual relationship with its channel partners.
To build brand loyalty across its distribution channels, a CPG company needs to create a rewarding ecosystem where selling the company's product will also create value for the distributor's business, too. That's not easy, but also not impossible.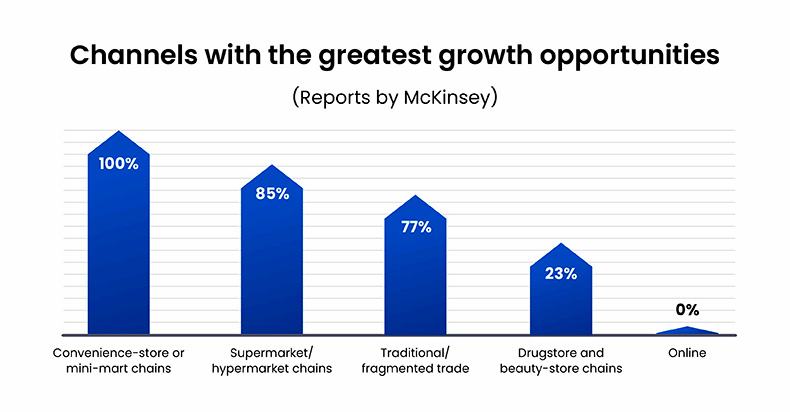 To maximize the impact, successful companies tend to tailor their loyalty and incentive scheme differently for each channel. There are strategies to build good relationships with all channel partners that have been proven as profitable for the business.
So, which channels do manufacturers need to put their eye on to increase sales and become more profitable?
1. Distributors, sub distributors, wholesalers & retailers
These are the first and main channel partners that help manufacturers to distribute their products. Additionally, these channel partners also have information on the brand's performance as well as its competitors. So, it is important for CPG companies to build and encourage mutual collaboration with their distributors.
2. Salesman/merchandiser/canvassing staff/ field staff/in-store staff
Companies also need to understand how distributors' businesses look. They usually deploy salesmen/merchandisers to visit stores regularly to ensure the store owners' brand loyalty.
They are also the ones who collect important real-time market information that can help companies understand what products that consumers like in a time where demand and condition are fluctuating such as now.
Game-changing Solutions for Building Loyalty in Distribution Channels
With a myriad of distributors to retailers in the distribution channel, CPG companies need to urgently use cutting edge technologies that allow companies to revolutionize their business by synchronizing all sales, delivery and incentive initiatives from the HQ to all partners.
Manufacturers also need to convert their manual process to digital so that they'll have transparent and real-time data for their products to support better marketing initiatives execution in the future.
Besides investing in CRM, technology for warehouse management, distributor management as well as proper supply chain technology, manufacturers can invest in end-to-end loyalty and reward programs to build channel incentive initiatives that engage and mutually benefit manufacturers and channel partners.
Tada is an Indonesian based loyalty & rewards solution specializing in retention, loyalty and rewards. In the past 10 years, we have been providing end-to-end loyalty & rewards solutions for channel partners, customers and also employees. Our clients range from MLEs to global enterprises, from various industries like automotive, FMCGs, manufacturers, financial & banking, F&B, and many more.
Companies from various industries have used our game-changing loyalty & rewards solutions and deployed their own branded loyalty app within weeks. Most importantly, Tada's solutions also come with an access to a comprehensive dashboard with analytics and real-time data from the programs which enable them to build better retention and brand loyalty as well as driving growth in sales, profits and revenue.