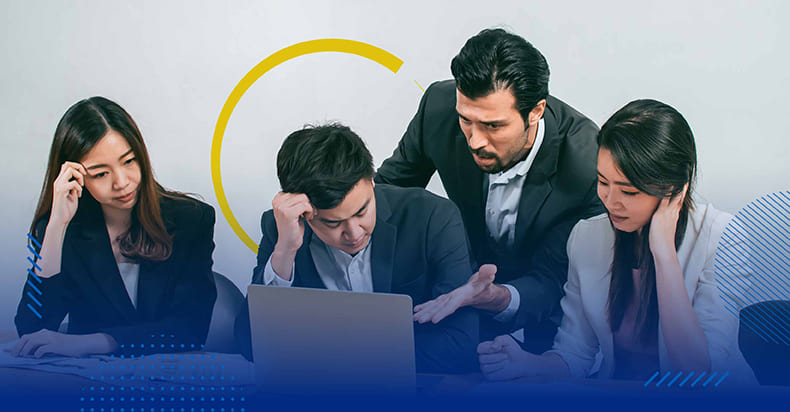 No matter how careful you are, mistakes can happen from time to time. Whether it's company representative or customer service team, someone can eventually make a mistake that disappoint your customers.
Customers reactions to service or product failures are often intense. Therefore, companies need to recover them as effectively as possible.
So, when something goes wrong, will your brand be forgiven?
There is no single answer to that question. But the brands that are most likely to recover and can restore their relationships with the customers more quickly are those that jump on the situation quickly and manage it in a thorough way.
What is Brand Forgiveness?
According to Groonros - 1988, brand forgiveness is a situation where consumers can recover after experiencing a service failure with an appropriate recovery strategy.
Casidy and Shin (2015) state that forgiveness can be achieved by a brand's actions attempting to recover from failure.
Service failure, or brand hate, can highly harm a brand-consumer relationship, therefore it is crucial to examine the possibility of forgiveness in brand-consumer relationships. It's because failure affects the consumers' satisfaction and can also affect their level of trust and loyalty.
Situations Where Brand Need to Apologize
1. Scandals
Disclosures from media often trigger scandals. For example, Amazon made headlines when the New York Times published an article on their corporate culture. The case wasn't handled well by Amazon, but they prepared explanation and apology afterwards to avoid backfire from their customers.
2. Insults
When an employee or representative says or does something considered insulting to certain things, it can escalate to worse if not handled professionally. This situation can usually resolved if the brand reacts quickly, sensitively, and sincerely to the issue.
3. Cruelty
Nowadays, animal welfare has become one of the most significant issues for many people. And when a brand still test their products on animals or worse, use animals skin as their products, this situation can escalate to boycott if not handled sincerely.
4. Injustice
When a brand is seen as placing profits above corporate responsibility or intentionally exploiting a person or group for its benefit, this situation need to be handled immediately.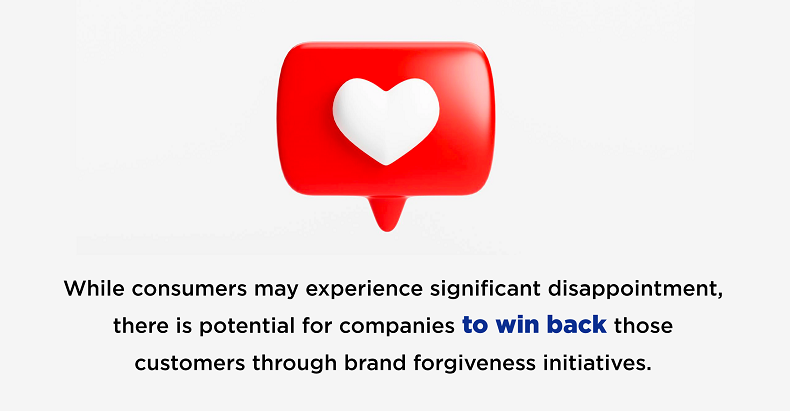 To win back customers, the brand must be able to demonstrate how they recognize the problem, identify injustices and take active steps to stop and prevent them from happening again.
Engaging third parties, such as NGOs, to monitor and report the progress is one of the ways where brands can reassure consumers that they have seen and acted upon their wrongdoing.
5. Dishonesty
Dishonesty in business is never a good idea. It can be very damaging, especially if the behavior has been occurred over a significant period and involved large numbers of people from the company. It's also because being dishonest can actually damage a company's reputation in the long run.
6. Negligence
Let's take British Petroleum case as the example how negligence in handling company's mistake may resulted in brand hate.
After the deep-sea rig explosion in the Gulf of Mexico, BP tried to handle the situation swiftly. From firing their chief executive to paid the damages, but they still failed to regain public trust.
It's because people still think that BP is handling the Gulf disaster not because they feel responsible to the explosion, but more because of the pressure they get from media and customers.
Factors that Affect Customer Forgiveness
Customer forgiveness becomes relevant after service failures between customers and companies. To avoid any damage to the business, the company must develop initiatives to restore relationships with their loyal customers.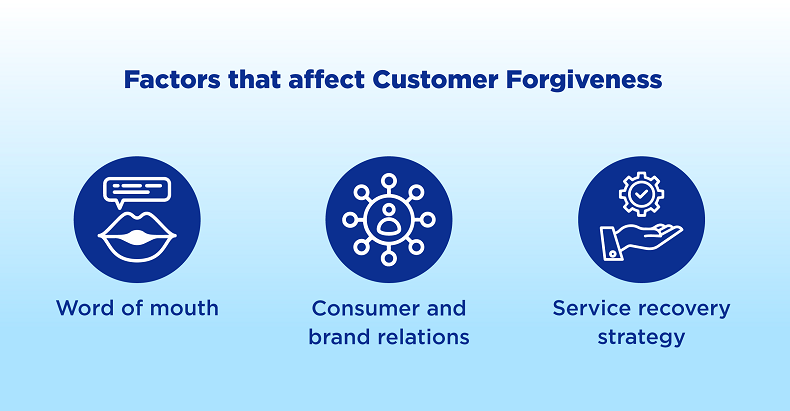 Here are some factors that may affect customer forgiveness that you should know.
1. Word of mouth
Word of mouth (WOM) is one of powerful form of advertising because people see it as a credible source of certain product or service. WOM can affect the brand because it can spread positive and negative publicity.
2. Consumer and brand relations
It's clear that the consumer-brand relationship can influence customer behavior in various ways. If they have strong relationship, consumers are more likely to forgive a brand even after experiencing a service failure.
3. Service recovery strategy
Service recovery is the actions a company takes to remediate a situation that occurred after a service failure. The main goals of service recovery are to increase satisfaction, reduce negative WOM, and maintain the quality of long-term relationships.
Hazee et al. (2017) suggest various alternatives that can be used to improve and rebuild customer satisfaction, including offering explanations, providing fair compensation, and showing empathy. Furthermore, Chou and Hsu (2009) state that the way companies recover from service failures and the speed with which they act affect consumer reactions.
How to Get Customer Forgiveness?
Rebuilding trust begins with recognition and a promise to do better. Here are some suggestions that you can apply to get an apology from your customers.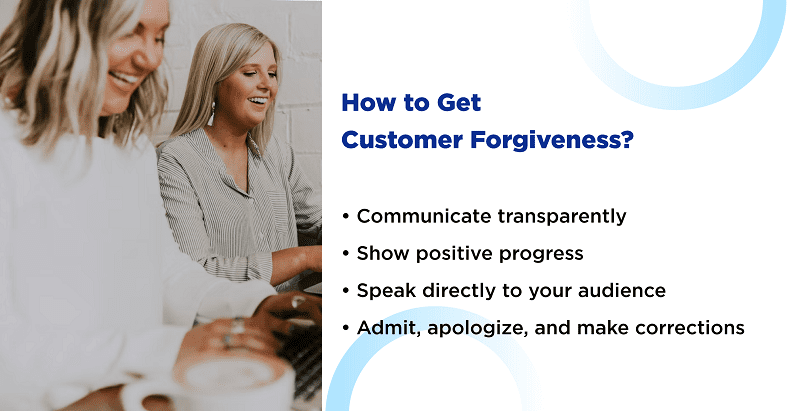 1. Communicate transparently
Focus on communication and transparency. Mistakes can (and will) happen at any time—the challenge for business owner is how to solve the problem. Be kind, honest, and committed to resolving the situation.
2. Show positive progress
Be transparent while showing positive progress when handling the mistakes. Let your customers know your actions and update them regularly, too.
3. Speak directly to your audience
Make sure to speak directly to your audience. Make a social media post, send email or notification or make a phone call to ensure your clarification is conveyed timely.
4. Admit, apologize and make correction
There's only one rule for rebuilding credibility: admit, apologize, and make correction for the mistakes. Be authentic, actively listen to your customers, understand the lousy impact on them and take steps to ensure the problem won't happen again.
Win Back Your Customers' Trust with Loyalty Programs
One way to win back your customers after making a mistake is by offering them a loyalty program that match their needs. For example, you can give free points as compensation for the mistakes while making sure it won't happen again in the future.
Tada is a B2B2C loyalty & rewards platform that enables businesses to efficiently improve channel partner, customer and employee retention, build loyalty, improve retention and drive growth.
Tada's unified and game-changing solutions create an engaging and rewarding ecosystem with a seamless experience for any businesses. Request our free demo now to find out more how we can help accelerate your business growth.