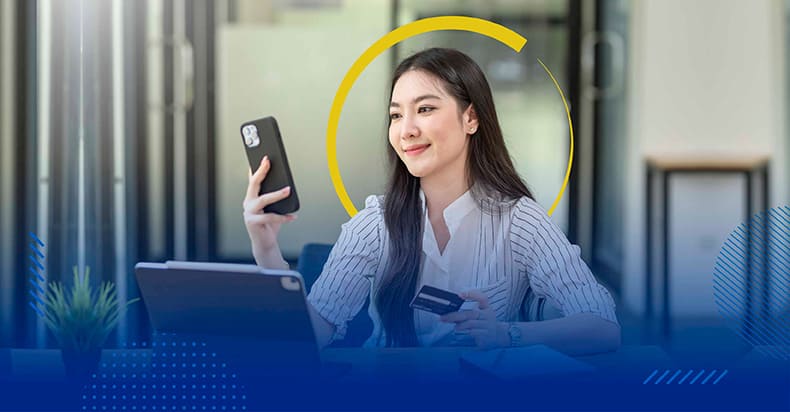 Every business wants significant revenue, repeat purchases, and customer loyalty. And that's why business owners are doing everything they can to get customers to spend big bucks on their brands.
But as we know, buying decisions are always related to the logic and common sense of the customer. So stop wasting time creating gimmicks and focus on getting back to the basics of human interaction; your interactions as a business owner with them as your customers.
In today's fast-growing business situation, it's the time to pause to take a closer look at what's making customers spend more money just on your products.
Tips to Get Customers to Spend More with Your Brand
Here are some suggestions that you can consider to increase the average transaction value for your customers on your product.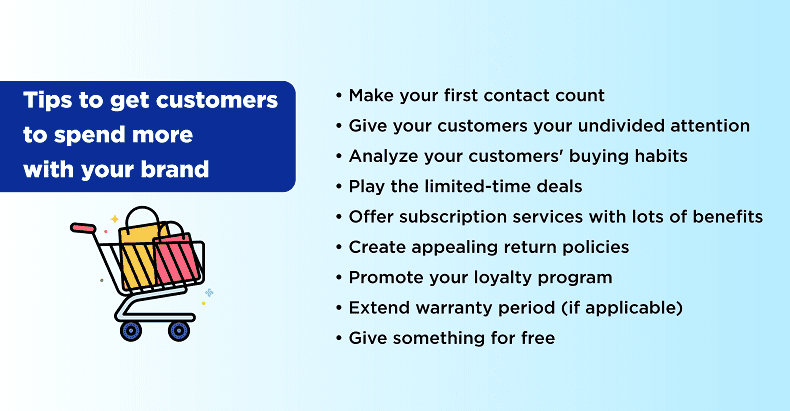 1. Make your first contact count
The first impression you make on a customer will influence their next purchase decision. Approach the customer with kindness, friendliness, and clarity to encourage the customer's desire to consider the continuity of their purchase.
You only get four seconds to make a good first impression in sales. If you don't capitalize on first impressions appropriately, your customers may get the wrong perception of your brand.
If they have had a negative interaction with you or someone else in your company, it could be something that sticks out in their mind and stays long-term in their memory.
2. Give your customers your undivided attention
Instinctively, customers don't like to be ignored. Give your full attention to customers because when they feel that you listen to their questions or complaints, they will feel appreciated.
Listening to customers is about connecting with them. It involves their needs or pain points and how you can help achieve their goals.
The best customer service is a good listener. They can remember the relevant details mentioned earlier and consistently tune with the customer's emotions. It can save friction between customers and your business; even they have complaints about your products.
3. Analyze your customers' buying habits
Understanding your customers' behavior is a must. You can look at your data and group it to make it easier for you to find customers who make purchases less frequently or who typically spend more than they currently do.
You can also group customers by area, size, or needs. Some offer is popular in one group, but some customers haven't bought them yet. That's a clear indication there's an opportunity there.
Also, track your customer's purchase history. If something changes, find out why. Follow up and re-engage them.
4. Play the limited-time deals
Influence customers by including phrases like "Don't wait!" "Order now!" "Sale ends tomorrow!". Sentences with a limited time can encourage customers to consider buying, especially when today's customers tend to worry about the FOMO (Fear Of Missing Out) phenomenon.
Limited offers work well because they can quickly gain traction and sell many products to a customer base. An excellent limited offer can also increase sales by directing customers to a specific store to pick up some of the other items in the store.
5. Offer subscription services with lots of benefits
Besides the inconvenience, there are other reasons why subscription buttons or services are so mundane and less attractive to customers. One of them is the complexity of the subscription process for a business. Make it easy in the process of subscribing to your product or service, and persuade customers to subscribe by giving gifts for first-time registration.
Offer and explain the benefits they will receive if they subscribe to your product or service, and convey it at the beginning of your interaction with them. You can also apply tiered membership with different benefits for each tier to encourage more spending.
6. Create appealing return policies
The return policy, or the company's return policy, is essential for marketing. When a potential customer makes a purchase decision, especially if it is a big purchase, your return policy can determine whether or not to make a purchase.
Not many businesses have provided an attractive return policy, and this would be an excellent opportunity to provide interesting proposition to the customers.
7. Promote your loyalty program
In today's modern loyalty programs, customers like loyalty programs because of their rewards and benefits for purchasing the products. 70% of consumers say they would recommend a brand with a good loyalty program.
Therefore, promote your loyalty program from the first time customers interact with your brand. Provide exceptional education about the benefits they will receive if they join your loyalty program. Create an easy system with competitive rewards redemption option.
8. Extend warranty period (if applicable)
Offering an extended warranty is one of the best ways to maximize your next sales effort. A consumer research study found that 47% of customers are more likely to choose a brand that provides product protection with an extended warranty.
A study conducted by Ipsos showed that an extended warranty gives customers peace of mind and helps them feel that you care about their comfort.
According to the North American Technographics Marketing and Mobile Internet Online Survey, consumers' interest in extended warranty directly addresses their financial concerns by protecting their investment if the product they purchase is damaged.
9. Give something for free
At Costco, they give away free product samples on the weekends, and people flock to get them. While it may seem generous, giving away free products has an ulterior motive: Costco knows that customers will psychologically buy something when they get a free sample, primarily because of the reciprocity. It is the idea of ​​purchasing a product as a "thank you," either out of gratitude or even guilty feeling.
Perfume companies also often offer gifts with purchases of a certain amount. Customers will be persuaded to spend more to get "free" gifts.
The Bottom Line
Ultimately, customers will purchase when they are engaged, informed, persuaded, and convinced.
And out of all the valuable advice above, loyalty programs deserve a special place. Because loyalty programs help customers engage more with your business. Engaged customers can automatically bring more conversions and profits.
So, creating a customer loyalty program is a great way to drive sales. This strategy will help your company grow because retaining your current customers is cheaper than finding new customers. Plus, loyal customers will spend more money on your product or service.
As the most effective loyalty & rewards platform in Indonesia, Tada offer many exciting solutions to help companies increase their customer loyalty. Request our demo now to find out how Tada can help your business.