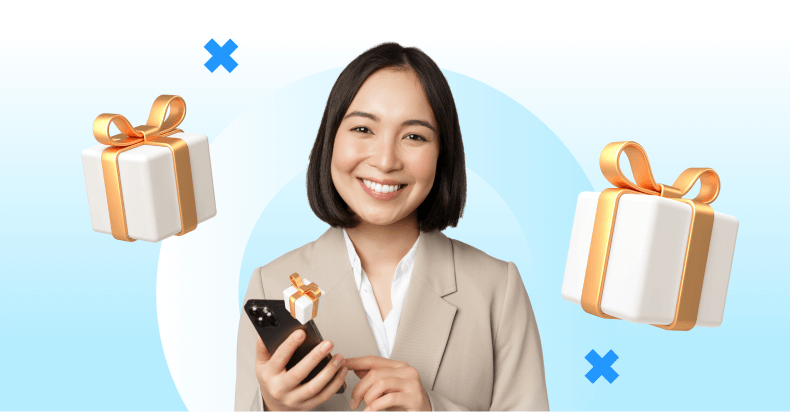 For a long time, loyalty programs have been a popular choice among business owners. Businesses already know that retaining a customer can be 5x cheaper than acquiring a new one, and nearly half of a brand's revenue comes from roughly 8% of their most loyal customers.
That's why it's not a surprise if there is fierce competition to keep customers engaged with loyalty programs. They expect brands to provide personalization, relevance, and emotional connection to the loyalty programs.
So what are some fresh ideas that can drive customer engagement Today? Gamification could be one answer. Today, many business owners are leveraging gamification in their loyalty programs as a differentiator and attraction in their customer loyalty program.
So what exactly is this gamification? And how does it apply to loyalty programs? Can this tactic be effective in increasing customer engagement?
Customer Engagement: Why It Matters For Your Company
Customer engagement is defined as 'how a company creates good relationships with its customers to drive loyalty and brand awareness.'
Customer involvement is one of the most important aspects of a company's success. It affects your business in many aspects, like:
According to research, customers who are genuinely engaged with the company tend to generate 23% of profits compared to customers who feel less connected to the company.
Engaging customers beyond transactional activities will strengthen their emotional connection to your brand. A stronger relationship between your customers and the brand will help you retain your hard-won customers.
Successful customer engagement will keep your brand at the top of the customer's mind when they decide to shop. It will also make them more responsive to your marketing efforts.
In addition, when customers are not engaged, they will passively interact with your business. They may only go to your website when prompted or click on a sales email if the title grabs attention. However, customers who connect with your brand will see your business as a top priority without requiring any particular incentive.
Quick sales and promotional offers can attract new customers. In comparison, engaged customers will naturally believe in your mission, products, and promises and will continue to spend money on your brand for years to come.
In the end, this engagement can significantly affect revenue, and you can achieve company goals.
How is Gamification Implemented to Increase Engagement?
Gamification can be implemented in customer and employee engagement strategies. But keep in mind, making the experience a game is not the same as creating a game to engage customers.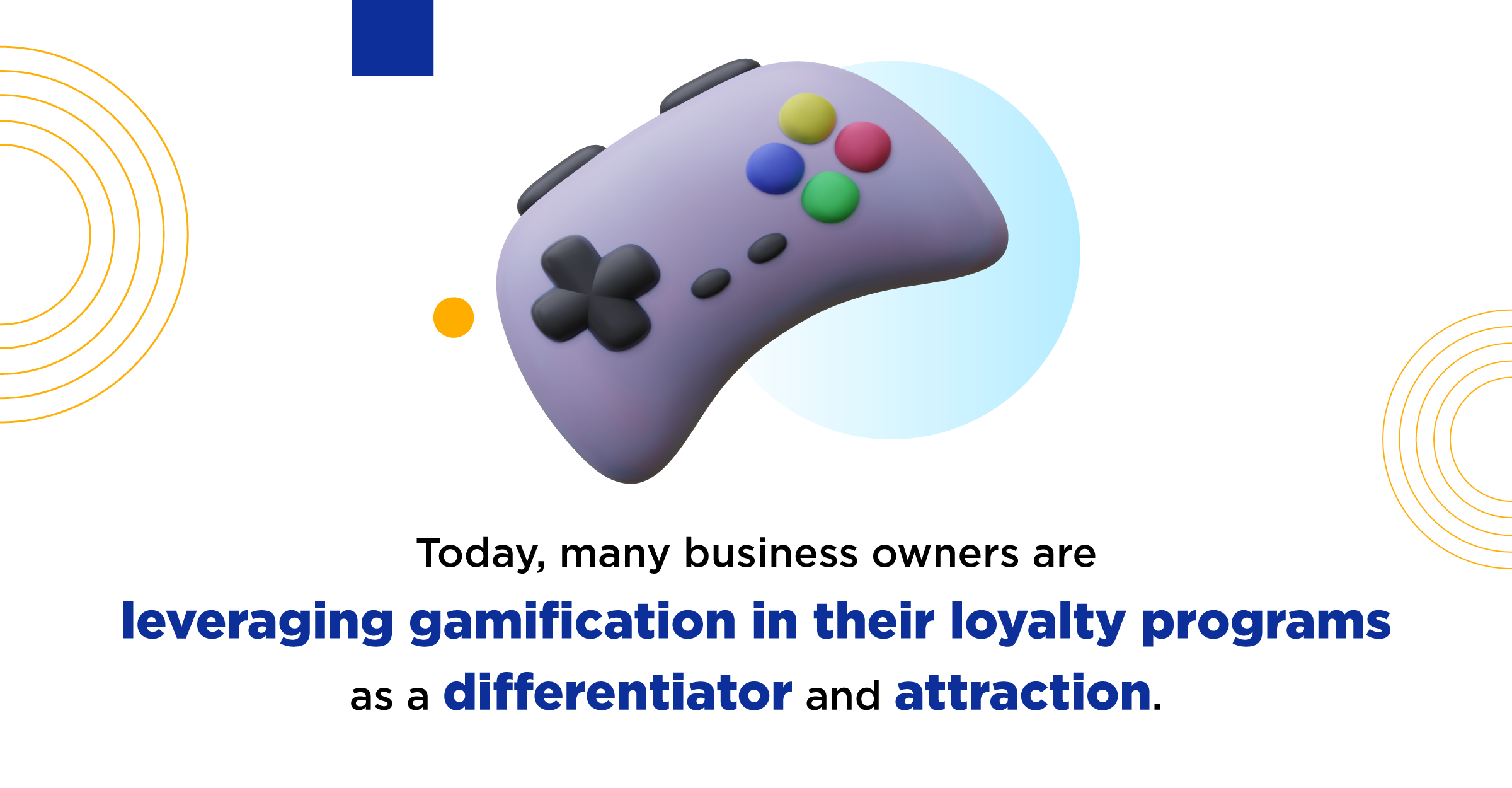 Gamification is how to apply game-like mechanics to non-game contexts. This method encourages your target audience to pretend to play the game and engage in customer and employee engagement strategies without realizing it.
Businesses use gamification to achieve their business goals. Usually, companies implement gamification by modifying the customer's experience into a game to influence the desired activity. In the end, customers do these activities as a habit, resulting in ongoing engagement.
Here are 5 implementations of gamification in businesses to drive engagement and increase revenue that you can try on your business.
1. Attract new customers with contests and giveaways
To attract new customers to your business, offer them a reward on their first purchase. Give them a 10 or 20 percent discount on their first order if they join your loyalty program.
You can also offer rewards for referring new customers and increasing dividends for additional referrals.
Another way to attract new customers is to hold contests or sweepstakes that require participants to provide their names and email address to play.
2. Gamification for customer education
This method can also be about how the company changes the game's purpose as an education of the values ​​of a company's product.
To encourage engagement, post relevant messages into the game, so players learn more about your offerings as they play.
Also, to further promote engagement – ​​and get players to open accounts – offer some "rewards."
3. Promote new products or services through games
For example, a sports shoe company could create a racing game to promote their new running shoe. They can advise on the correct type of shoe for long-distance running in the game. Players can then apply those suggestions in the game to 'run faster,' earn more points and win.
In this example, the quality value of the company's running shoes is conveyed through an exciting game.
4. Make sure the game is easy to play
According to James Moir, managing director of Nectar, gamification in loyalty should be kept simple and ensure customers feel they have a chance to win.
For example, create a swipe-to-win campaign, a straightforward game that rewards every customer with an opportunity to win big prizes. It's simple, efficient, and widely marketable, keeping existing customers engaged and re-activating them.
5. Integrate games with social media
As more and more consumers use their mobile phones for shopping, it is best to consider creating a mobile-friendly game. In addition, integrating and promoting the game on social media is the next brilliant step you can take.
With this integration, players usually choose to share their results on social media, especially if they rank highly.
Or you can also give award points if they share the game on their social media. For example, you give 500 points for a share or like on Facebook, Twitter, or Instagram.
How Gamification Improves Customer Engagement and Retention?
Gamification is an attempt to apply game-like to non-game activities to engage and motivate customers or employees.
Challenges and rewards were introduced to encourage participation from members. Gamification can play a crucial role in keeping your customers motivated and engaged.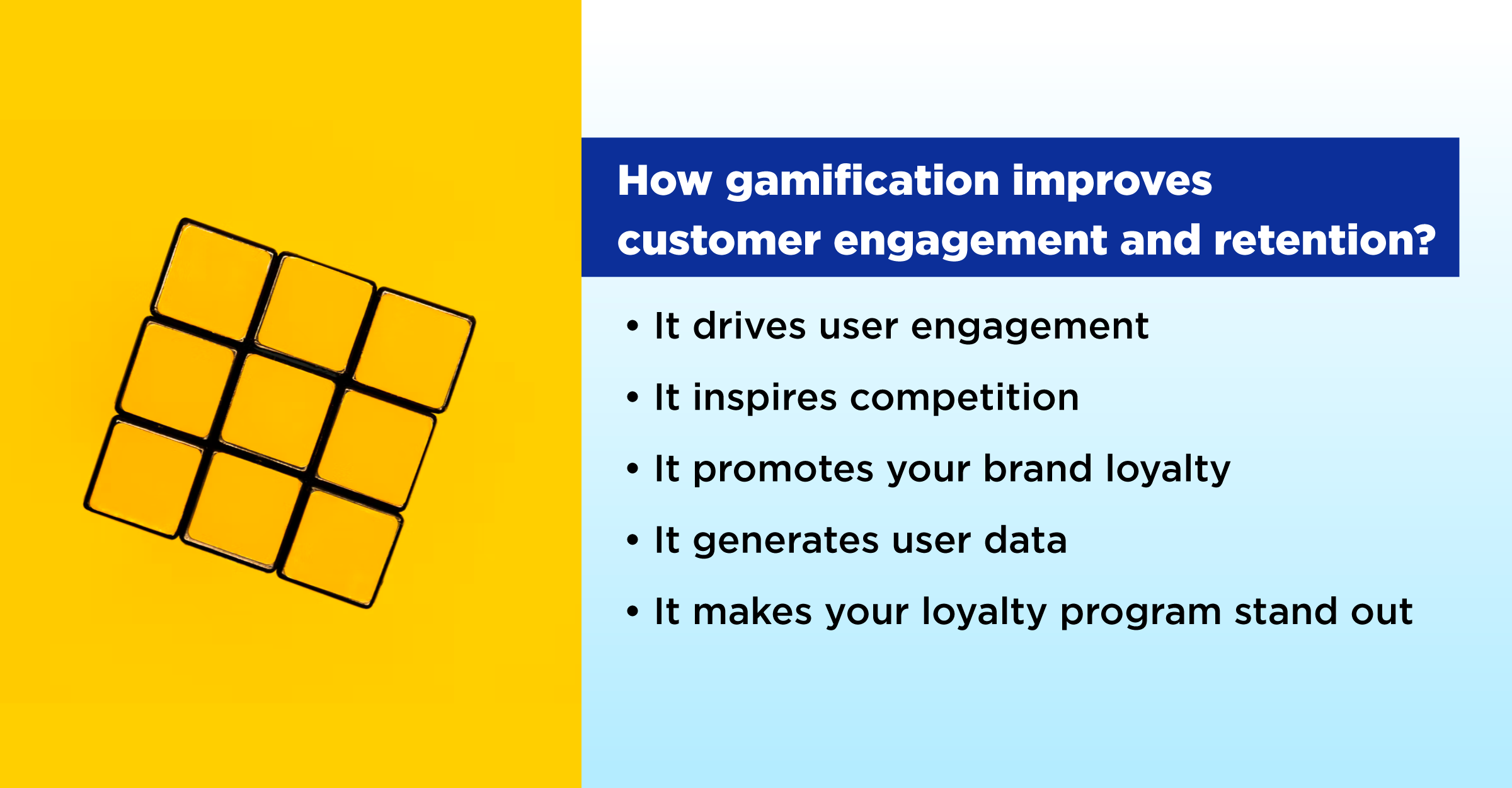 Let's see how gamification can help your business increase engagement in your customer base.
1. It drives user engagement
Gamification turns the entire customer experience into a competition. Customers who level up the competition are rewarded for their contributions.
This contribution can take the form of starting discussions, posting product reviews, answering questions, and more. You can also personalize this form of customer contribution.
2. It

inspires competition
Loyalty reward programs have been quite effective historically. However, it's time to take them to the next level because the prizes that can be won are more memorable than the free ones, right?
Offer points or some money when the player finally makes a purchase. High scores and earned rewards can keep your users coming back to improve every gaming experience.
3. It promotes your brand loyalty
Gamification provides exclusive customer loyalty through points, badges, and leaderboards, turning them into advocates for your brand.
Offer discounts and free merchandise for certain activities such as posting positive reviews making customers feel valued, and increasing their loyalty to your brand.
4. It generates user data
With every information a customer posts or shares, you get customer data that can be very valuable for your brand.
While there are many processes for collecting customer information, gamification can produce more accurate results. Analysis of this collected data can drive your future marketing campaigns.
5. It makes your loyalty program stand out from other
More and more businesses are offering loyalty programs, and they may not be far from yours. Gamification can be one of your differentiators from other companies.
When customers are also getting tired of the same forms and activities of loyalty programs, offering them to compete in a simple game can be a breath of fresh air for their involvement with your brand.
How to Measure the Impact of Gamification on Your Customer Engagement Strategies?
1. Time spent on your loyalty app
One way to determine how impactful gamification is on your loyalty program is to look at how long customers spend on your loyalty app.
The longer they spend, meaning customers enjoy every challenge that the game provides; this is profitable for the company because more information can be obtained from customer data. This time can also show their interest in your brand.
2. The number of sign-ups
The number of registrants can also indicate your program's success. Exciting games will make your customers refer them to other potential customers.
The more registrants your competition has, the more potential new customers interested in your program.
3. Number of likes and sharing your social media posts
The easiest way to determine how successful your gamification program is to look directly at the number of likes of posts shared on social media or customers' number of likes to your social media posts.
You can also look at the number of posts shared by customers on social media also shows that the audience likes your program. Naturally, we will share something that interests us on our social media, which customers also do.
Create a Unique and Fun Loyalty Program with Tada
With the development of the massive digital era, loyalty programs are no longer only run conventionally. Today, many businesses have used loyalty apps so customers can connect with them right from their gadgets.
Tada as the leading loyalty & rewards platform in Indonesia can enable you to have a proper and highly functional loyalty apps to retain your customers better.
Request our demo now to find out more about how we can help you with your loyalty programs.