The pandemic has led to fundamental changes in every industry, including hair & beauty segment. From changing customer shopping behavior to products preferences, companies are now being faced with a harsher business environment than ever.
With the odds of customers visiting hair salons for treatment due to PSBB (large-scale social restrictions) at the beginning of the Covid-19 outbreak, brands in the hair & beauty segment must be prepared to meet the needs of affected consumers.
A leading hair & beauty brand in the country decided to utilize a digital innovation to achieve a continued growth and enable its channel partners, distributors, retailers and hairdressers to stay afloat during the pandemic.
Leveraging Social Commerce from Tada
Hair & beauty brands normally work with their channel partners such as hair salons and hairdressers to sell their products to the end-customers through conventional distribution methods and loyalty & incentive programs.
However, when the pandemic hit, hair salons and hairdressers were among services that were required to close down to avoid physical contact that might spread the infection. So, not only that hair & beauty product manufacturers were losing their distribution channels, salon owners and hairdressers were also badly affected due to their limited access to products and end-customers.
Fortunately, Tada, the most trusted and preferred loyalty & rewards solutions in Indonesia, came into the picture and provided the leading hair & beauty brand with a digitally-empowered platform that did not only solve the problems but created a social ecommerce for all parties involved, without all the hassle.
The brand started a beneficial collaboration with Tada to leverage their salon partners and hairdresser as brand advocates for the professional hair care products and enable them to generate income while staying safe at home.
Social commerce or virtual franchise from Tada allows brands to turn their channel partners into resellers and own virtual stores to sell the products to the end customers without having to be physically involved in the process. The hairdressers' profound knowledge and expertise in hair treatment combined with the hair salons' regular customer network pose a great fit to recommend and sell professional hair care products to the end-customers.
With the platform, hairdressers and hair salon owners can simply share their virtual link store through social media or messaging app, making it easier for them to reach more potential buyers.
The process starts with the brand allowing salon owners and hairdressers to own virtual store and sells its professional hair care products. Then, these channel partners sell the products to their regular customers, friends, family and other via chat/social media with referral links. The brand itself will handle the order fulfillment process once an order is made.
For every successful sale generated from the referral link, the salon partners and hairdressers will get commissions from the brand. The program is actually a win-win strategy that helps hair salons, hairdressers, and other resellers as well as the brand itself to maintain sales growth during the pandemic.
The Result in Numbers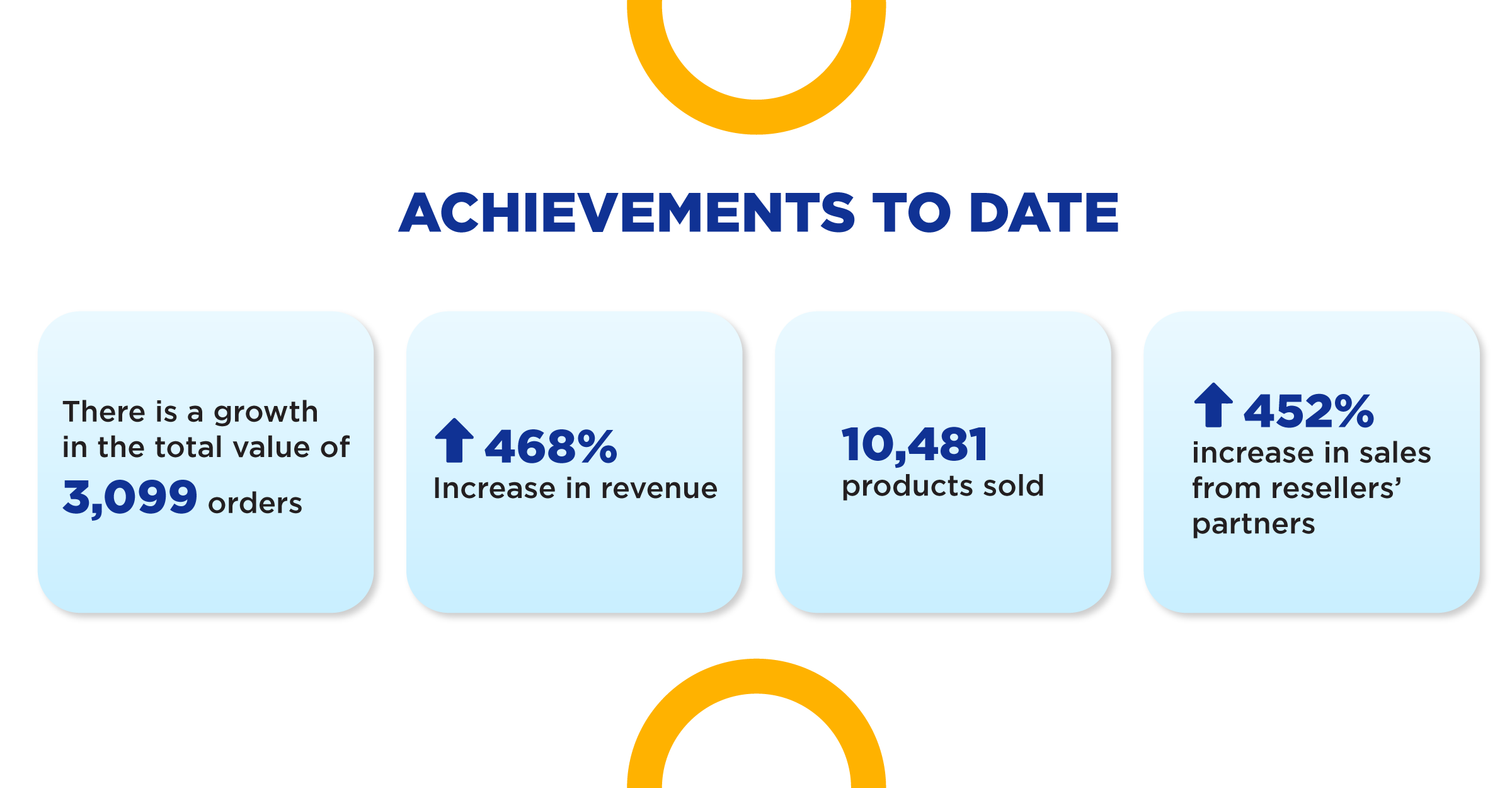 The leading hair & beauty brand's journey with Tada started in October 2020 and allowed it to get a 468% increase in revenue and 452% in sales from social commerce programs compared to before they opt for social commerce with Tada.
The brand's resellers also increased by 115% from previous quarter which indicates a significantly positive impact of the program to its growth during the pandemic.
Read the full case study of the leading brand's journey with Tada here.