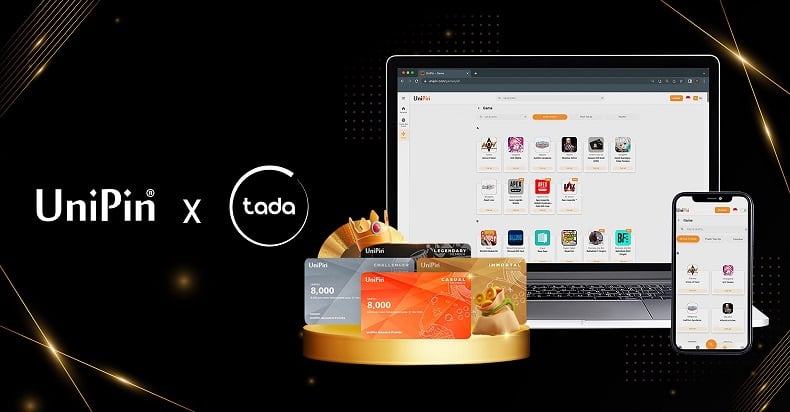 Tada, a game-changing Indonesian loyalty and reward platform, has been chosen by UniPin, a leading provider of game top-up services and digital products in Indonesia, to launch a loyalty program for their loyal users.
This collaboration allows UniPin to have their own loyalty programs called UniPin Loyalty Program that tailored to the needs of its users, who are mainly gamers, with a tiered level system and personalized benefits. This program will not only be available for users in Indonesia, but also in other countries. UniPin plans to continue developing the program to reach all countries where they operate.
Ashadi Ang, CEO of UniPin, said, "After the UniPin Reward Point program received a warm welcome from Sahabat UniPin in Indonesia, in 2023 UniPin is committed to offering a better loyalty program experience not only for users in Indonesia, but also in other countries."
"This time we are collaborating with Tada, which has proven to have the best technology and solutions in building the loyalty program that our users want; with a level system and more varied reward options. In January 2023, the UniPin Loyalty Program will be available simultaneously in five countries; Indonesia, Malaysia, Philippines, Thailand, and Turkiye, followed by one other country at the end of January 2023. The plan is to continue to develop the loyalty program to cover all countries where we operate," he added.
The collaboration between Tada and UniPin will delight UniPin users in various countries by allowing them to earn points for every game top-up using UniPin Credits. The loyalty program itself comes in four levels: Casual, Legendary, Challenger, and Immortal.
Points accumulated can be redeemed for various interesting reward items integrated that are integrated with the Tada's vast rewards catalog, including UniPin credits, exclusive merchandise, gaming peripherals, smartphones, gaming chairs, lifestyle vouchers (Grab, Pertamina, KFC, Yoshinoya, F&B, beauty, etc.), and many others.
"We are delighted to play a role in UniPin's digital transformation by creating a loyalty program that best suits the character of their customers in various countries," said Tada's Co-Founder Rebecca Agiestha.
"Tada's rewards catalog is also integrated with this UniPin Loyalty Program to provide a variety of rewards to UniPin's loyal customers. This proves that Tada's technology is so agile and can be used by brands to create loyalty and reward programs in various countries based on their business needs."
"UniPin also adds to Tada's long list of clients in the technology sector in Indonesia. In the future, Tada will continue to innovate in facilitating the needs of UniPin and other clients in developing their loyalty programs both in Indonesia and other countries," Agiestha added.