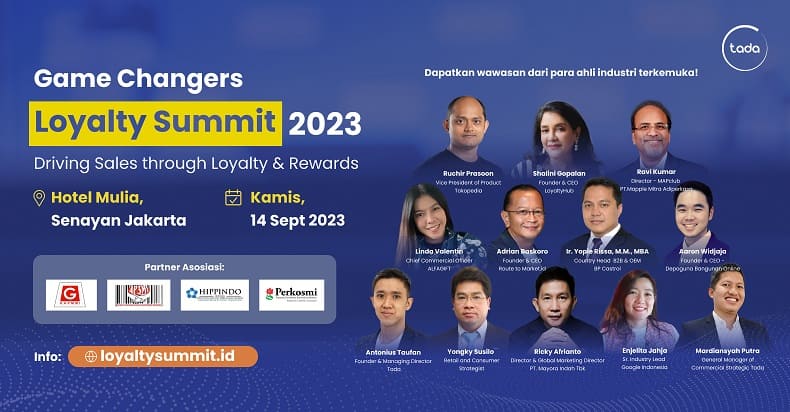 Tada, the leading loyalty & reward platform in Indonesia, is all set to host the Game Changers Loyalty Summit 2023 on September 14, 2023 at Hotel Mulia Senayan, Jakarta.
This summit marks the first-ever conference in Indonesia dedicated to explore more about loyalty & reward programs and its implication to support business success in various industries.
The event is supported by several well-known associations in Indonesia such as HIPPINDO (Himpunan Peritel & Penyewa Pusat Perbelanjaan Indonesia), Perkosmi (Perhimpunan Perusahaan Kosmetik Indonesia), AP3MI (Asosiasi Pengusaha Pemasok Pasar Modern Indonesia) and GAPMMI (Gabungan Produsen Makanan Minuman Indonesia).
The event will be attended by professionals in sales, marketing, trade marketing, and others from various industries such as retail, FMCG, automotive, electronics, finance, beauty & health, and others.
"At Tada, our vision extends beyond being a leading Loyalty and Rewards Platform. We aim to be the thought leader in this ever-evolving landscape. The Game Changers Loyalty Summit is our way of fostering a community for Marketing and Sales Directors to connect, collaborate, and stay at the forefront of industry trends. We believe that by sharing knowledge and insights, we not only elevate our own expertise but empower the entire ecosystem. Together, we shape the future of loyalty, and together, we thrive." Said Antonius Taufan, Founder & CEO of Tada.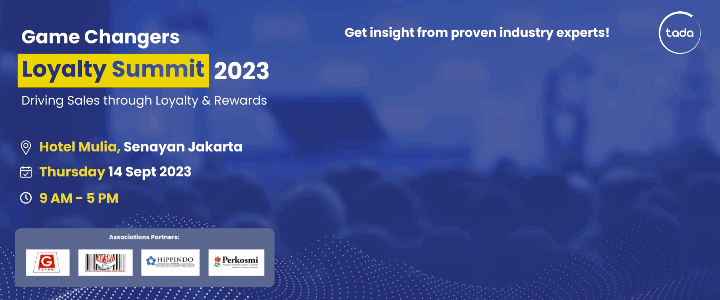 The summit will feature esteemed speakers who are business leaders and experts from various industries, such as:
Yongky Susilo, former Director of Nielsen Indonesia,
Enjelita Jahja, Senior Industry Lead at Google,
Ricky Afrianto, Director & Global Marketing Director of PT Mayora Indah Tbk,
S Ravi Kumar, Director of MAP Club,
Linda Valentin, CCO of Alfagift
Adrian Baskoro, Sales & Marketing Expert and Founder of Routetomarket.id,
Yopie Rissa, Country Head B2B & OEM at Castrol,
Aaron Widjaja, Founder & CEO of DBO,
Ruchir Prasoon, VP of Product at Tokopedia, and
Mardiansyah Putra, along with Antonius Taufan from Tada
These speakers will share their insights and the latest knowledge regarding consumer trends in Indonesia, innovative strategies for customer retention, optimizing growth in the right channels, leveraging partner collaborations to strengthen sales channels, and how to build brand loyalty in the midst of intense competition.
Furthermore, the event will serve as an opportunity for participants to network with fellow business leaders from various industries and discover technology partners offering solutions for retention and loyalty marketing programs. Several platform providers, including GrabGifts, SIRCLO, Depoguna Bangunan Online (DBO), and others, will be present as exhibitors.
Tickets for the Game Changers Loyalty Summit 2023 are available for Rp599,000 and can be purchased through the website https://loyaltysummit.id/.