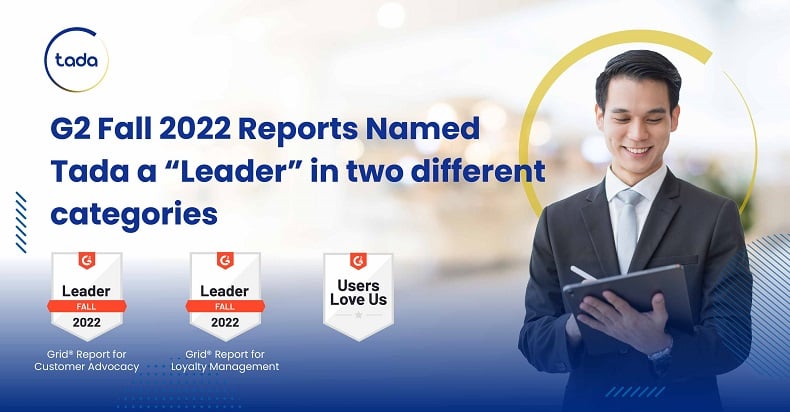 Our leading B2B2C loyalty & rewards platform bagged multiple spots as Leader in the Fall 2022 Reports by G2, the most trusted software marketplace and global review site.
Tada is featured in 2 categories namely Leader at Grid® Report for Customer Advocacy and Leader at Grid® Report for Loyalty Management. We also grabbed top position for 'User Love Us' category.
Our continuous performance streaks as Leader in G2 reports are proof of our relentless commitment in supporting our customers to achieve their business goals through better loyalty & rewards programs.
We would like to extend our sincere thanks to our loyal customers for choosing Tada as their game-changing loyalty & rewards solutions as well as their continued support and trust.
Thanks to the great teams at Tada who made these possible, too. These badges serve as a reminder for Tada to keep raising the bar in making loyalty & rewards platforms that help businesses achieve their goals hassle-free.
About G2 Reports
G2 is a globally recognized and largest software marketplace and platform for real users' reviews for software and services. The authenticity of the peer-to-peer review makes G2 a credible platform to assess various services and products.
Every three months, G2 releases reports based on data of the authentic reviews from real users of various software listed on their platform. The reports aim to summarize and compare the reviews from various categories to explore and finally find the right solutions for diverse business problems.
To read Tada's reviews on G2 and gain insight about our products and performance, visit: https://www.g2.com/products/tada/reviews.
You can also check out Tada's Performance in:
Discover Why G2 Rates Tada as Market Leaders
Being continuously named a Leader in the G2 Reports is made possible by our esteemed customers who took their time to share their experience with our game-changing solutions on the G2 platform.
Whether you're focused on building customer loyalty, growing sales through channel partners or retaining your top talents, our loyalty and rewards platform is stacked with advanced technology to leverage your business to another level. Request our demo now to know how Tada can help you.