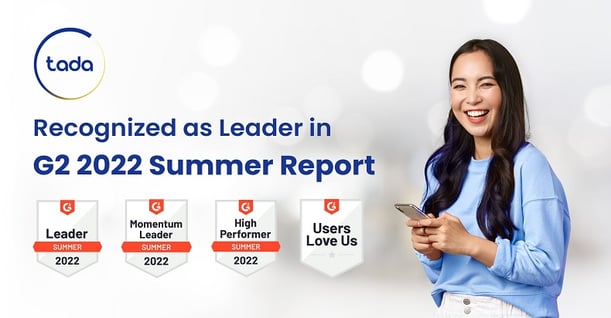 Our vision is to build a product that we and our customers love. Thus, it is with great honor that we announce that this July, Tada has been once again named as Leader in Grid® by G2 Report for Customer Advocacy and Momentum Leaders in Momentum Grid® Report for Loyalty Management and Customer Advocacy. Remarkably, Tada also received the badge 'Users Love Us'.
The G2 Summer Report 2022 is an annual report published by G2, a globally recognized and largest software marketplace and platform for peer-to-peer software reviews.
These recognitions do not come easy. It is based on customers' and clients' authentic reviews of Tada's products and services. Therefore, they signify Tada's most recent performance as a platform and demonstrate Tada's commitment to providing the most effective loyalty & rewards programs.
Our continuous streaks of performance in the G2 are proof of our relentless commitment in supporting our customers to achieve their business goals through better customer retention and engagement programs.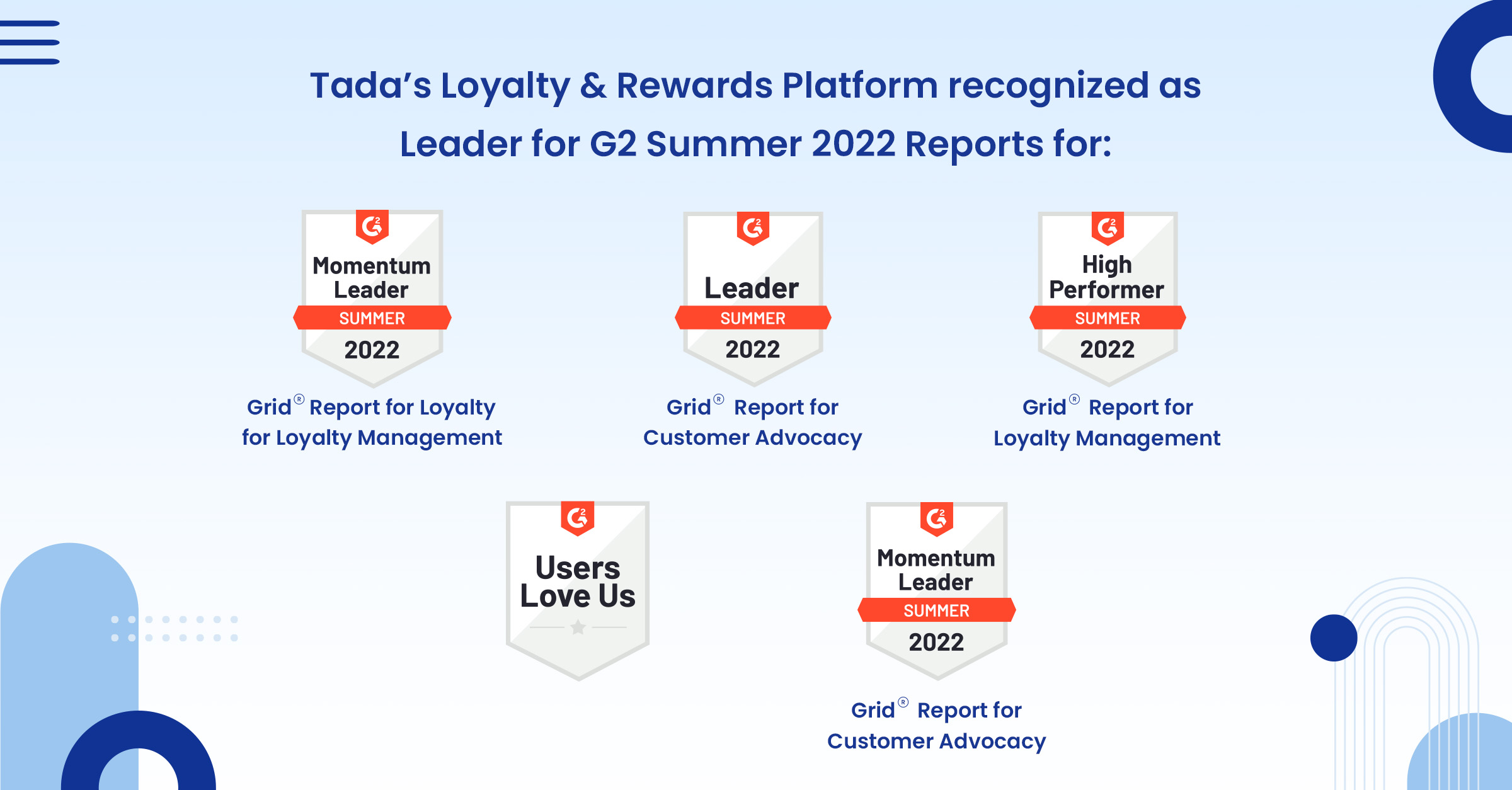 We would like to express our gratitude to our loyal clients and amazing teams at Tada who have made these possible. As flattering as they are, these acknowledgements are also humbling as they serve as a reminder for Tada that to stay ahead, we need to keep raising the bar and not fall back into complacency.
G2 Summer Report 2022 recognizes Tada as:
Leaders at Grid® Report for Customer Advocacy
Momentum Leaders at

Momentum Grid® Report for Customer Advocacy

Momentum Leaders at

Momentum Grid® Report for Loyalty Management

High Performers at

Grid® Report for Loyalty Management
Here's What Customers Have to Say About Tada
As a homegrown B2B loyalty & rewards platform, Tada enables global business owners to build deeper relationships with their customers and sales channel partners through our innovative and game-changing features.
Here's what our customers say about Tada at G2:
"Tada Platform help our brand to accelerate Omnichannel Experience goals from Eiger Adventure" - Head of CX
"I just trust Tada to support our loyalty system with our customer" - Administrator in Building Materials
"A user friendly, compact and powerful web based platform that enables businesses and nonprofit organizations to acquire, retain and grow their membership base in offering both products and services." – Founder
To read Tada's reviews on G2 and gain insight about our performance visit: https://www.g2.com/products/tada/reviews
Important Highlights in G2 Summer Reports 2022
G2 is globally recognized as the world's largest software marketplace and platform for peer-to-peer software reviews. With over 1.5m verified customer reviews, G2 helps people make smarter software buying decisions based on authentic user reviews and product performance.
Every three months, G2 makes reports based on data of the authentic reviews from real users of various software.
Check Tada Performance in:
Discover Why We're So Highly Rated By G2
Being named a Leader in the G2 Report for two consecutive years is made possible by our loyal customers who highly value Tada and took their time to share their experiences on the G2 platform. Undoubtedly, we are proud to be continuously recognized as one of the top leaders in loyalty software.
Whether your focus is building customer loyalty, growing sales through the sales channel or retaining your employees, our loyalty and rewards platform is stacked with advanced, customizable features to leverage your business to another level. Request our demo now to know how Tada can help you.