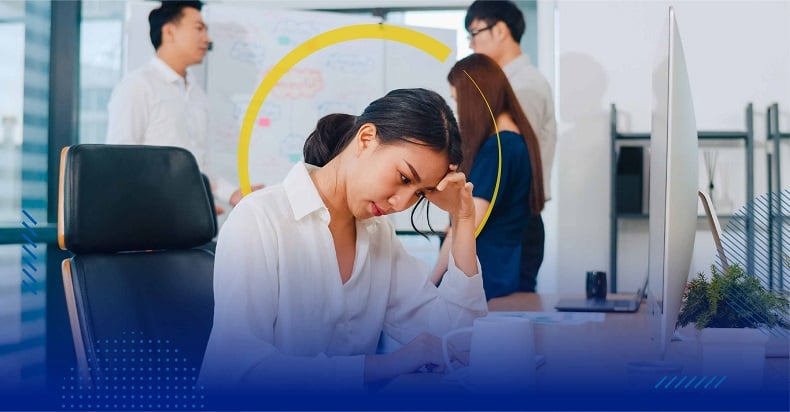 Today's customers are often fickle because their attention is scattered here and there due to modern advertising, like retargeting. The internet and social media also make it easier for them to learn about other products or services from your competitors within a few clicks.
If they can like your product in a matter of time, they can also switch that speed to your competitor and completely forget yours. So it is no wonder if building customer loyalty and retaining them is getting difficult.
If you think trying to win back customers who have lost is a waste of time and money, think again.
In fact, according to the Client WinBack Benchmark Study, 26% of lost customers return with a win back campaign with double customer lifetime value.
Let's find out more about the best strategies to win customers back here!
What is a Customer Win-back Strategy?
A customer win-back strategy is a targeted marketing program designed to re-engage lost customers by offering them rewards, incentives or special offers that motivate them to become active customers once again.
This comprehensive program can be used to re-engage with first time customers who haven't made a second purchase, potential customers who abandoned their shopping carts, and even win back customers who have previously canceled paid subscriptions.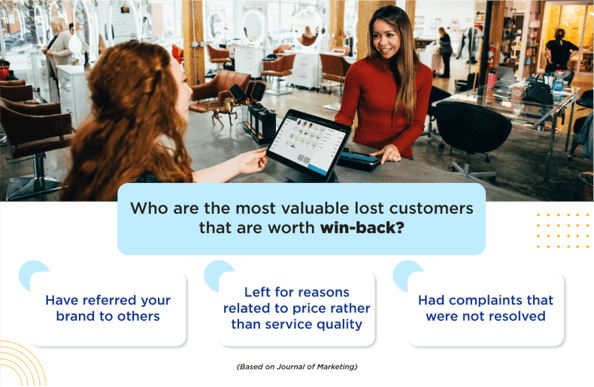 Implementing an effective customer win-back strategy can significantly enhance your customer lifetime value as well as your revenue. While winning back lapsed customers may pose certain challenges, it is a worthwhile endeavor that proves to be more cost-effective than acquiring new customers.
According to eConsultancy, 82% of business leaders agree that customer retention is cheaper than customer acquisition. This underscores the importance of re-engaging lost customers for long-term business sustainability.
Who Are the Most Valuable Lapsed Customers to Win Back?
When it comes to re-engaging lapsed customers, it's important to identify and prioritize certain types of customers that are worth the effort.
To optimize your win-back efforts, it is recommended to prioritize customers who have previously demonstrated high lifetime value and have made significant contributions to your company's success.
Based on Journal of Marketing, the most valuable lost customers that worth to win-back are those who:
Have referred your brand to others
Left for reasons related to price rather than service quality
Had complaints that were not resolved / badly handled
Customer Win-Back Strategies That Work
If you are trying to reduce your churn and get back people who bought your products or services months ago but never came back, let's take a look at these customer win-back strategies here.
1. Personalize special offers
When attempting to win back lost customers, offering special incentives such as discounts, cashback, and free gifts is a common approach. While this may require some investment, it is a worthwhile strategy.
To make your special offers more effective, go beyond generic discounts and tailor them to match the individual customer's interests and spending habits. Additionally, include personalized messages to convey that you value their business and miss their presence.
Try putting a time limit to the voucher usage to create a sense of urgency, making the offer more appealing and encouraging customers to take action.
2. Utilize retargeting ads
Re-engage your dormant customers by employing retargeting ads on your website or social media platforms. Leverage their purchase history to customize the ads specifically for them. This personalized approach makes the ads more enticing and increases the chances of recapturing their interest.
In addition, consider incorporating exclusive offers or promotions exclusively for returning customers. These special incentives create a sense of exclusivity and encourage them to reconnect with your business.
3. Invite them to your loyalty program
If you have a list of inactive customers who have not yet joined your loyalty program, consider sending them an email to introduce the program and extend a special invitation to join.
Craft a compelling invitation that highlights the benefits of your loyalty program and includes an irresistible offer. Explain how the program works, emphasizing the value they can receive by signing up. To sweeten the deal, offer them additional points or rewards upon registration.
P.S. If you don't have a loyalty program in place or need assistance in creating an effective one, Tada can provide expert guidance and support to help you develop a successful loyalty program that fosters customer retention.
4. Seek feedback and take action
Gathering feedback from your lapsed customers can provide valuable insights for improving your products or services. Reach out to them via email and kindly ask for their feedback on their previous experience with your company.
Once you've collected their feedback, demonstrate that their opinions matter to you by taking tangible action. Address any issues or concerns raised in their feedback and make the necessary changes or improvements.
After implementing the necessary adjustments, send a follow-up thank-you email to express your appreciation and inform them that you have taken their feedback seriously.
By showing genuine commitment to addressing their feedback, you can rebuild trust and reignite the relationship. Making your lapsed customers feel valued and appreciated increases the likelihood of them returning to your store or website.
5. Provide personalized product updates
Customers may have left your brand due to a negative experience with a particular product or service. It's possible that they had requested a specific feature or flavor, but their needs were not adequately addressed.
To win back these customers, gather customer support tickets, feedback, or complaints from your team. Evaluate these requests and determine if implementing them would be beneficial for your business in the long run.
Once you've made the necessary improvements, reach out to the customers who made the initial requests and provide them with personalized updates about the feature they were seeking or the enhanced flavor of your product.
By demonstrating that you value their feedback and have taken steps to address their specific requests, you can reengage these customers and show them that their needs are a priority for your brand.
How to Prevent High Volumes of Lapsed Customers
Reducing the number of lapsed customers, also known as churn, is crucial for businesses to maintain a healthy customer base. Unfortunately complete elimination of churn is impossible.
However, there are effective strategies to minimize the number of lapsed customers in your business.
Evaluate opt-in touch points to identify inactive subscribers.
Avoid excessive notifications to prevent user spam.
Ensure your websie/app runs smoothly by staying updated.
Periodically ask for feedback from consumers.
Personalize experiences to strengthen customer connections.
Provide proactive customer support to address concerns promptly.
Implement a customer loyalty program with incentives.
Nurture customer relationships through targeted marketing and communication.
Continuously improve your product or service based on customer feedback.
Monitor customer satisfaction metrics for ongoing improvement.
Wrap up!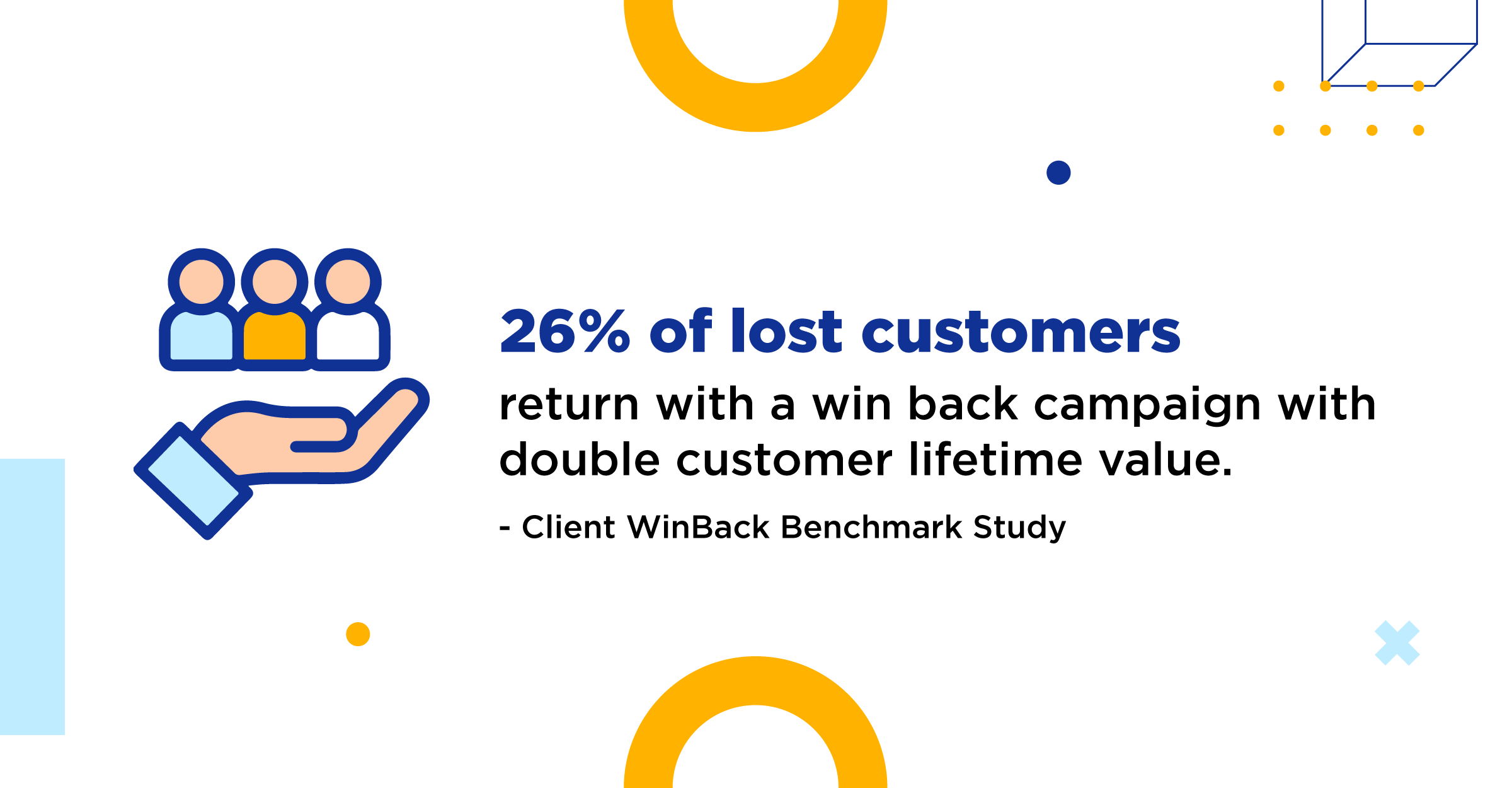 Retaining existing customers is just as crucial as acquiring new ones for any business. Don't miss the opportunity to win back your lapsed customers. Leverage their data to create a personalized win-back strategy that re-engages them.
Implementing a robust loyalty program can also make a significant difference. By offering incentives for purchases and specific actions, you can not only attract lost customers but also entice new ones to join.
Tada can assist you in developing a loyalty program that is unique to your business. Our technology can be seamlessly integrated to your current web or app and we even offer the option of a new white label app or website. Request our free demo now.