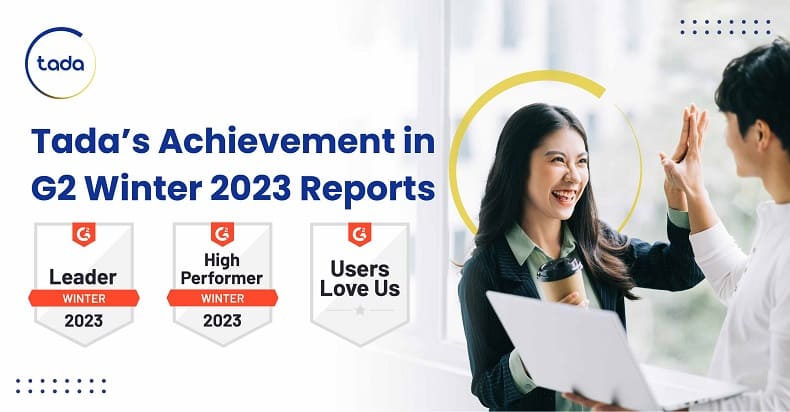 G2's 2023 Winter Reports are out again, bringing fantastic news to Tada!
We are delighted to announce that Tada has once again been recognized as among the best solutions for loyalty & rewards provider in the newly released G2 Winter Reports 2023.
The report has awarded Tada the 'Leader' badge in the category of Loyalty Management, as well as the High Performers badge in the category of Customer Advocacy. Additionally, we also get 'Users Love Us' badge that reflect the positive feedback and satisfaction of our customers.
These badges are a direct reflection of the high level of satisfaction received from our valued clients who have been utilizing Tada's game-changing solutions. We take great pride in the positive feedback and are honored to be recognized by G2 once again.
"Our commitment to providing exceptional loyalty and rewards solutions is unwavering, and it reflects our dedication to driving our customers' growth and success," said Rebecca Agiestha, Cofounder of Tada.
"Tada's consistent recognition as a leader in G2's quarterly reports is a testament to our commitment to helping our customers achieve their business goals and the effectiveness of our strategic approach. Through our industry-leading solutions, we empower our customers to improve retention and drive profitability, staying ahead of the competition and validating our efforts to provide superior solutions to our customers." she added.
Thank You for Your Support
We are grateful for your support and it is always an honor to receive these badges and awards as it is a testament to the value we bring to our customers.
We want to express our appreciation to all our customers for their reviews, feedback, suggestions, and loyalty. We are looking forward to this year as we will be introducing many exciting new features and improvements to our existing ones, and continuing to help our customers achieve their business goals.
Check Tada Performance in:
About G2
G2 is a reputable platform for B2B software and services, known for its peer-to-peer reviews. The platform releases quarterly reports that showcase the top solutions in the market, determined by authentic customer reviews.
G2 reports are trustworthy sources of information for potential software buyers looking to make informed decisions about software and services providers as they are based on verified and authentic reviews from actual software users
If you're interested in reading more customer reviews, you can check out our G2 profile. And, if you've already used Tada or our existing customers, feel free to write us a review on G2 to share your experience with others.