In today's business, loyalty programs are usually free to join for everyone. But the trend slowly shifted to paid loyalty programs where the members agree to pay at front to enjoy special perks and benefits.
In The Loyalty Report 2018, which surveyed 16,000 consumers in the U.S, 37 percent said they were willing to pay a fee for increased benefits in loyalty programs. Gen Z consumers (47%) and millennials (46%), as well as households with children (44%) and early technology users (69%), are even willing to pay for premium or paid loyalty programs.
As paid loyalty programs continue to gain popularity, many businesses are wondering if they should consider offering them to their customers.
This approach takes the traditional loyalty transaction model first for profit. In a paid loyalty program, members agree to pay recurring membership fees upfront for huge profits that they can use immediately and at any time.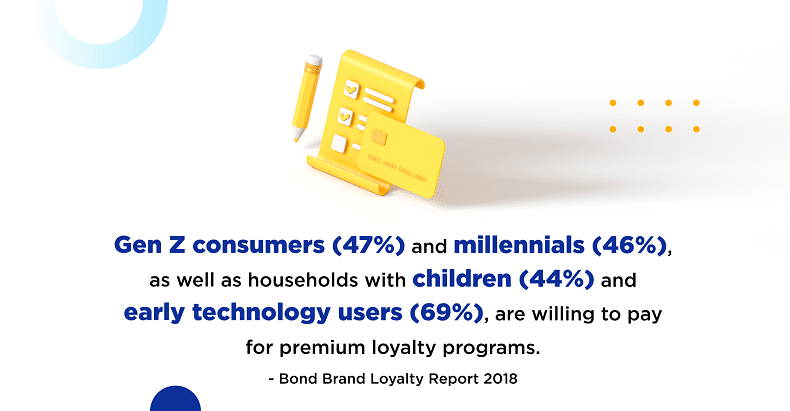 Amazon pioneered this model with Prime. Many other companies are also rethinking their loyalty programs. Bed Bath & Beyond, Restoration Hardware, CVS, Walmart, and others have launched their programs and have had success.
Would you like to put a price tag on your customer loyalty program? Is it in the form of a paid loyalty program, or make this experience free forever for everyone? What's in it for paying members to join the loyalty program?
What is a Paid Loyalty Program?
Paid loyalty programs are programs that are offered to customers with certain fee. These programs may offer perks similar to free loyalty programs; discounts, free shipping, early access to new products, and exclusive events, for example, but brands are finding ways to enhance the deal to make the program worth paying for.
The most famous example of a brand that has managed to do this is Amazon. Many people sign up for Amazon Prime for fast and free shipping. But over the years, membership has grown to include streaming services, access to free music, free Kindle books, and exclusive offers.
You don't have to be at 'Amazon's scale' to create sensible premium loyalty program. They are not the only brands that offers this type of program.
You can see many type of premium loyalty programs because each brand has room to build a loyalty program that match their business goals as well as the target audience.
Why You Should Consider Launching a Paid Loyalty Program?
For customers to consider spending money on a loyalty program, you need to offer benefits worth more than what they paid for. You have to build a profitable paid loyalty program with enough offers to make it worth keeping.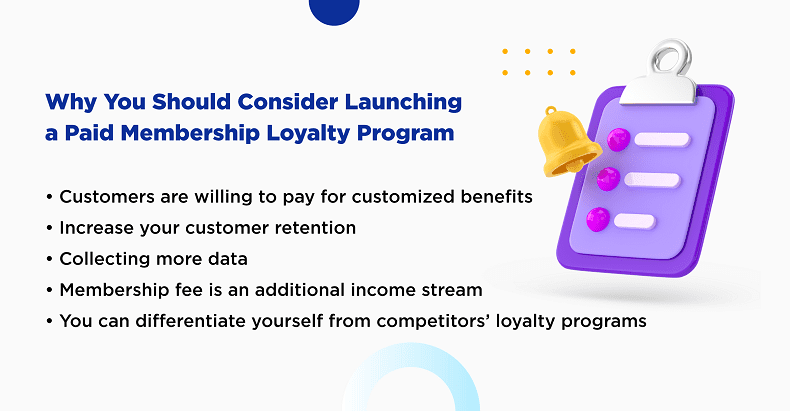 So what makes this kind of program feasible?
1. Customers are willing to pay for exclusive benefits
As we talked about at the start of this post, consumers' image of being unwilling to pay for exclusive experience doesn't match the today's situation.
According to LoyaltyOne, 64% of program members are willing to pay a fee if they receive better benefits like free shipping, which rises to 70% for millennials.
Millennials show the most significant preference for paid programs by far. 80% of millennials would be willing to join a paid loyalty program if their favorite retailer offered it.
Nonetheless, 31% of consumers haven't joined a paid loyalty program because the retailer they shop at doesn't provide it; a massive gap in the market for your business to fill.
2. Increase your customer retention
Membership fees can make customer retention much more accessible. When customers have paid for a range of services, they have a solid incentive to switch to your brand first before competitors. This is because people are more likely to use or interact with a program that has been paid in advance to maximize its exclusive benefits.
According to McKinsey, 62% of consumers are more likely to spend more on brands after subscribing to a paid loyalty program; double the rate of a free loyalty program.
Even if not everyone wants to join a paid loyalty program, but for those who join it will likely to be your best customers with the highest brand loyalty and CLV rate.
By getting more of your best customers, you can increase order value and create a closed loyalty circle that gives them several reasons not to switch to the competitors.
3. Collecting data
Loyalty programs are your data center that record the customer experience. Every time a customer makes a purchase or browses your website, that loyalty credential will appear. It makes them a goldmine of insights into shopping behavior, such as:
Personal information (age, email address, mobile number, communication preferences, etc.)
How and where members make purchases.
What do they buy?
Which form of marketing promotion do they respond to the most?
Which membership benefits are used the most/least often?
Consumers are often cautious about handing over personal data to brands. But they are more likely to do so in paid loyalty programs because they are actively investing in the experience; 54% of customers say they are willing to provide personal information if used to create personalized experiences and rewards.
Identifying key trends in customer preferences and buying habits also helps inform your broader marketing and product development decisions.
For example, you can use member feedback about a beta product to announce the next customization round before releasing it to your casual customers.
4. Additional income stream
All these instant benefits and exclusive experiences are possible is the program membership fee itself. The investments made by program members can help fund these programs.
According to McKinsey, brands should use membership fees to invest in exclusive offers with more emotional resonance, such as access to personalized experiences or member-only content.
Even if only the top 20 percent of your customers invest in your paid loyalty program, this revenue can add up quickly. It allows you to continue to offer better benefits to your best customers.
5. You can differentiate yourself from other loyalty programs
Technology advancement has made it more critical to differentiate your program from other loyalty programs.
That's why the product alone is no longer enough. Businesses have to start thinking more like service-oriented companies to find out what they can offer other than discounts.
When every free program provides the same value proposition, why do customers need to pay to get it?
Paid loyalty programs make it harder for your customers to switch brands because, unlike traditional free loyalty, it's not just about discounts. They are all about offering something special to your best customers.
According to a McKinsey study on paid loyalty, "brands struggling to compete in highly fragmented or undifferentiated markets should consider paid loyalty to acquire consumers and create a loyalty circle economy, where paid features make it unprofitable to switch brands".
Global Brands with Paid Loyalty Programs
Many well-known brands have grown across their loyalty membership numbers, innovating new ways to create loyal customers and streamlining rewards to deliver a consolidated experience that creates a win-win scenarios for multiple businesses and consumers with them.
Here are 7 companies with paid loyalty programs that can be inspiration for your own loyalty programs.
1. Spotify
Spotify continues to lead the way in paid music subscriptions, and today, users are more active and loyal to the brand than ever before. Spotify is subscriber-obsessed, constantly letting its users know the company knows what they love.
It offers suggestions in the Daily Mixes and Discover Weekly, showing their frequent music throughout the year. No user app looks the same as theirs; and that's Spotify's superpower.
2. Amazon
From free same-day delivery to Prime Video access to discounted services for Amazon Music, Whole Foods, and other offerings, Amazon memberships cross retail boundaries, traverse multiple segments and offer them under one umbrella.
Additionally, Amazon Prime includes other built-in sources for savings, including subscription and save deals where consumers can sign up for a monthly subscription to their most-used products at a discount, or Prime Day, a discount shopping event for members.
3. Walmart+
With exclusive access to deals and events, free shipping, and even discounted fuel, Walmart+ is partnering with multiple retailers to offer consumers discounts online and in-store at its shopping malls and external retailers, including fuel centers.
The company also offers the Capital One® Walmart Rewards® Card, a no annual fee credit card with a tiered points system where consumers can redeem cash, Walmart purchases, gift cards, and travel.
4. REI Co-op
REI has a membership program that never expires. REI adds new benefits, enhances existing ones, and gives you more ways to grow beyond its customers for just $30.
5. GrubHub+
GrubHub+'s paid program offers various facilities for customers, such as:
Unlimited free shipping from Grubhub+ restaurants, including many other famous F&B brands. You can even order an appetizer, main course, and dessert from various restaurants!

Double donation: matching donations on Change Donations for Grubhub+ orders

VIP access: access to the Elite Care team for priority assistance.

First Dibs: exclusive access to any new perks, local events, and also new experiences.
6. Costco
As of May this year, Costco had 110 million paying members. They pay an annual fee to enjoy perks and benefit when shop in store and online at Costco locations worldwide.
Executive membership entitles members to a percentage of exclusive rewards and offers. Offering a genuine membership-only retail experience, Costco has maintained brand advocacy vigorously with its members since its inception.
7. Barnes & Noble
The bookseller with the most significant number of retail outlets in the United States offers its members exclusive benefits, including free shipping, amazing coupons, and special in-store prices with yearly subscription fee.
Members even receive early access to special sales, sign up for events, birthday deals, etc.
Are Paid Loyalty Programs More Effective Than The Free Program?
Free loyalty programs attract more customers. Every customer can participate free of charge, so there is no risk in signing up. However, it becomes more challenging to personalize communications with broader member base. Although it's easier to implement and manage it, but it also have a possibility to grow customers base that only spend when you give discounts or other offers.
Meanwhile, paid loyalty programs require a monthly or yearly membership fee to join it. In addition, customers' quality in paid loyalty programs is much higher because they are much more committed.
In addition, by narrowing the audience in your loyalty program, you can provide them with a more personalized experience and maximize the value of your program.
Naturally, if a customer is paying for something, they want to take advantage of every possibility. No one wants to throw money out the window for nothing.
Fee-based loyalty programs may seem more complicated to implement, but the rewards can also be more significant in the long run.
To make the paid loyalty program a success, you have to calculate the best membership fee and make sure that members receive more value in return for the price they pay.
Why Tada is the First Choice for Building Loyalty Programs?
Continuously named as Leader in Loyalty Management and Customer Advocacy from G2 Reports over the years, Tada is the irrefutable market leader in loyalty & rewards solutions.
We have helped hundreds of businesses with their loyalty and reward programs; for end customers, B2B clients or partners and employees. Request our demo now to find out how Tada can help you.