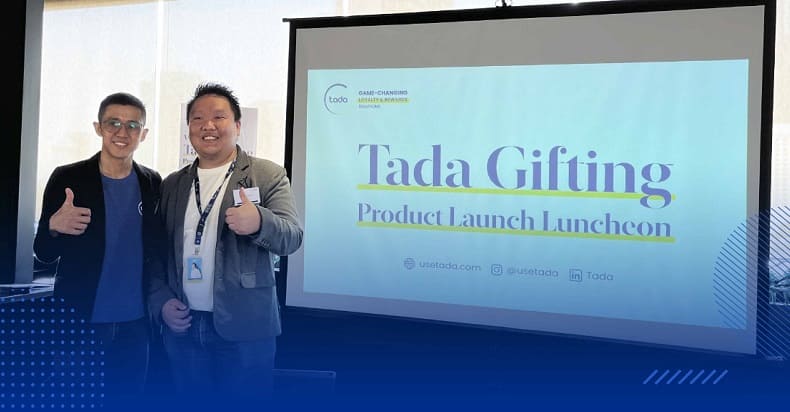 Tada, the leading B2B2C loyalty & reward platform from Indonesia, has just launched its newest product, Tada Gifting at a launch event which took place in the SCBD area, South Jakarta.
This product enables companies and professionals to easily and effectively send various gifts to potential and existing customers, clients, channel partners, employees and other stakeholders in just a few clicks through a single dashboard.
"Tada Gifting is our latest product, launched as an answer to the complexity faced by companies in terms of providing easily targeted gifts to build relationships and increase loyalty," said Rebecca Agiestha, Co-founder of Tada, Thursday, September 29, 2022.
"With this platform, companies and professionals can send various gifts through a comprehensive dashboard that is easy to use and navigate with a huge selection of items; ranging from e-vouchers, e-wallet top up to physical goods such as gadgets and gold bars," she added.
The process for using the Tada Gifting platform is very simple and hassle-free. The company only needs to sign up, set a budget, choose the gift items, send the link to the contacts they already have and track the number of people who redeemed the gifts.
You can also insert personal notes or messages to the recipients to build a closer relationship. And what makes this platform special is that the company only needs to pay for the redeemed gifts, so that the gifting process is more scalable and efficient.
"Nowadays, when everyone is very busy and everything is automated, building relationships through appreciation such as gifting will leave a great impression on the recipient. This is where Tada Gifting can be a solution for both professionals and businesses, in establishing more profitable relationships with their stakeholders easily and efficiently," explained Juan Aristya, Senior Account Director, Tada.
The Advantages of Using Tada Gifting in Building Relationships and Loyalty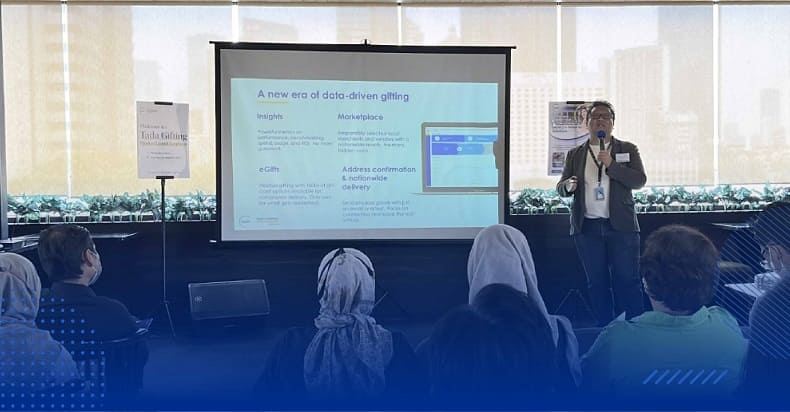 1. Easily reach all stakeholders throughout Indonesia
This Tada Gifting solution allows companies to connect with prospects, clients, customers, business partners, channel partners and employees throughout the country.
The goals for the gifting campaign can range from starting new relationships, retaining customers or employees, making the deal process faster and more effective, to creating memorable marketing campaigns. The possibility is endless.
2. Easy to integrate with the existing systems
The Tada Gifting platform can be integrated with systems and technology already owned by the companies so that it can be used as a complementary strategy to maximize the existing loyalty program of the business.
In addition, the Tada Gifting dashboard is also connected to hundreds of top merchants available in the Tada's catalog.
3. Scalable
Helping companies simplify the process of sending gifts for important occasions at any time. Companies can instantly search for gift options, send it, track and also review their gifting campaign data easily via the dashboard.
4. Measurable metrics
Our dashboard allows companies to measure the success of their gifting campaign through clear metrics. With this technology, companies can see how the recipients react to the gift (by redemption rate data) as well as the success rate of the marketing campaign.
"Companies can also use this Tada Gifting to build better relationships with prospects to employees. Sometimes it's not about how big or small the gifts are, but getting personalized gifts will leave a better impression and more memorable for the recipient" said Imelda Walla, Tada's VP of Commercial.
"Therefore, this Tada Gifting solution can be applied to all industries because giving gifts to important stakeholders within your business scope can increase loyalty and also encourage better relationships so that the business can continue to grow positively," she added.
About Tada
Tada is a B2B2C loyalty & rewards platform that aims to help businesses accelerate growth by enabling them to efficiently improve channel partner, customer and employee retention, build loyalty and drive growth.
Tada's unified and game-changing solutions create an engaging and rewarding ecosystem with a seamless experience for all. Our platform has been successfully helping businesses to retain their customers, channel partners, distributors, agents, retailers, and even employees with various solutions such as Tada Loyalty, Tada Rewards and Tada Gifting.
Tada's integrated solutions make it easy to automate various loyalty programs & channel incentives and are connected to an extensive redemption catalog consisting of 1,000 reward options.
In our 10th year, Tada has consistently provided trusted and most effective B2B2C loyalty and rewards solutions & platforms with complete features that can be customized based on the user's needs.
Tada has also won the Leader position in the G2 Summer 2022 Reports for Loyalty Management & Customer Advocacy Software which demonstrated the quality of our products and services. Additionally, we also have won various awards from the Loyalty & Engagement Awards 2022 in Singapore.