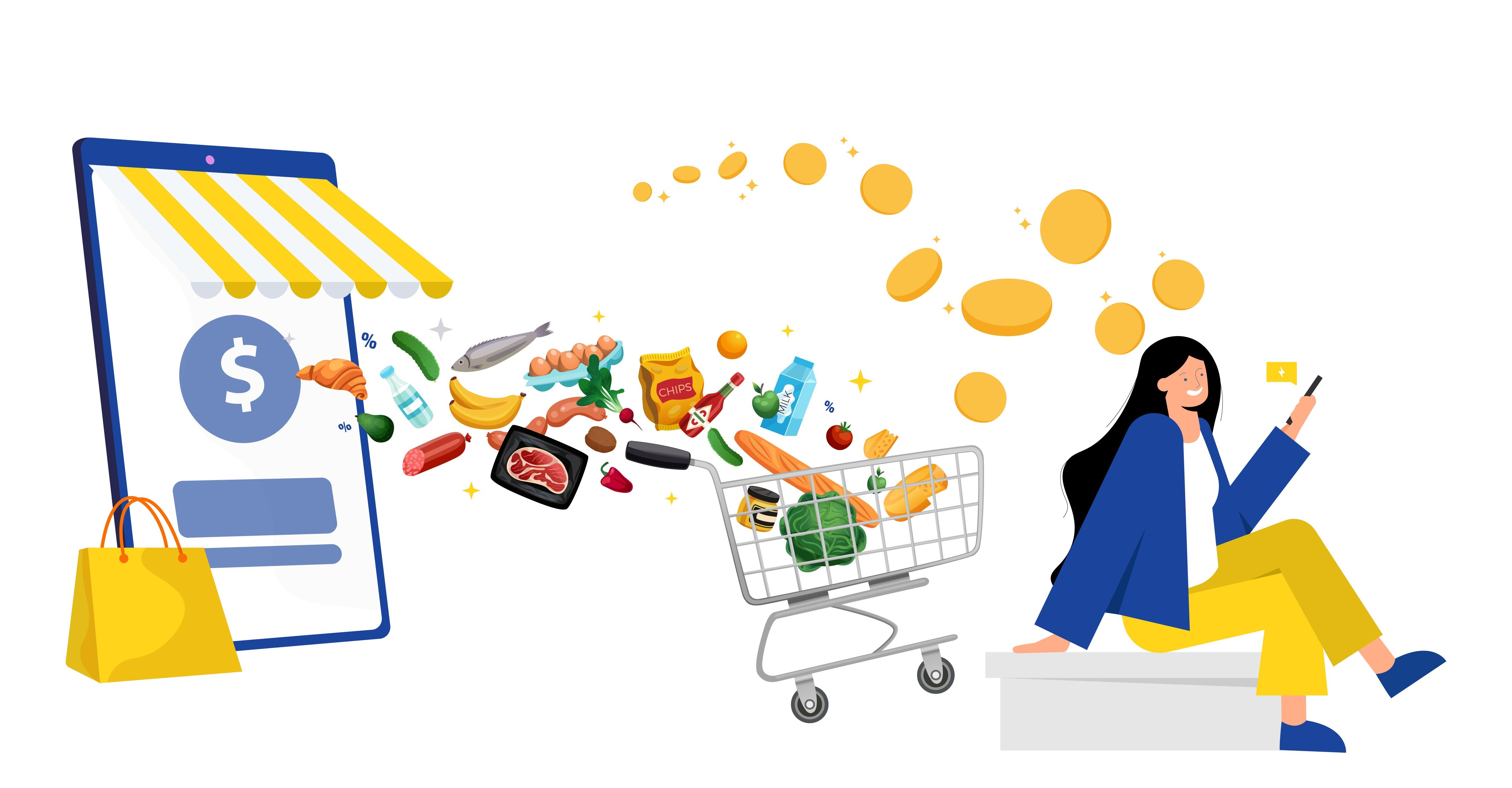 Digital media is reshaping the marketing landscape across the board, particularly in the fast-moving consumer goods (FMCG) industry. Campaigns for every FMCG product have traditionally relied on determining the appropriate marketing mix of the 4 Ps (Product, Price, Place, and Promotion) to influence the target audience's buying decisions.
Today's consumers, on the other hand, make purchasing decisions in different ways, necessitating the evolution of techniques geared at influencing this process. With transactions via marketplaces, apps, and direct to consumer businesses on the rise, COVID-19 only encouraged this trend.
Consumers now spend more time on their phones and laptop screens than watch television, read newspapers, or see billboards. In addition, an increasing percentage of consumers choose to purchase FMCG products online rather than in a physical store.
According to a report by Google and Bain and Co., online marketing will affect $11 billion in cosmetics and hygiene product sales, or two-thirds of overall sales.
With spending on online groceries could reach $100 billion in 2022, companies in the FMCG industry will need to reevaluate their digital strategy and digital inventory management. They will need to be more digital-friendly and take full advantage of online opportunities by mastering their digital product marketing. In short, FMCG digital marketing is the future of the industry.
FMCG Industry Overview
FMCGs are products that are highly in-demand and sold quickly with relatively low cost. These products have short shelf life due to high consumer demand (soft drinks, confectionery, etc.) or perishable (meat, dairy, baked confectionery, etc.).
Consumer goods are products that the average consumer buys for consumption. They fall into three different categories: durable goods, short-lived goods and services. Durable consumer goods have a shelf life of more than 3 years, while short-lived goods have a shelf life of less than 1 year.
Fast-moving consumer goods are the largest segment of consumer goods. They fall into the short-lived product category because they are purchased frequently, consumed quickly, cheap, and sold in bulk. They also make high sales when they are on the shelves of the store.
What is FMCG Marketing?
For years, FMCG marketing has relied on mass marketing done through newspaper advertisements, radio and television. But with the boom of social media, e-commerce stores and high usage of smartphones, the traditional marketing for FMCG brands are less than effective and obviously costly, too.
That's where digital marketing is crucial for the FMCG industry. When done right, it can help FMCG brands to engage with consumers and elevate their customer loyalty.
With digital marketing, you can also tailor your promotion to the needs of your consumers. You can utilize your website, social media channels and email marketing to forge bonds with customers that were previously unreachable.
Digital Marketing Strategies for FMCG Industry in 2022
Digital marketing for FMCG brands doesn't mean retiring the traditional marketing which served as the backbone of the brands for years.
Instead, it involves tweaking the marketing strategies for FMCG products to bring them into the today's era of online shopping and e-commerce boom. Digital marketing will allow companies to not just capture the consumer at their final buying stage, but also to establish a relationship with them.
So, what are some great digital marketing strategies for FMCG industry to boost their growth?
1. Creating a social media presence
FMCG companies need to be present in all social media platforms that are relevant to their market. Based on a survey in 2020 by Statista, the average adult in Indonesia spends about 3 hours and 14 minutes a day using social media. This is a massive amount of time where your potential customers can be reached and engaged.
You need to identify the best social media platform for your business and maximize the efforts on them. For example TikTok has grown as one of the most popular social media apps in Indonesia last year and the trend is still going strong this year. It is popular among young people. And Instagram is very effective at marketing to young people as well.
LinkedIn is effective in raising awareness of the organization's work, especially among professionals between the ages of 25 and 45. YouTube is a great platform for delivering visual and long content, and Pinterest is a great platform for running informative campaigns and image content.
Once you determine the platform, you can start creating contents and marketing promotions that speak to your targeted audience.
2. Customer-focused content marketing
Traditionally, FMCG products were sold simply by discussing their features. The same message was broadcast on television, newspapers, and radio about what the product was and what it did. Such marketing was ineffective because it was unappealing and did not attract people on a personal level.
Through digital marketing, the customers can get content that revolves around them. They can participate and talk about the brand, show others what they are using, and help the brand gain awareness of their efforts.
FMCG has greatly benefited from this trend. In user-centered content marketing, customers receive more personalized branding and see more relevant ads.
3. Automated and personalized email marketing
As people get more emails from brands on a daily basis, they get bored and not interested in the offer. But FMCG companies can use the latest innovation in marketing that is called automated email marketing.
People used to use bulk mailers to send common messages and offers, but now you can use action and settings generated email journeys to give everyone a special experience. This form of email marketing is also known as drip marketing.
For example: When a customer signs up, an email about this will be sent to roughly say 'we welcome you to our website/service'. Then, if a customer adds items to their cart but does not check out, they will receive another email notifying them to complete the purchase and so on.
Automated and personalized email based on the customer's journey is a great way to reach and communicate with your customers. By creating special action-triggered emails, you can communicate with them and persuade them to make a purchase. Emails like this can also help target consumers who have already purchased from you.
4. User-Generated Content (UGC)
Social media has changed the ability to communicate between companies and users. Just like other industries, FMCGs too can use UGC or user-generated content strategies to get users to promote their products. This allows users to talk about the brand while the family or friends who see the posts and stories of their friends recognize the brand's credibility.
UGC requires users to promote FMCGs products or services by posting stories or posts, tagging the brand, and sharing hashtags for special events. Such content has become a great digital word of mouth and is considered one of the most reliable and authentic sources of digital marketing.
5. Increasing appeal through influencer marketing
People tend to believe people they look up to, which is exactly what influencer marketing is based on.
An influencer is someone who is well-known for one or more skills. They have a strong public presence and can be relied on to keep their word.
For this type of marketing, the company will ask the influencers to create content using the brand's product or service and drive conversation and hype among their fans about it. An influencer can lend a lot of credibility to a brand and its product, which is especially important for FMCG brands.
6. Making e-commerce as touchpoints for your brand
As the number of online grocery shopping has been increasing since the early pandemic, the trend remains the same for years to come. Both online and offline grocery shoppers are more consciously interested in saving money, time and energy while shopping for daily necessities. FMCG brands need to tap into this new norm by enabling e-commerce as their touchpoints.
It is not a surprise to see many FMCG brands have their own official store in almost all marketplaces in Indonesia. And your brand should do it too!
The customers will be able to make their purchase efficiently while they are scrolling through their favorite shopping app. This kind of environment will give a more pleasant experience of finding and choosing the goods they need and buy it quickly.
7. Online reputation management (ORM)
Nowadays, online reviews are one of the most important determinants before someone makes a purchase.
Every e-commerce store has a review section where anyone who bought a product can leave a review. These reviews help increase product reliability while building customer confidence that the quality and use of the product is satisfactory.
ORM is a process of attracting customers to write reviews online about your brand because they typically are the most engaged users for your products. FMCG companies can leverage any positive reviews and bounce back from negative reviews using an appropriate ORM strategy.
Final Takeaway
The FMCG industry is highly competitive, with numerous brands competing against one another. Due to high competition with neck-to-neck pricing, FMCG companies are so keen to capture the attention of their customers.
In the FMCG industry, customer loyalty is extremely important. All marketing trends, such as social media to online reputation management, aim to distinguish a company from its customers and gain their loyalty.
If you are looking for a customer loyalty program that works for FMCG companies, TADA has assisted many businesses in creating the most suitable program that answers their specific needs. Request demo now!