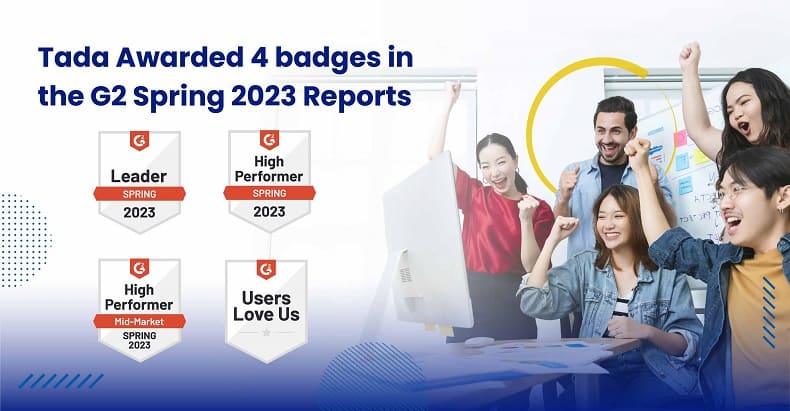 G2 Spring 2023 reports are in, and Tada has once again been recognized as a 'Leader' in Loyalty Management category.
In the latest G2 report, Tada was also awarded the High Performers badge in the Customer Advocacy category. We also earn new badge as High Performer for Mid-Market Loyalty Management category.
Additionally, we also get 'Users Love Us' badge that further reinforces Tada's reputation for providing top-notch customer satisfaction.
These badges are a direct reflection of Tada's game-changing solutions and the high level of satisfaction experienced by valued clients. Tada is thrilled to receive this recognition and is grateful to G2 for acknowledging our efforts.
We also feel grateful for the trust and loyalty of our customers. We want to express our sincere appreciation for our customers' feedback, suggestions, and continued support.
Check Tada Performance in:
About G2 Reports
G2 publishes quarterly reports that showcase Leaders among software providers based on verified user reviews, allowing software shoppers to easily compare various platforms and their features.
G2 itself is the largest tech marketplace and peer-to-peer review platform, providing businesses with a credible source to discover and evaluate various business technologies.
It collects reviews from verified users, which are then used to rate products using a proprietary algorithm and grid methodology in various categories.
As a result, G2 has become one of the most trusted review websites, helping people and businesses make informed decisions about their software choices.
Results that Matter: A Reflection on Our Commitment
The significance of these acknowledgments cannot be overstated as they exemplify the impact of our services on our valued clients. Our commitment to providing innovative solutions that transform business pain points into strategic opportunities remains steadfast.
With Tada loyalty & rewards platform, we offer game-changing solutions that empower businesses to retain their key stakeholders, including customers, channel partners, and employees.
To witness the platform's transformative capabilities in action, all you need to do is request a demo today.