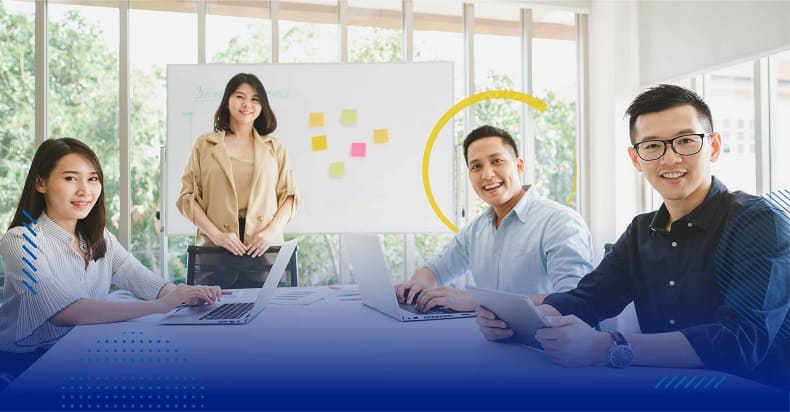 Trade marketing is a strategic approach that focuses on building trust between manufacturers and distributors.
By fostering this relationship, companies can benefit both themselves and consumers alike. By leveraging this tactic, brands can improve their product offerings and create a better customer experience.
So how can a company establish a successful trade marketing strategy?
What is Trade Marketing?
Trade marketing is a marketing tactic aimed at B2B relationships between manufacturers or principals and their distribution channels, including distributors, wholesalers and retailers.
This approach involves various activities that aim to enhance collaboration with supply chain partners and boost product visibility and availability.
Repsly defines trade marketing as a B2B marketing strategy that aims to ensure product placement on store shelves, highlighting its focus on getting products in front of consumers through effective collaboration with supply chain partners.
The primary objective of trade marketing is to create a mutually beneficial relationship between manufacturers or principal and distributors, by aligning their marketing efforts and strategies to meet the needs of end consumers.
The objective of trade marketing is also to incentivize channel partners with various rewards, such as coupons, bulk deals, and other incentives, for purchasing more products from the manufacturer. As channel partners purchase more products, they receive larger incentives from the manufacturer as part of the program.
This collaborative approach helps to optimize the distribution channels and boost profitability, creating a positive outcome for all parties involved.
Which Stakeholders are Involved In Trade Marketing?
Trade marketing involves the collaboration of several key stakeholders in the business, including manufacturers, distributors, wholesalers, and retailers.
For manufacturer or principal, it is essential to develop effective marketing strategies to attract and convince supply chain partners that your product can benefit their business.

Distributors, wholesalers, and retailers then distribute these products to consumers, relying on trade marketing initiatives to boost product visibility and drive demand.
Effective collaboration among these stakeholders is crucial for the success of trade marketing efforts.
The Advantages of Trade Marketing in Distribution Management
Retailers serve as the final channel of contact with end customers in distribution activities. They have an excellent understanding of the potential market for a particular product and have already developed an in-store placement strategy to improve their business.
Retailers can also source products from various parties such as main distributors, sub-distributors, wholesalers, and direct manufacturers.
Hence, it is crucial for companies to have a trade marketing team that can conduct various activities to attract every partner in the supply chain to sell their products.
In addition to attracting more channels in the distribution chain, trade marketing provides numerous benefits that include:
1. Scalability for large and small businesses
Trade marketing strategies can effectively increase sales for companies of all sizes. New small-scale companies can offer various programs and rewards for channel partners interested in selling their products to end customers.
Larger businesses can use trade marketing strategies by providing incentive or reward programs to attract more channel partners to sell their products.
2. Consistent profitability
Trade marketing ensures consistent profitability for your business as distributors and other partners will continue to do repeat business, contributing positively to the company's revenue and profit.
3. Competitive edge
Trade marketing can help businesses compete with competitors in product distribution.
Effective trade marketing strategies can ensure that products are visible and easily accessible to consumers in grocery stores, improving their chances of being bought over competing products.
4. Wider market reach
Trade marketing is also useful for reaching a broader market, such as grocery stores in small towns or districts.
When implemented effectively, trade marketing strategies can provide a competitive advantage for the company and benefits for distributors and retailers to build a mutually beneficial relationship.
Effective Strategies for Boosting Sales through Trade Marketing
Crafting a trade marketing strategy is not a one-size-fits-all approach, and it must be customized according to your company's product needs and plans.
A tailored trade marketing strategy can include focusing on product distribution, promotional activities, relying on channel partners, or advertising to increase brand awareness.
However, how can you create a trade marketing strategy that appeals to channel partners in the distribution channel? Here are some tips to help you out:
1. Conduct market research
To create a successful trade marketing strategy, it's crucial to conduct market research to understand your target market's needs, preferences, and behaviors. This information can guide your trade marketing activities and help you tailor your approach.
2. Learn customer behavior and needs
Understanding your target customers' shopping habits, preferences, and needs is vital to create an effective trade marketing strategy.
You can do A/B testing to determine what incentives and promotions are most appealing to consumers.
3. Develop an attractive product proposition
To stand out from your competitors, you need to create a unique product proposition that offers benefits to all parties involved, including channel partners and end consumers.
4. Choose the right trade marketing program
Your trade marketing program should align with your business goals and target market. You can choose from various programs such as distribution, display, promotion, and pricing activities.
By following these tips, you can develop a trade marketing strategy that effectively targets channel partners in the distribution channel and increases your company's sales.
Wrap Up!
Attracting channel partners to distribute your products can be achieved through various strategies; incentives and rewards are among the most effective.
By offering an attractive incentive program or reward program for distributors to traditional retailers in your distribution network, you can gain a competitive advantage over your competitors and make your products more appealing to your partners.
Tada is a reliable loyalty and reward platform provider in Indonesia that offers incentive programs to motivate sales growth through channel partners. Regardless of your industry, Tada enables you to create an incentive program tailored to your business needs.
Request our demo now and discover the fascinating features of Tada's incentive program that can be applied to your business.