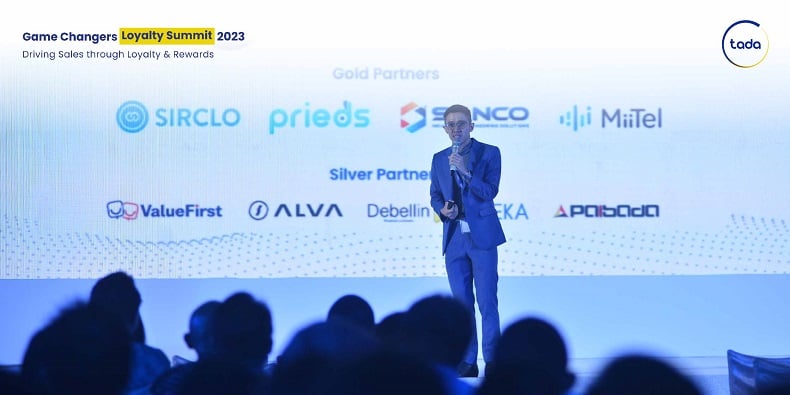 Tada, Indonesia's leading loyalty and reward platform, successfully hosted the first and only loyalty summit in Indonesia on Thursday, 14 September 2023.
The event took place at the Grand Ballroom of Hotel Mulia Senayan and centered on the theme, 'Driving Sales through Loyalty and Rewards.'
More than 800 enthusiastic participants attended, alongside over 20 distinguished speakers, including business leaders, experts, and renowned practitioners with backgrounds in marketing and sales across various industries, such as FMCG, retail, automotive, building materials, and technology.
Renowned Speakers and a Full House Event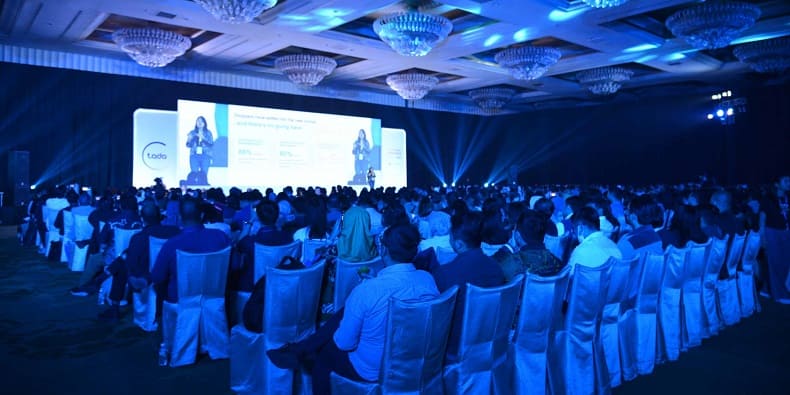 The Game Changers Loyalty Summit 2023 served as a dynamic forum where both participants and speakers gained valuable insights and proven strategies on building brand loyalty, increasing customer retention, choosing the right sales channels, and driving sales across diverse industries among other interesting topics.
The event commenced with an opening presentation by Enjelita Jahja, Sr. Industry Lead at Google, who discussed the evolving digital landscape's impact on consumer behavior. Yongky Susilo, Customer & Retail Strategist, delivered a keynote speech on the upcoming consumer trends and winning digital consumers' hearts.
Furthermore, there was an industry insight presented by Ricky Afrianto, Director & Global Marketing Director of PT Mayora Indah Tbk who shared insights on brand loyalty in the FMCG industry as well as a little mention of employee loyalty which is also important for business continuity.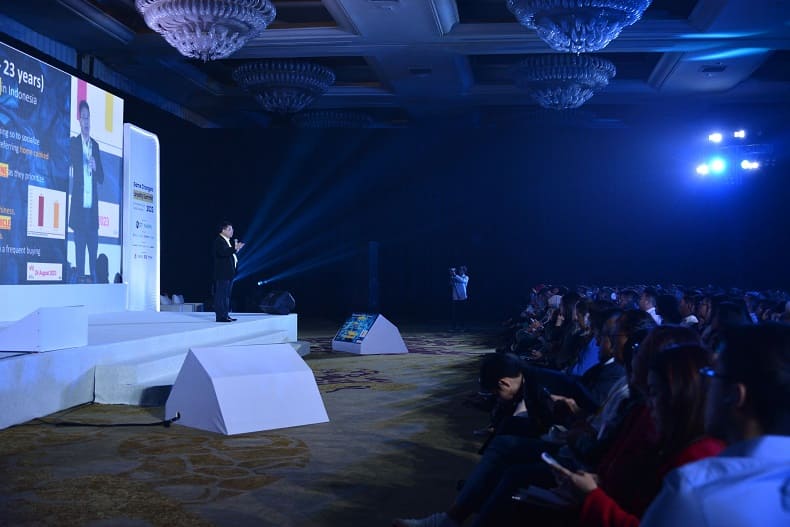 The event continued with a keynote speech from Shalini Gopalan, founder of LoyaltyHub who underlined that loyalty program is a comprehensive tool to help brands drive long-term sales growth. Ravi Kumar, Director of MAP Club was also present for the industry insight session to share proven strategies carried out in the retail industry, particularly focusing on the MAP Club program.
Next was a panel session moderated by Yongky Susilo featured three female business leaders in retail and modern trade; Linda Valentin (CCO Alfagift), Meshvara Kanjaya (Former CEO Ranch Market) and Andiny Kismaryanti (Shopper marketing PT Paragon Technology & Innovations).
In the second session after the launch break, the speakers were no less interesting.
Adrian Baskoro (Sales & Marketing Expert and Founder of Routetomarket) discussed channel activation, followed by a keynote speech from Yopie Rissa (Country Head B2B & OEM Castrol) on the vital role of distributors in boosting sales.
Aaron Widjaja, Founder & CEO of DBO, provided business insights into technology's applications for building material retailers and distributors. Pramita Hadi, Head of GTM, Product & Operations at GrabGifts, shared insights on rewarding through gifting and its relation to building customer loyalty.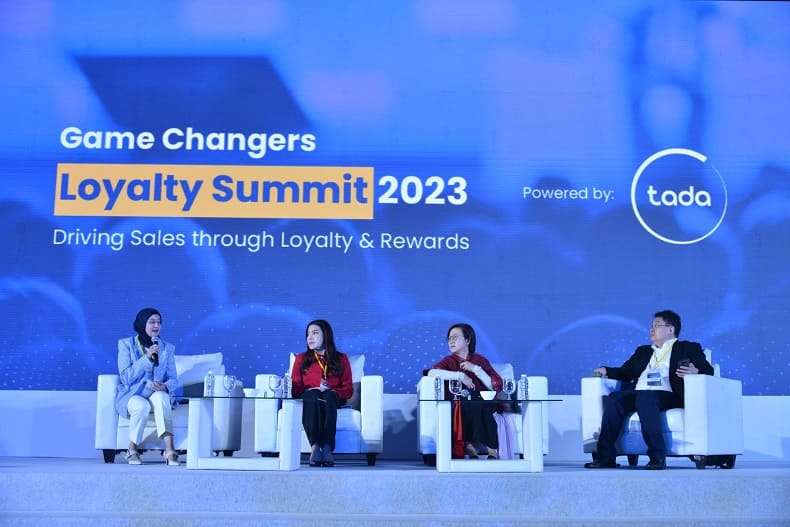 The summit also featured a collaboration session demonstrating how products or services from different businesses can work together to create loyalty program ecosystems that retain customers. This session, hosted by Vanessa Geraldine (CCO Prieds), included panelists Mark Gabriel Priyono (CEO Prieds), Bonifasius Victoria (CEO PT Sanco Indonesia), and Mardiansyah Putra from Tada.
After the coffee break, the energy remained high in the Grand Ballroom of Hotel Mulia Senayan.
In the final session, Muliadi Jeo, CTO of Enterprise Solutions SIRCLO, engaged participants in an interactive game illustrating generational shopping differences and strategies for fostering loyalty among these diverse generations.
Before closing, there was a panel discussion hosted by Muliadi Jeo with panelists Loade Hartanto (Chief Growth Officer Dentsu), Ruchir Prasoon (VP of Product Tokopedia), Andy Gozali (Country Head RevComm Indonesia) and Antonius Taufan from Tada.
The discussion explored customer centricity in the digital age and its relationship to customer retention. The Game Changers Loyalty Summit 2023 concluded with distribution of door prizes worth tens of millions of rupiah to lucky participants.
Wrap Up!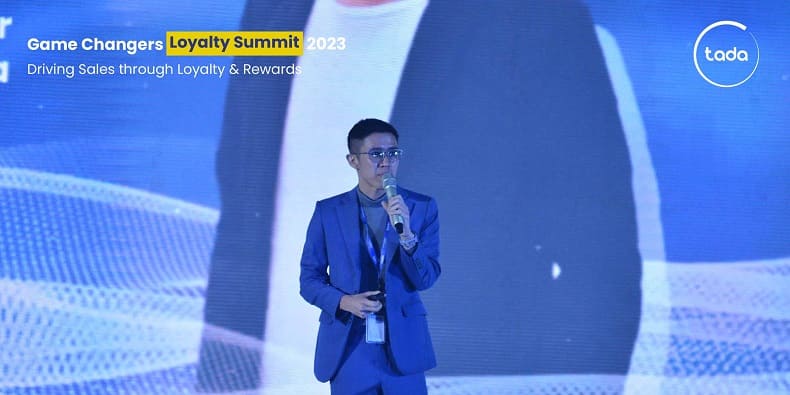 Antonius Taufan, Founder & CEO of Tada, takes pride in facilitating leaders and professionals from diverse industries, enabling them to learn and collaborate on loyalty, rewards, and customer retention strategies crucial for business sustainability and profitability.
Looking ahead, Tada plans to make the Loyalty Summit an annual event. There may even be an exciting addition next year: a speed dating session that brings together professionals from various industries to share best practices, insights and stories on how their businesses increase the number of customers, how to retain customers and make their customers more loyal.
The success of the Game Changers Loyalty Summit 2023 would not have been possible without the generous support of our sponsors, including Depoguna Bangunan Online (DBO), GrabGifts, SIRCLO, Prieds, PT Sanco Indonesia, MiiTel Revcomm, ValueFirst, Debellin, LEKA, ALVA, and PT Paibada Rekacipta Solusi who also also presented interactive booths showcasing their exceptional products and services.